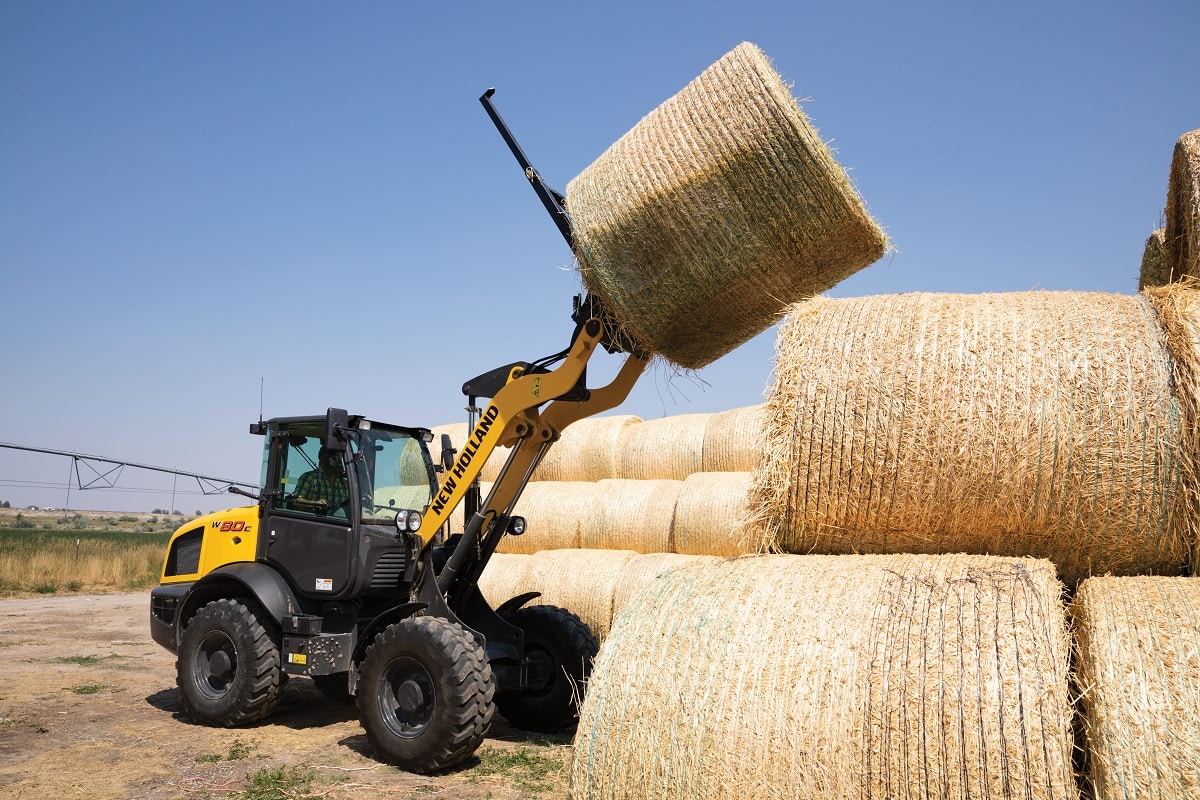 Conquer Tough Terrain and Tight Turns with a NH Compact
This post is a part of Compact Equipment's annual Spec Guide. View other brands' product and spec info by clicking this link. View the magazine version of these summaries by clicking right here. Sign up for the print edition right here. Now enjoy!
Compact and mighty, the New Holland C Series compact wheel loaders deliver huge power, unmatched performance and outstanding stability. Imagine having the load height and lift capacity of a tractor loader with the maneuverability and versatility of a skid loader. With two models to choose from, the W80C HS and W50C TC allow you to handle everything from lifting heavy loads of pavers and scooping buckets of snow, to rough scraping and precision grading. Featuring reduced machine length and width and lower overall height, New Holland's compact wheel loaders provide a tight turning radius and easy maneuverability — perfect for small jobsites or areas with limited space.
New Holland C Series compact wheel loaders can do more than just load. Like a skid loader, a compact wheel loader is available with an optional hydraulic coupler and a plethora of attachment options. The dependable engine and hydraulic power combined with a wide range of buckets and attachments provide you with all the tools necessary to efficiently tackle any job.
New Holland's Z-Bar linkage provides maximum breakout force and digging and lifting power. This rugged, simple design is ideal for high-production load-and-carry applications, like moving and setting drainage pipe or stacking landscape timbers.
The stable, compact design allows New Holland's compact wheel loaders to move and work in restricted spaces, such as a barn or storage building. Lower machine height and center of gravity increases the stability of New Holland compact wheel loaders, allowing you to operate with confidence while you lift and move larger loads.
Compact wheel loaders feature high ground clearance and a long wheelbase for quick, comfortable and stable operation. The tall cab height allows for fantastic visibility for better jobsite command and increased safety while the articulated steering allows for outstanding maneuverability. The optional ride control feature reduces operator fatigue by providing a smooth ride over bumpy terrain while simultaneously reducing material spillage — saving time and money. The cab incorporates a standard LCD display and natural, ergonomic controls. Fast, ground-level access to maintenance points and long service intervals reduce the time spent on routine maintenance tasks.
The hydrostatic transmission reduces noise while providing dependable power and consistency. Unlike other loader styles, compact wheel loaders enjoy increased fuel efficiency because they do not need to operate at or near full throttle to maximize lift capacity and breakout force.
In finale, New Holland has been in business for more than 100 years. In 1999, New Holland launched its construction equipment brand at CONEXPO-CON/AGG with 53 new machines for the North American market. Today, New Holland designs and manufactures construction equipment for North America and worldwide markets. In addition, New Holland is a key player in the global construction equipment industry. The company sells and services equipment in more than 170 countries around the world. With a network of more than 300 dealer branches, manufacturing plants and research and development centers in North America, New Holland is here to serve customers.

Advice to Buyers
"Compact wheel loaders have started to gain popularity," says Ryan Anderson, NHCE product manager. "Compared to a skid steer, they are faster and can lift more. Like a skid steer they can be easily serviced from the ground. Preventative maintenance is paramount for these hard-working machines. When considering a purchase, look at how easily daily maintenance items can be accessed and replaced. The engine compartment should be easy to open and have generally unimpeded access to components like filters."
For reprint and licensing requests for this article, please click here. Tags: July August 2022 Print Issue, New Holland Construction, Spec Guide, Spec Guide 2022