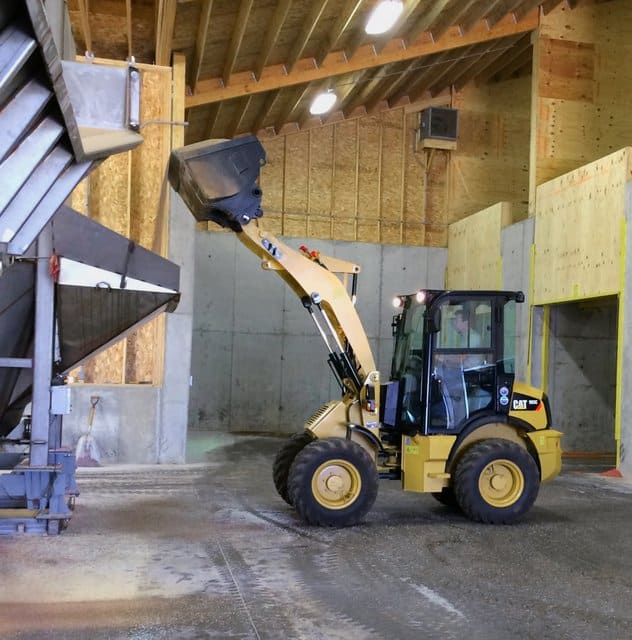 The new Cat 903C compact wheel loader — with a standard operating weight of 9,150 lbs and powered with a 42-horsepower Cat C2.4 engine — has the power and balance to work productively in a range of applications, including construction, industrial, agricultural, landscaping and snow-removal. Premium features throughout the 903C's design ensure optimum operator comfort and safety, ease of operation, simple routine maintenance, and, with its universal-type (skid steer-type) coupler and auxiliary hydraulics, exceptional versatility.
The 903C's spacious, cab-equipped operator's station features dual entry doors with sliding windows, tilting steering column, centrally located, easy-to-read gauge cluster, and low-effort implement and auxiliary-hydraulic control levers that precisely modulate hydraulic functions. An expansive front windshield, large glass areas in the doors, pillar-less rear window, and minimal engine overhang enhance visibility, and an available HVAC system delivers all-season comfort. A canopy option will be available 1Q-15.
Premium power-train features for the 903C include the fuel-efficient C2.4 engine, which meets Tier 4Interim emission standards; smooth, powerful hydrostatic transmission; maintenance-free propeller shafts and universal joints; and heavy-duty oscillating axles with outboard planetary reduction. Axles are available with differential locks to assist traction in poor underfoot conditions, and the power train allows travel speeds to 10 mph.
The 903C's powerful implement hydraulic system works through Z-bar linkage to capably handle the standard (0.8 yd3) or light-material (1.3 yd3) buckets, as well as 36- or 42-in. pallet forks. In addition, the 903C's ample auxiliary flow, 14 gpm, allows the machine to capably work with a range of standard-flow hydro-mechanical tools, which quickly attach via the 903C's robust coupler.
The 903C features independent levers for lift, tilt, and auxiliary (third-valve) functions, with the latter providing a continuous-flow detent to simplify operation when using work tools with continuous-flow requirements. Available field kits allow easily adding auxiliary piping and are complete with quick disconnects, brackets, and hardware.
To further equip the 903C to the task, optional external counterweights increase lift capacity for demanding jobs, and three tire choices — 12-in. construction type, 15.5-in. flotation type and Flexport (a puncture-proof tire that uses patented sidewall ports to enhance the machine's ride quality) — help tailor the machine to the site and to the application.
To ensure quick, safe routine maintenance, the 903C features a fully opening hood that allows generous, ground-level access to service points. Side-by-side engine and hydraulic coolers are easy to reach for cleaning, and a remote rear-axle-bearing grease point saves time and effort. Batteries are maintenance-free and equipped with a disconnect switch, and 903C's electrical system features water/heat-protected harnesses and sealed connectors.
For more info, visit www.cat.com.