Welcome back to another edition of Machine Heads. I'm once again Keith Gribbins, publisher and resident guinea pig at Compact Equipment. Today we'll be discussing compact wheel loaders — specifically three new units from John Deere that are being touted as tough and practical offerings. John Deere has been offering compact wheel loaders to customers for more than 30 years, and recently the famous global brand expanded its portfolio to give owners and operators more options. John Deere's new G-tier compact wheel loaders are three new models that embrace the company's performance tiering strategy.
The new 184 G-tier and the 204 G-tier and 304 G-tier machines were designed with the same Deere DNA as the company's other compact wheel loader models, but these units are practically equipped. In fact, John Deere has stated its 184 G-tier is the most economical model in its lineup right now.
Pricing is obviously important right now, and when you consider the spectrum of compact loaders options on the market — skid steers, track loaders, stand-ons — compact wheel loaders are usually the most expensive. They offer big ROI benefits you need to consider into your purchase — units are great on fuel and tire wear — plus that awesome perch for great visibility. But, when a customer is considering that initial purchase price, compact wheel loaders can be 10 to 25 percent more expensive than a skid steer. So, this G-tier is immediately intriguing to me.
These are not basic units. These G-Tier models still come with a lot of cool tech. Limited slip differential comes standard. It automatically engages if one wheel loses traction, providing enhanced safety for the operator and the machine. There's the option of ride-control, which reduces spillage from the bucket when traveling over rough terrain, reducing jobsite cleanup and improving ride quality for the operator.
The visibility on a compact wheel loader is one of its greatest advantages, and John Deere offers both a canopy and enclosed cab configuration, built with operator visibility in mind. The redesigned enclosed cab features a frameless, fully glass door, floor-to-ceiling front windshield and remounted machine display, providing a clear line of sight to machine surroundings. The right-side full glass window also swings out 180 degrees to further enhance overall visibility for the operator. Additional features include an adjustable steering column, slip-resistant steps and an optional LED lighting package. The spacious cab includes amenities such as improved air conditioning systems and ergonomic low-effort controls to keep operators comfortable during a long shift.
What can we say? We love rental. So much so that we published a Digital Rental Guide covering everything you need to know when renting a machine. Check it out here!
The smaller G-tier models are the 184 G-tier and 204 G-tier. With a canopy height of 8 ft and a width of 5 ft, 10 in., these machines are nimble. The 184 G sports a 48-hp diesel, operating weight of 10,670 lbs and a bucket capacity of 0.76 to 0.92 cu yds. The 204 G-tier compact wheel loader boasts a 62-hp diesel engine, operating weight of 11,541 lbs and a bucket capacity of 0.86 to 1.05 cu yds. The new 0.9-cu yd bucket is optimally sized and pairs with both the 184 G-tier and 204 G-tier units, and it can be attached to either a Quik-Tatch or hook-style coupler.
The largest of the three new G-tier models is the 304 G-tier, and this unit is focused on high productivity. Travel speed of the 304 G-tier goes up to 18.6 mph. Consider John Deere's 304L model goes 12 mph. This enhancement allows the machine to accomplish tasks and move around jobsites in less time. It also allow for roading capabilities, in the same way a municipality might use a backhoe loader. This model also comes equipped with an optional Attachment Assist Package, including Proportional Mini-Joystick 3rd Function Control with Detent, Combined Creep Control and Throttle Lock and Integrated Electrical Attachment Controls (3-Pin).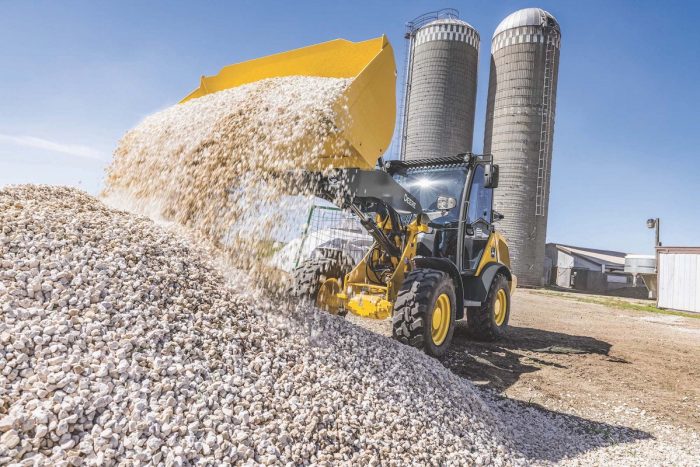 All of these units can come with a skid steer style quik-tatch system coupler, which allows these units to run skid steer and track loader attachments. John Deere offers around 100 attachments in its portfolio — from brooms to snow blowers — including optimized pallet forks for these G-tier compact wheel loaders, offering improved visibility, increased capacity and better durability.
This versatility is matched with serviceability. Ground level service simplifies daily maintenance. The cooling package optimizes efficiency and cleanout. The flow through design minimizes contamination from debris build up. To maximize time spent on the job instead of in the shop, these compact wheel loaders feature extended service intervals for engine oil and filter, final drive oil and hydraulic oil. G-tier compact wheel loaders are now equipped with a 30 percent larger fuel tank, meaning machines can run longer throughout the day without the need for refueling. Also, the automatic spring-applied hydraulically released park brakes help maximize uptime, and it's safer and more reliable than cable operated park brakes.
What kind of customers will gravitate toward these units? John Deere sees big potential in a variety of markets ranging from landscaping (think supply yards) to agriculture to snow removal to rental, and the John Deere 184, 204 and 304 G-tier compact wheel loaders are now available for purchase in the United States and Canada. Visit your local John Deere dealer.
Keith Gribbins is publisher of Compact Equipment.
Take a break from reading and check out our Machine Heads video series!