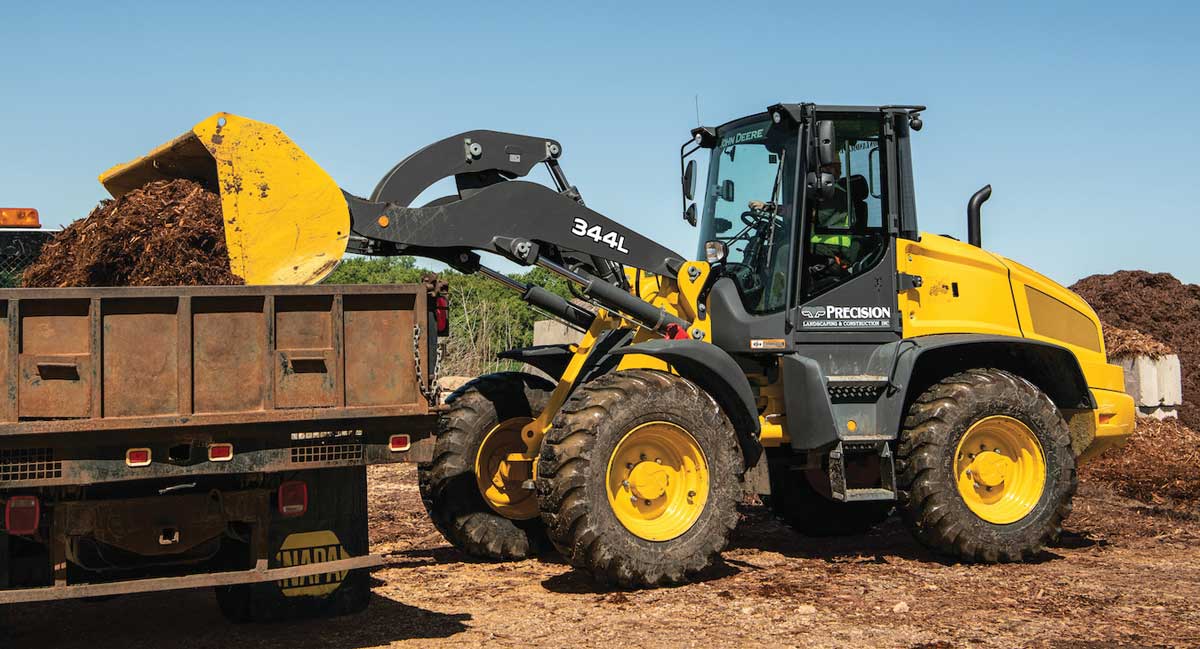 The 244L, 324L and 344L Models Come with the Exclusive Articulation Plus Steering System
John Deere has been offering compact wheel loaders to handle a variety of jobsite conditions for more than 30 years. John Deere entered the compact wheel loader market in 1987 and still offers small, yet mighty machines that meet the many needs of compact equipment customer applications. Compact wheel loaders, like the rest of John Deere's compact equipment lineup, are not only available through John Deere Construction and Forestry dealers, but a large portion of John Deere Ag and Turf dealers also have the ability to sell and support these machines. This means more parts on the shelf, more technicians in the shops and the field and more rental opportunities for customers.
John Deere offers five compact wheel loader models in its lineup. Overall, customers choose John Deere compact wheel loaders for a variety of reasons. Many customers like productivity enhancing features like the industry-exclusive Articulation Plus steering system or the Auto Shift transmission that really makes the overall maneuverability of these machines shine.
John Deere's 244L, 324L and 344L models come with the industry-exclusive Articulation Plus steering system that provides tighter turns and improved stability, allowing customers to increase productivity on the jobsite. This steering system allows 30 degrees of articulation with an additional 10 degrees of steering capabilities from the rear wheels. The company often sees these machines perform very well in applications like landscaping, agriculture material handling and general construction.
The 244L and 324L can reach a top speed of 23 mph while the 344L can reach up to 25 mph. If you are often working on large jobsites where you need a piece of compact equipment to quickly get from one place to another, this is a huge advantage that compact loaders have over other pieces of compact equipment. With standard Auto-Shift on these machines as well, operators are not going to have to worry about manual shifts between gear ranges, which makes the overall ride a lot smoother with the addition of ride control.
John Deere also offers the 204L and 304L to round out the remainder of its lineup. These machines are ideal for customers looking for lighter machines for less ground disturbance and ease of transportation. They are also at or just below 8 ft in height which means they have a much easier time entering into buildings or barns. Deere machines also strive for best-in-class ground level service, easy access to daily check points and a convenient, easy-to-read maintenance chart as well, which means you can focus more on operating and completing the tasks at hand. And of course, if additional expertise is needed, then these machines are supported by a wide ranging dealer network that often has certified technicians available to assist you.

Advice to Buyers
"Over the past decade, the growth in attachment offerings on compact equipment across the board has helped make compact wheel loaders more productive and versatile machines," says Luke Gribble, solutions marketing manager at John Deere. "Compact wheel loaders are capable of operating so much more than buckets and forks. By allowing machines to be equipped with a skid steer-style coupler, compact wheel loaders can operate many of the same attachments commonly used by a skid steer or compact track loader, such as pickup brooms, root rakes, snow blades and snowblowers just to name a few."
Tags:
John Deere
,
July August 2021 print issue
,
Spec Guide
,
Spec Guide 2021