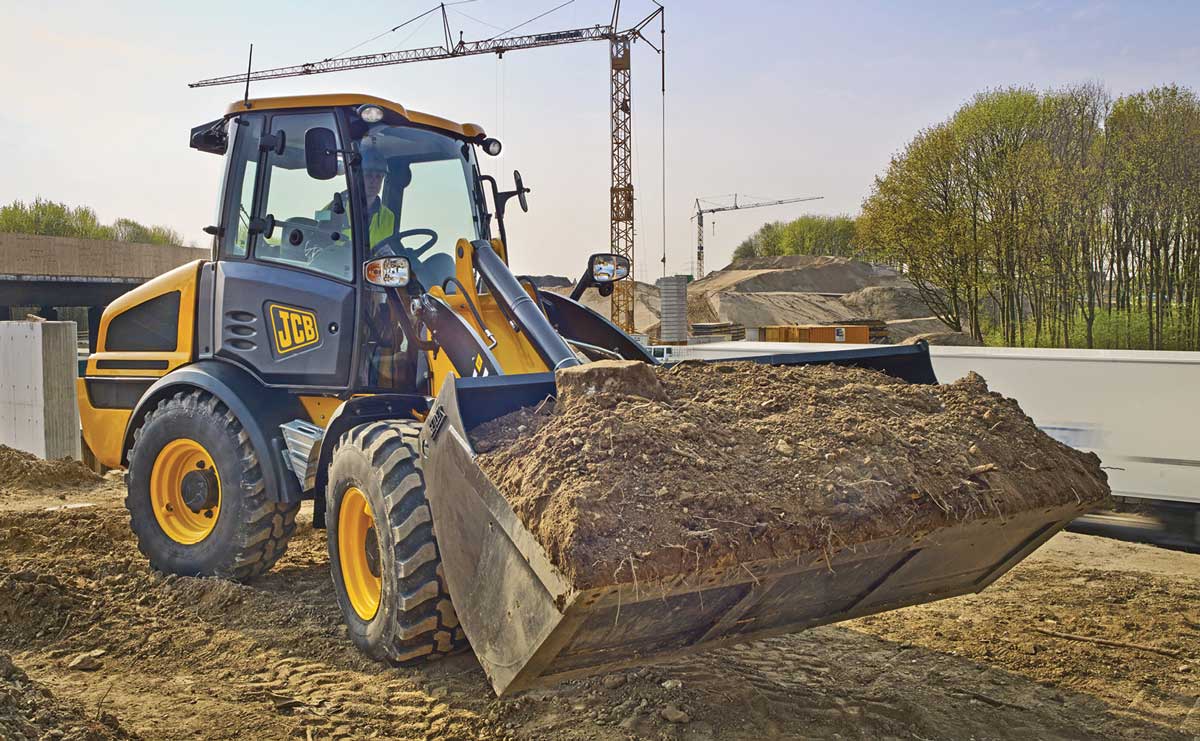 Two Models Designed with a Small Footprint and Tight Turning Radius
This post is a part of Compact Equipment's annual Spec Guide. View other brands' product and spec info by clicking this link. View the magazine version of these summaries by clicking right here. Sign up for the print edition right here. Now enjoy!
JCB's loader heritage dates back to the 1940s with the Major Loader. Today, the company offers seven wheel loader models in North America and numerous configurations. The JCB range includes two compact models, the 407 and the 409. Both JCB compact wheel loader models are powered by Tier 4 Final-compliant JCB Diesel by Kohler engines that require no DEF or DPF, for improved availability and reduced operating costs. Additionally, JCB compact wheel loaders feature hydrostatic transmissions, all-wheel drive, pivot steer, ground clearance and low height over cab.
JCB's compact wheel loaders are designed with extensive customer input and consequently appeal to those who prioritize safety, efficiency, ease of use, ease of maintenance, productivity, performance, reliability and comfort. With a compact footprint and tight turning radius, the JCB 407 and 409 are well suited for construction sites, landscaping supply yards, agricultural settings and other material handling applications within confined worksites.
Available high-speed and high-flow hydraulic options also ensure the suitability of JCB compact wheel loaders for worksites that require more travel between tasks or the use of larger, power-hungry attachments.
The 409 is Tier 4 compliant using only a DOC, while low-rev power and torque offer good fuel economy. Dimensions are compact for small turning circles. A variable-speed engine crank-driven cooling fan maintains optimum fan speed for all requirements without using any excess engine power. Power is transferred to the ground efficiently through an innovative chassis, with perfect harmony between all components.
The company offers several axle options on the JCB 409, including open diffs for hard ground and limited-slip diffs for soft muddy terrain. The company's 100 percent switchable front axle diff lock option provides traction on mud and creates no shear forces, so it won't damage the ground when it's not in use. It can also be engaged on the move and under load.
A common configuration includes a skid steer hitch with auxiliary hydraulics. It weighs in at just over 11,000 lbs and has a standard bucket capacity of 1 cu yd. With no exhaust aftertreatment, the JCB Diesel by Kohler engines are compact for visibility. The sloping rear hood provides an unimpeded view, with the exhaust silencer and air intake filter both packaged out of sight. The JCB 407 even has a cyclonic pre-filter which maximizes air filtration and significantly extends filter service intervals.
JCB's available LiveLink telematics system provides operators with remote access to access important machine status information such as running times and error alerts.

Advice to Buyers
"Wheel loader operators can spend an entire day inside the cab of their machine making operator comfort a top consideration when purchasing a wheel loader," says Ethan Clowes, JCB product manager of skid steers, compact track loaders, wheel loaders and backhoe loaders. "Look for a cab that offers best-in-class comfort and visibility, allowing an operator to be comfortable and happy while operating their machine. And as the saying goes, a comfortable and happy operator is a productive operator."