Many machines can perform snow removal effectively. Skid steers. Graders. Plow trucks. Walk-behind snow throwers. Ye old hand shovel. But one of the most productive snow removers in our collective opinion has to be wheel loaders. With big buckets, big blades, high reach and great visibility, wheel loaders can tackle winter work at airports, malls and even on streets with high roading speeds. Compact wheel loaders bring even more versatility and nimbleness to snow work, utilizing a variety of attachments from plows to snow throwers while articulating around congested jobsites with agility.
"We see demand for our compact wheel loaders in the snow removal industry all the way across the spectrum of our models — from the small 903D to the much larger 920," explains Robert Southerland, Caterpillar compact wheel loader product application specialist for North America. "These machines combine small sized maneuverability to fit in tight spaces with the power and tractive effort needed to push larger volumes of snow. The optional skid steer loader-style coupler also gives these machines the ability to use a much wider array of work tools."
Compact wheel loaders offer many advantages when it comes to snow jobs: a highly perched operator station for great visibility, fast roading speeds, comfortable cab environment, high reach, automation like kickouts and ride control and the ability to use a variety of snow attachments from box plows to snow throwers. Wheel loaders can be outfitted with high-powered LED lights, backup cameras and high-flow auxiliary hydraulics to do winter work. But for a lot of folks, snow work is seasonal, so the onus of this article is to help owners remember the extras needed to make a wheel loader snow-capable when the time comes.
"Let's say their primary focus is on landscaping," says Darren Ashton, Volvo product manager for compacts in North America. "If you look at those types of applications, snow removal is really secondary, so what you don't need in moving dirt that you may need in snow removal is high-flow hydraulics or hydraulics that are at least going to be capable of third and fourth function hydraulics. Because maybe you're using a wing plow, so you need to have a little bit of extra hydraulic flexibility to be able to angle those wings."
Good tip. Let's consider similarly insightful advice, suggested configurations and popular accessories and tech from four expert manufacturers in the industry.
Options and Accessories
Compact wheel loaders have a ton of options because these units go into a variety of markets. Choices include: articulated or all-wheel steer machines; joystick and wheel controls; automation like parallel lift and return-to-dig functions; ROPs and air conditioned/heated cabs; creeper and rimpull controls; tire and attachment choices; roading lights and rotating beacons; LCD displays; linkage options; and so much more. Most units use an articulating joint to make the compact wheel loader highly maneuverable while minimizing ground disturbance on soils and reducing tire wear on asphalt and concrete surfaces. This articulation is helpful when navigating around the obstacles and boundaries of jobsites covered in snow.
"The key point is to know your work area as snow starts to pile up," explains Christopher Tadman, construction business development manager for Kubota's Northern Division. "The operator needs to push the snow to an area that is not used as much so it can be loaded quickly and not remain in the way, allowing for quick turns as time is money when working with snow."
According to our Spec Guide, there are at least 15 manufacturers of compact wheel loaders selling into America today. Each manufacturer will offer several sizes and configurations. Wacker Neuson offers nine different compact models, while Caterpillar offers seven compact units, so there's a lot to choose from. Other category definers would be engine power — diesels ranging from 40 to 80 hp and above. Some units have telescoping booms. There are also multiple linkage types. Parallel linkage would be the best option for pallet forks and grapples, whereas a Z-bar linkage is best suited for bucket and snow work. Many manufacturers keep it easy by offering packages.
"We offer our WL28 in several winter packages," says Jay Quarto, commercial product manager at Wacker Neuson. "These packages include narrow winter tires to keep the machine under 48 in. in width for sidewalks, hand throttle and a speed limiter for operating a snowblower, rear auxiliary hydraulic couplers for towing a salt spreader and high-performance LED work lights."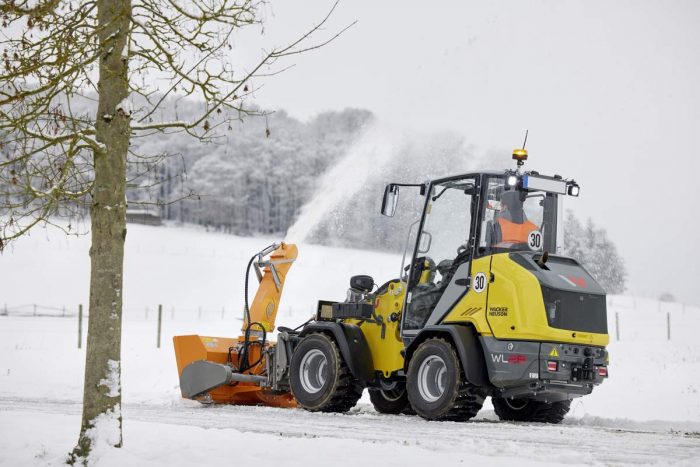 Any loader doing an extensive amount of cold weather work will require a cab, and that enclosed workspace would obviously greatly benefit from heat and a heated air-ride seat. Some units even have heated mirrors.
"Comfort in the cab is paramount during winter work," confirms Tadman. "Kubota cab wheel loaders come standard with a powerful heating/cooling system. Eleven vents provide optimal comfort on the coldest winter and hottest summer days. Optimal add-ons for winter work might include a 12V power outlet to keep accessories charged, a tool box for cab models and a block heater."
LCD touchscreen digital displays are now the command centers of the most high-tech compact wheel loaders. With the quick push of some digital buttons, owners and operators can gauge engine coolant temperature, hydraulic oil temperature, engine speed, battery voltage and beyond. A backup camera can be integrated into these digital displays.
John Deere Unveils Practical G-Tier Compact Wheel Loaders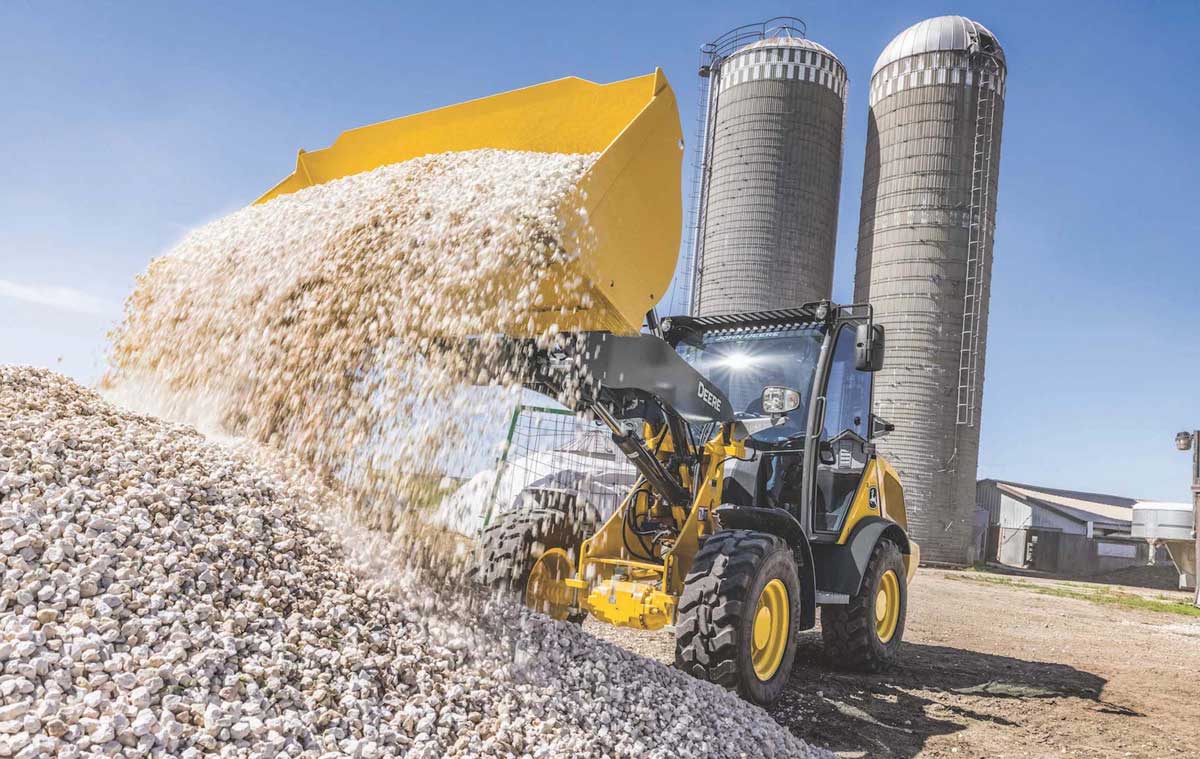 John Deere is building upon its lineup of compact equipment by expanding its performance tiering strategy with three new models of compact wheel loaders. The new G-tier models, including the new 184 G-tier and the 204 G-tier and 304 G-tier machines, were designed to include proven capabilities and are ideal for customers in need of a dependable machine to complete everyday tasks. The G-tier compact wheel loader models are also practically equipped. The G-tier models offer optimal performance with lower maintenance costs. With convenience and productivity top of mind, these easy-to-operate models come standard with limited slip differential, which automatically engages if one wheel loses traction, providing enhanced safety for the operator and the machine. For more info, visit deere.com.
"Let's say you're doing a 300-yd push," says Ashton. "By the time you're at the back of that, you're just ready to flip it, reverse and back up and do it again. In those types of situations, it's good to have that camera there — to double check what you're seeing from the cab."
Safety and visibility are important in snow work, so we recommend a hazard light or LED package in addition to that optional rearview camera. "A lot of snow removal is done at night," notes Quarto. "It's a good idea to survey the areas you will be clearing during the day before the snow season starts. Pay attention to where the piles will be placed, blind corners, traffic areas, etc."
There are loads of automation features available on compact wheel loaders that can help with snow removal. Ride control can automatically cushion the load to reduce spillage while also promoting comfort. Creep functionality allows an operator to achieve the optimal match between machine hydraulics, ground/operating conditions, snow composition and the attachment. A return-to-dig function can return the bucket to a specific set angle and height. Programmable kickouts allow the boom and bucket to return automatically to a certain height, which is great for filling trucks or loading snow into high piles.
Compact wheel loaders will also benefit when equipped with snow tires, adding traction and safety to those long, cold, dark hours of winter work. "When you're moving snow, you definitely want something that's more like a snow plus tire or something that's going to give you traction and controllability when you're trying to work at high speeds," says Ashton.
Attachments and Implements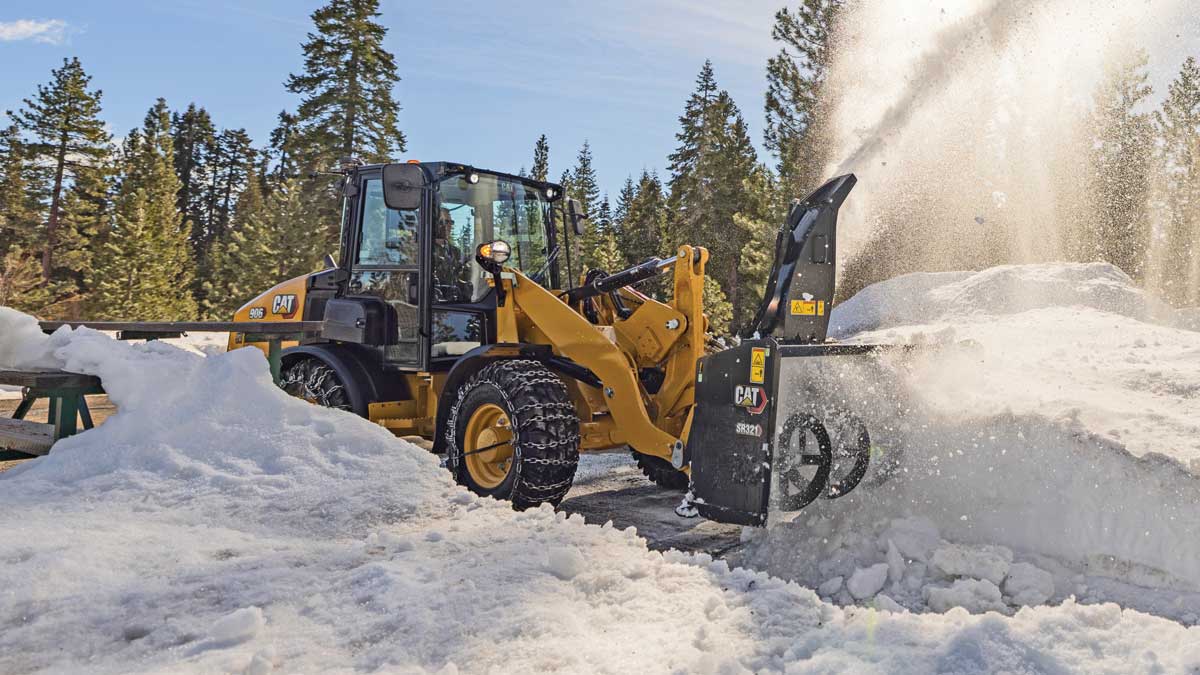 Most manufacturers offer two styles of compact wheel loader couplers: ISO or hook style and skid steer style. The skid steer-style coupler is widely popular for the numerous attachment possibilities that can be shared with skid steers and compact track loaders. Regardless of the coupler style, the type and density of the materials that will be handled should be considered to determine the appropriate bucket, attachment and coupler. Small wheel loaders do showcase some impressive auxiliary hydraulic stats from 15 to 33 gpm. There are a variety of snow attachments that can be used on a compact wheel loader.
"Snow pushes seem to be the most popular, particularly for large parking lot and yard work," says Southerland. "Of late, I have been seeing some snow wings, and they give a little more versatility. Sizing to the machine really depends on the job at hand. A customer might go with a smaller tool if the snow is wet and heavy or has a lot of ice. Likewise, they might use a much larger tool for fresher light and fluffy snow."
There are specific snow buckets for snow removal that can handle large volumes, engineered with a high back for pushing and straight sides for cutting through snow piles. Besides buckets, the most popular snow implements are brooms, blades, plows and snowblowers, and each brand will have a variety of options and technologies. A simple straight snow or dozer blade can be set to the ideal height and angle to push and clear snow. A complex V-blade can be adjusted in five different plowing configurations for the exact job at hand. A snow pusher can clear large volumes without leaving windrows or allowing snow to spill over the top.
We'd love to keep in touch! Check us out on Facebook, Twitter and LinkedIn!
These snow blades can be as narrow as 3 ft or as wide as 12 ft depending on the size of the loader, and these blades might be constructed of steel or polyethylene and come with options like adjustable skid shoes, compression trip springs, blade guides, deflector kits and beyond. There are also hybrid blades that might be fitted with optional wings or angled extensions that allow the blade to transform from straight to pusher and beyond.
Beyond blades, straight or angled broom attachments can be used for lighter, dry snow. A scraper attachment can break up hard-packed snow and ice from pavement. Spreaders can apply salt and sand to give compact equipment the traction to work in winter and for people to walk safely. Snowblowers are a great solution for relocating material at distance. The typical in-cab electrically controlled adjustable chute rotates left and right, and the deflector controls the height of the discharge, allowing operators to position the material exactly where needed.
"Keep your travel speed slow and steady," advises Quarto, discussing how to use a snowblower. "Use your hand throttle and speed control if equipped. Let the blower work at its maximum rpm. Trying to move too fast will cause it to bog down and will require the operator to constantly modulate the machine drive speed."
Safety and Prep
Hopefully, all big plow contracts can be worked out before the winter, so operators get ample opportunity to survey the parking lots, pathways, roads or driveways they'll be working. Scout and take notes before it snows, and watch your speed when plowing.
"Operator training is paramount, as well as ensuring novice and experienced drivers periodically review training," says Tadman. "The wheel loader has a different feel compared to other equipment that is not articulated when operating, so operators need to be careful and pay attention when maneuvering the machine with attachments. Operators should always be aware of their surroundings and should understand that wearing a seat belt is imperative to keeping them safe."
Keith Gribbins is publisher of Compact Equipment
Winter Maintenance Musts Via Christopher Tadman at Kubota
• The key thing is to make sure your fuel is treated or is a winter blend due to the unexpected temperature drops that can quickly occur during the season.
• Keep equipment greased regularly as these units can sit idle for extended periods of time and then may be used for several days at a stretch. They are used in areas that are treated with salt/calcium, and this will cause corrosion in key areas if not maintained properly.
• Windshield washer solvent should also be a winter blend. Visibility can deteriorate quickly when salt, calcium, dirt and snow build up on the front glass and cannot be washed off.
• Check tire pressures regularly as these units can sit for weeks but need to be ready to operate when sudden intemperate weather occurs. Checking and filling tires with ice and snow on the ground is not ideal.