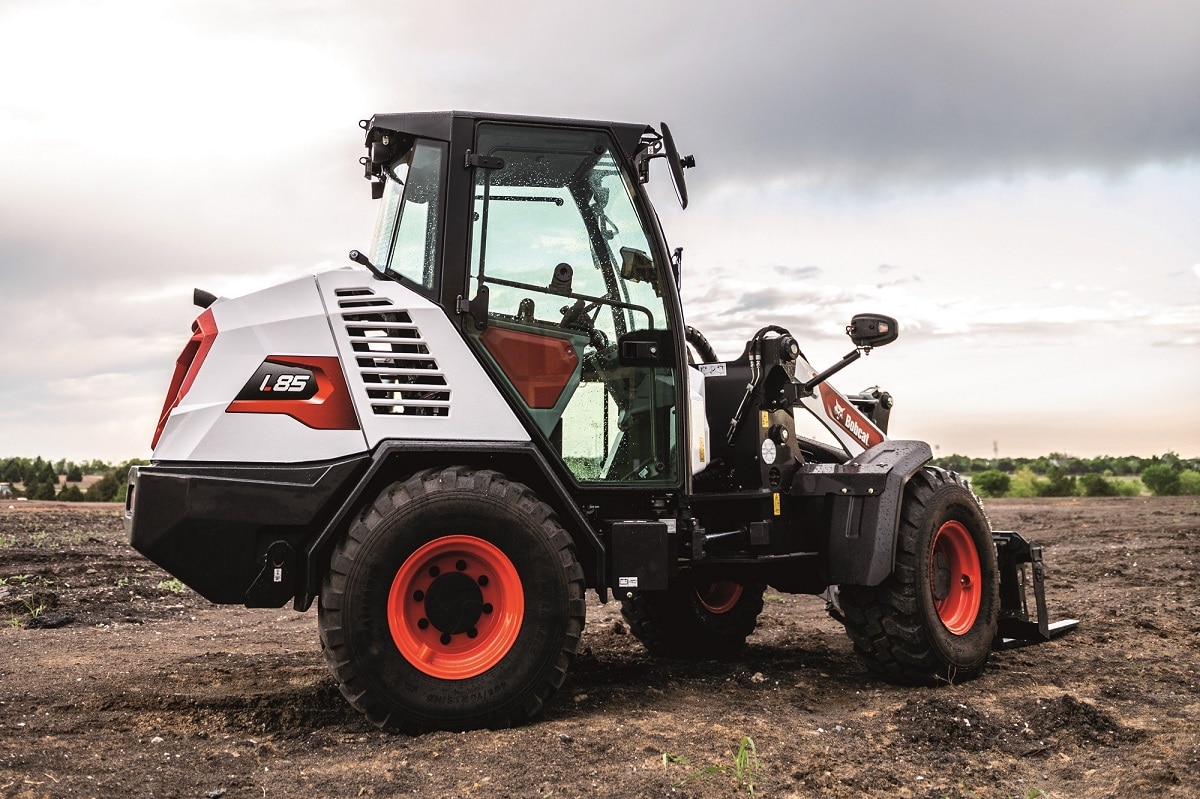 Loaders Built to Help You Accomplish More
This post is a part of Compact Equipment's annual Spec Guide. View other brands' product and spec info by clicking this link. View the magazine version of these summaries by clicking right here. Sign up for the print edition right here. Now enjoy!
Bobcat is a pioneer of the compact equipment industry with a more than 60-year legacy of providing powerful, dependable and unmatched machines. Bobcat continues to innovate and spearhead the industry with the recent launch of the all-new L65 and L85 compact wheel loaders.
When met with a challenge, Bobcat compact wheel loaders excel. The L65 and L85 deliver an unmatched combination of performance, versatility and comfort, making them difficult to beat. These compact loaders save you time on any job, allowing operators to consistently achieve more. Crafted with state-of-the-art technology, these compact wheel loaders are more maneuverable than ever before. Operating these loaders is not only easier than ever before, but also more efficient. Nimble steering capabilities allow for articulate results while executing tasks, big or small.
One thing these compact wheel loaders won't do? Waste your time. Implementing a combination of impressive heavy and high lifting capabilities, big jobs can be completed quicker than ever before. Bobcat compact wheel loaders excel at lift-and-carry tasks and are as swift as they are strong. These loaders include two speed ranges that are easily operated for optimum control. With two different speeds, operators can adapt the performance of the Bobcat compact wheel loader to whatever the job requires. Crowded work zones, dangerous terrain and other challenging environments are made easy when manning Bobcat compact wheel loaders. Whether you are working in landscaping, construction, agriculture and other industries, tough material handling becomes simple with the standard bucket capabilities. Because of this great material handling capability, Bobcat compact wheel loaders help you accomplish more on every job.
The versatility of the L65 and L85 make them clear choices for any job. In addition to buckets and pallet forks designed specifically for these machines, these compact loaders can be paired with a variety of Bobcat attachments to be highly efficient in an arena. The versatility of these machines allows you to customize your loaders for excellent performance in any situation. Whether it's moving pallets, removing snow or clearing debris, Bobcat attachments help you take on new jobs and get more value from your compact loader. The L65 and L85 were designed with comfort as a priority, not an afterthought. This spacious, pressurized cab is engineered for all-day performance and provides an outstanding vantage point for operators. When it comes to balancing power with versatility, neither quality is compromised. These loaders also include a Bobcat Tier 4 turbocharged engine, delivering high-torque performance and maneuverability for overall excellent efficiency.

Advice to Buyers
"Compact wheel loaders are a great choice for contractors who need to work in tight spaces without sacrificing power or productivity," says Mike Fitzgerald, marketing manager at Bobcat. "When looking for a new compact wheel loader to add to your lineup, consider the speed, operating capacity and size of the machine and right-size accordingly to the job. And, don't forget about expanding your operating capabilities through attachments."
For reprint and licensing requests for this article, please click here. Tags: Bobcat, July August 2022 Print Issue, Spec Guide, Spec Guide 2022