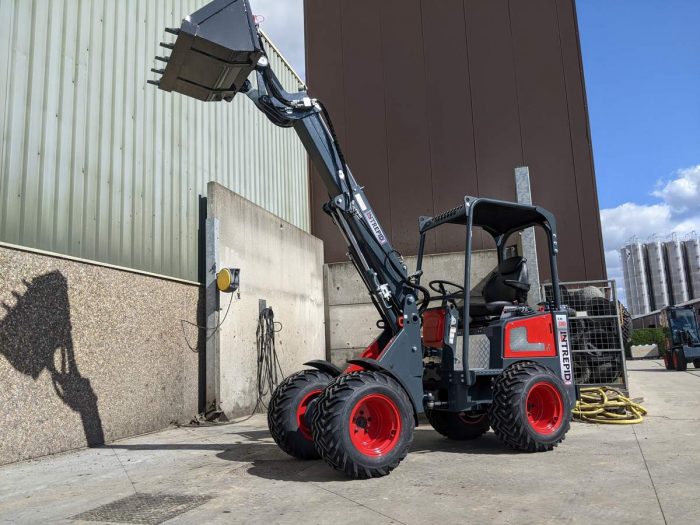 Importer and distributor of mini articulating loaders Miniloaders.com recently announced that it's bringing two new models of articulating loaders to the U.S. market. The Intrepid KM85 and Intrepid KM130 Tele are now available alongside the Intrepid KM100 Tele, the latter of which was introduced by the company in 2018. The KM85 is unique as it is the smallest wheel loader of its kind available in the American market, having a service weight just short of 2,000 lbs. The KM130 Tele will come in heavier at 4,000 lbs and is equipped with a telescopic boom. Intrepid loaders are built in Belgium by family-run manufacturer Geens Brothers.
Dual Wheel KM85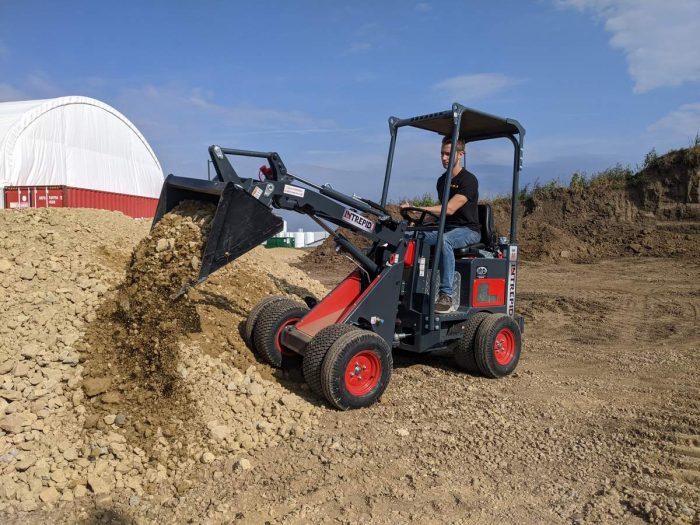 The KM85 comes with a small frame width of 32 in. and 1,000-lbs rated operating capacity. "It has an excellent power-to-weight ratio as it is equipped with a 23-hp D902 Kubota engine. This engine is usually seen in heavier industry peers," says Chris Sleurink, owner of Miniloaders.com. The KM85 will be targeted specifically at those who need the lift performance of mini-skidsteers, but are looking for a turf-friendly and compact alternative. A unique feature of the KM85 is its dual-wheel setup. "The operator can remove the outer wheel by removing a single bolt, decreasing the total width from 47.5 in. to 35.5 in.," Chris says. This makes it possible to haul debris and materials through a standard 36-in. wide gate.
All-Rounder KM130 Tele
The KM130 Tele boasts an operating capacity of around 2,000 lbs, a four-cylinder Kubota engine and 10.5-ft lift height. "A distinguishing feature of all Intrepid articulating loaders is a solid, steel construction. This allows us to sell to multiple industries, regardless of jobsite conditions," Chris says. The KM130 Tele will be equipped with an MT-style universal mount plate and hydraulic quick-connect. Furthermore, the KM100 Tele and KM130 Tele now come standard with a hand-throttle. Once the operator sets a desired RPM level, the foot throttle pedal in turn determines drive speed (instead of RPM). This allows customers to better use continuous-flow attachments like sweepers and mowers. It also allows customers to select the fixed-RPM drive mode as seen with skidsteers. According to Chris; "we are the only brand featuring this option as a standard on our loaders."
Intrepid loaders are sold and distributed directly to the end-user out of Wisconsin. "We're seeing steady sales across the United States, mainly to green industry customers such as arborists and landscapers," Chris says. "Our KM100 Tele is popular among tree care companies because of its compact size and telescoping boom, but above all due to its articulated steering which results in minimal lawn damage," Chris notes. He adds: "In introducing these loaders I anticipate the same success as seen with the KM100 Tele. The KM130 Tele is the manufacturers' best-selling loader in Europe. I hope to see the same here within the next few years."
We'd love to keep in touch! Check us out on Facebook, Twitter and LinkedIn!