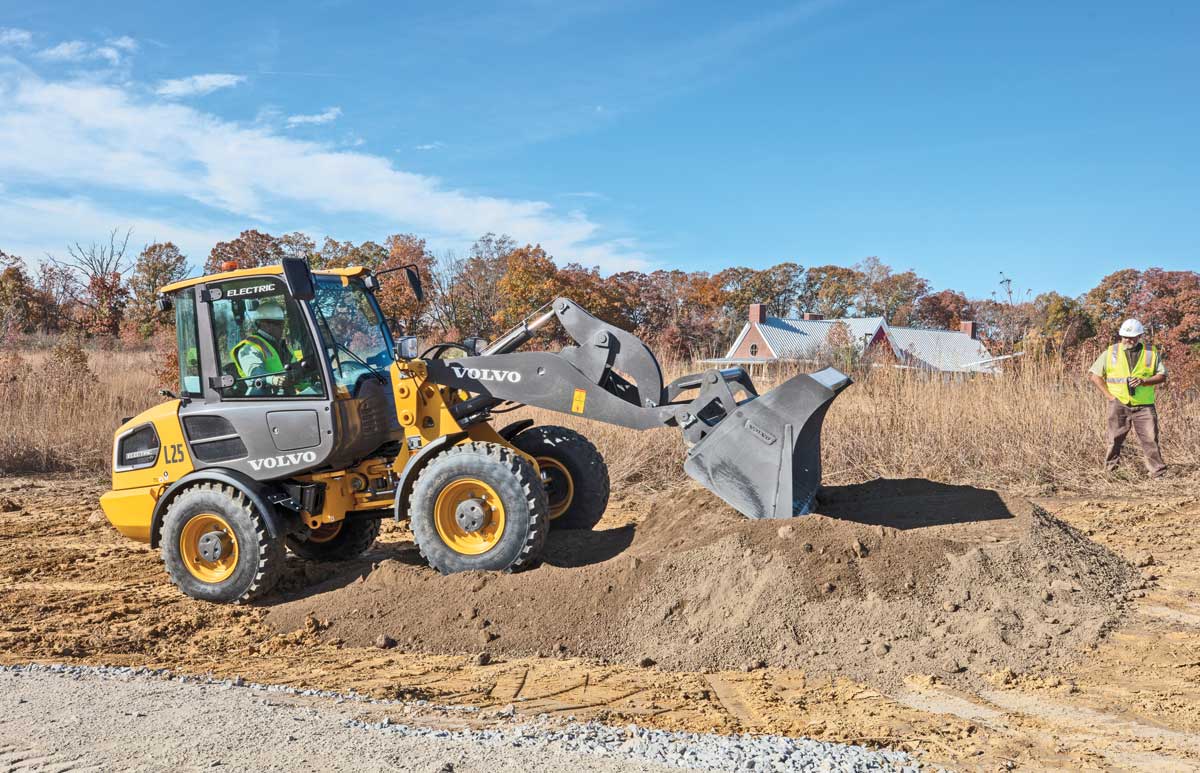 We've been chatting about electric machines for a while now, but most of that talk has been focused on mini excavators, aerial lifts and other smaller ancillary equipment. However, electric compact wheel loaders are next on the horizon — with two models from Volvo Construction Equipment already making headlines. So, what makes this type of equipment category a good candidate for electrification? We spoke to Dr. Ray Gallant, vice president of product management and productivity at Volvo Construction Equipment, to find out.
"Small machines lend themselves well to battery-electric drive," says Gallant. "At Volvo CE, we put a 48-volt battery pack in our compact machines like our L20 and L25 Electric wheel loaders. These packs can store enough energy for the machines to perform their daily work on a typical duty cycle basis. We have different charging solutions available to charge them."
Although newer to customers, electric equipment — including compact wheel loaders — offers several advantages over diesel-powered models. Since electric compact wheel loaders boast zero emissions, crews can use them to work indoors or in sensitive areas where diesel machines can't. Electric compact wheel loaders are quieter which allows operators to take on jobs in residential or crowded urban areas, as well as at night. On top of a quieter ride, these machines produce less vibration, providing operators with a more comfortable workday.
We'd love to keep in touch! Check us out on Facebook, Twitter and LinkedIn!
"Reductions in noise and vibration are the result of removing the diesel engine and the cooling fan," says Gallant. "In our pilot programs, we're hearing over and over how much less fatigued operators feel after several hours of work because of this difference."
Lower operating costs — thanks to minimal maintenance and no fuel — is another advantage but can get lost in the machine's higher initial purchase price. However, Gallant says it's important to note that even though electric models cost more than diesel-powered ones, there are valuable incentives available at federal, state and local levels. Potential buyers just need to do a little research on what's available. Customers should also consider what new jobs may be available with this type of machine.
"The total cost of ownership [TCO] should be considered when evaluating the actual price of new electric models, largely around fuel savings, less scheduled maintenance and extended component life," he says. "Even though the electric machines might not be cheaper, they add more value because they allow contractors to bid on emissions-restricted jobs, work during the night in densely populated areas and work indoors, as well as in many other niche applications unsuitable for conventional diesel machines."
What to Expect with Electric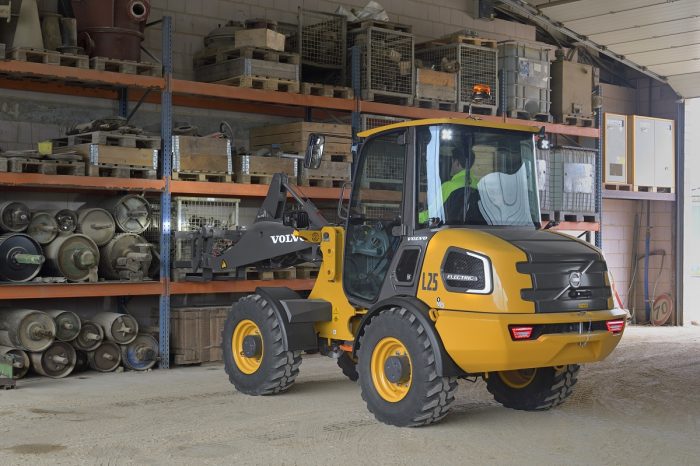 Interested in going electric? Aside from all the advantages above, it's also important to note that electric machines offer comparable power and specs to diesel ones. Be sure to compare the electric compact wheel loader's specs to ensure it provides similar performance. Gallant points out that customers don't have to sacrifice power by buying an electric model.
"When it comes to power and performance, our electric compact wheel loader specifications are nearly identical to their diesel counterparts — almost line for line, every diesel model spec applies to the electric models," he says. "The Volvo L25 Electric wheel loader, for example, has a marginally higher operating weight and a higher static tipping load compared to our L25 diesel model."
As for operation, users can see improvement among idle times with electric machines. Gallant explains that with diesel construction equipment, operating time is defined by the engine runtime, and a lot of those hours are counted while the machine is idle. On the flip side, the motors on electric machines power down as soon as the operator stops working, pausing operating hours from accumulating.
"When you think about it, jobs that can rack up 10,000 hours on a diesel machine might only add 6,000 or 7,000 hours to a comparable electric machine," says Gallant. "These saved hours lower operating costs and in turn lower total cost of ownership. They help improve resale values too."
Instant torque is another popular attribute operators enjoy with electric machines. For example, as soon as the operator starts running the compact wheel loader, the electric motors provide instant torque instead of a delay that may be felt on some diesel machines when they're engaged.
When it comes to maintaining the machine, electric compact wheel loaders require a reduced amount of upkeep than diesel models. Volvo CE estimates that electric machines need about 30 percent less maintenance. Gallant shares three factors that drastically cut down on maintenance time:
Maintenance-free electric motors, featuring auto shutoff
Fully electric drivelines that reduce hydraulic oil need by half
Easy ground-level access to lubrication and maintenance points
"Essentially, the only services required for a tech working on Volvo CE electric machines is grease, the hydraulic oil and, in the case of the L25 and L20, coolant for the water-cooled inverters and drivetrain," he adds. "The state-of-the-art, lithium-ion batteries and electric motors are totally maintenance-free. The lifetime of the battery-electric components should be equal to or better than the diesel engine on a conventional machine."
As for charging, Volvo recommends a 240-volt, 32-amp Level 2 AC-charging setup using an SAE J1772 charging adapter or J plug, which is the same as for electric vehicles. According to Gallant, the company's L20 and L25 electric compact wheel loaders can be charged on a common household 120-volt outlet in 12 hours, the recommended 240-volt setup in six hours or a Benning DC rapid charger in two hours (all from empty to full). If working remotely, crews could opt for a Beam solar fast charger which is an off-grid, no connection, free-standing solar charger that has a battery pack similar to the size of the one inside the Volvo L25 wheel loader.How long can these machines work after a charge? The duration will depend on the applications.
"Once charged, the L20 Electric and L25 Electric can deliver up to six hours of active work per charge, depending on the environment and task at hand," says Gallant. "For example, we've had customers doing heavy applications like cutting and grading, and heavy workloads through the morning might require a quick charge at lunch. Meanwhile, customers in lighter applications or where the machine is used intermittently have found that it can last longer."
Pam Kleineke is managing editor of Compact Equipment.
Cleary Stone Receives First Volvo Electric Wheel Loader in North America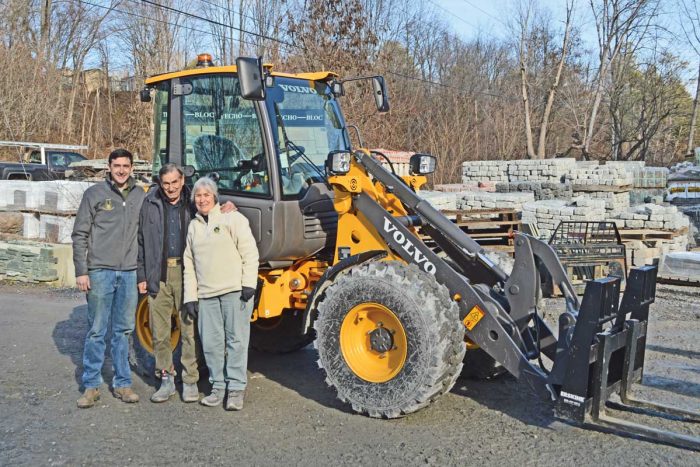 Cleary Stone has had their eye on sustainability for a long time. The Richmond, Vt.-based business provides rock products from gravel to large slabs to customers who care about the earth, so it simply makes sense.
"We work primarily with landscapers who love the earth and enjoy making it more beautiful," says John Cleary, founder and part owner.
So, when Volvo Construction Equipment announced that electric compact machines were available to order, the Cleary team was immediately interested. They told their dealer contact, Chris Palmer at Wood's CRW, that they wanted an electric machine, and he called them as soon as an L20 Electric compact wheel loader came in.
"He went above and beyond for us to get the machine, including working with the state on funding to help us buy it," says Cleary.
The machine was delivered in November 2022, giving them the first fully electric wheel loader in North America.
"We are so happy that the first electric CWL went to a company like Cleary Stone, who is passionate about being a good steward of the environment," says Stephen Roy, president of North America, Volvo CE. "The work they and their customers do is perfect for this machine."