There's no limit to the tasks that a utility vehicle can accomplish, and earlier this year Regina, Canada-based large equipment dealer Superior Forklift Ltd., along with Lumsden, Canada-based fertilizer producer Nutrien, demonstrated just how versatile this machine is by customizing and donating a Kioti Mechron utility vehicle to two local fire departments.
The custom side-by-side was built to combat wildland fires, rescue victims and move firefighting personnel into hard-to-reach areas. It's powered by a three-cylinder diesel engine and custom fitted with a full suspension, spring-loaded heavy-duty track system to maneuver through the toughest terrain.
The Mechron was customized to include a hose reel with electric rewind with an option of 50 ft of 1-in. hose, or 100 ft of three-quarter-inch hose. The unique unit carries 70 gal of water and an integrated Class A foam system, which is piped to the 5.5-hp Honda pump added for the firefighters' use. The vehicle's tank has a large port for quick refilling, and a custom lighting package has been installed to identify it as a responding unit. Locally owned and managed since opening in 2001, Superior Forklift is committed to supporting the growing province it calls home. Nutrien has also been part of the community for many years, working in partnership with local organizations to protect, grow and enrich communities where it operates.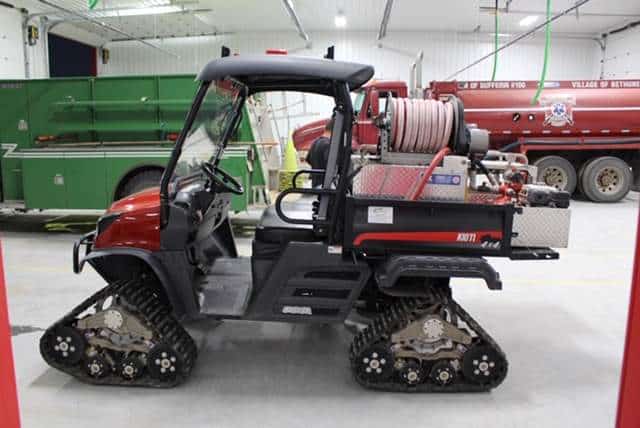 "Superior Forklift was eager to give back to our local first responders by donating the customized Kioti Mechron," said Brian Weisbrod, president of Superior Forklift. "We're grateful for the difference these firefighters make in our community and are happy to see the side-by-side already being put to use to keep our neighbors safe. We also thank Gord Emperingham and his team at Nutrien for their support."
Luke Sitter is a volunteer at the Lumsden Fire Department.
Tags:
Canada
,
Dealer Watch
,
Dealers
,
home
,
Kioti
,
Nutrien
,
Superior Forklift