Temperatures are rising. Project start dates are locked in. You've hired your crew. Spring has arrived, and it's finally go time. But before you haul equipment to your first jobsite, make sure your machines have gone through a thorough spring tune-up so they're ready to work when you are. Chris Austinson, utility product specialist at Bobcat Co., outlines the list of spring maintenance checks every utility vehicle owner should perform to refresh components and to catch any service issues before they become serious problems.
"The biggest thing is that UTV maintenance shouldn't be overwhelming," Austinson says. "You don't have to have a technical degree to do this work. You just have to be observant. If you look at the machine every day, over time you'll identify when things aren't right. If something changes that should be a red flag."
Start Early
Don't wait until the last minute to bust out your spring maintenance checklist. Plan to do a seasonal tune-up of your UTV three to four weeks before you expect the vehicle to go back in service, Austinson says. This will give you plenty of time to examine the machine, order any parts and make needed repairs or installations without feeling rushed. You'll also have some wiggle room if projects get moved up and work starts sooner than expected.
Know Your Limits
While the operation and maintenance manual is a great resource for reading up on service intervals and instructions, operators should always evaluate their comfort level with performing maintenance and repairs before rolling up their sleeves to do the work themselves.
Austinson says most operators will be able to perform simple maintenance tasks on their own, such as checking the UTV's oil, brake fluid, fuel, coolant levels and tire treads, but more complicated systems and repairs may require the assistance of a trained service technician.
If an owner does get in over his or her head, dealerships provide many services to support the machine. If you're strapped for time or don't feel comfortable maintaining the machine yourself, consider scheduling a maintenance appointment at your local dealership, which can provide peace of mind that the service has been done properly and free up time for you to handle other jobs.
Clean Your Machine
Washing the machine is an often overlooked step during spring maintenance, Austinson says. Make sure to remove all mud, dirt and debris from the UTV before examining it so you can easily identify any maintenance issues that may be hiding under last year's grime. Replace machine safety and warning decals that may be scratched, illegible or missing and need replacing.
Run Through Daily Maintenance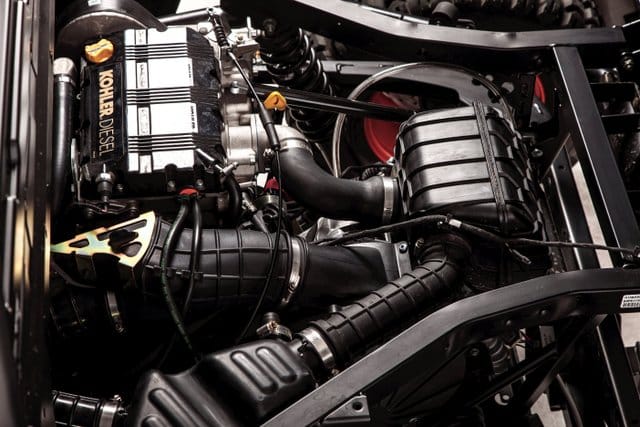 Whether you stored your machine through the winter or regularly climbed behind the wheel for snow removal work, kick off your UTV's spring maintenance tune-up by first going through your daily checklist. Check belt tension and all fluid levels, including coolant, brake fluid, oil and fuel. Batteries often lose charge when left in the cold so charging the battery is a must.
Examine the air filter and swap in a clean filter if dirty. Turn the key on to observe the instrument panels and systems for correct operation. Test the throttle, brakes, headlights, brake lights, seat belts and other safety devices to ensure they're in good working order. If personal protection devices or safety measures are not operating properly, the UTV should be decommissioned immediately until components are repaired.
Make sure to record any maintenance in your machine's service records to remain in good warranty standing and to streamline any claims that may arise. Well-maintained records can also add resale value to your machine.
Inspect for Malfunctions
Austinson stresses that most UTV maintenance problems are preventable and result from operators skipping the recommended daily maintenance routine. Daily checks help familiarize operators with their machines so that when components do start to show wear and tear or break down, the operator immediately notices the abnormal change and can take action to resolve the issue. Austinson says maintenance issues to look out for during daily inspections include low tire pressure, loose bolts or fasteners and leaking seals and fittings, fluid spots on the floor and excessive dust collection near seal locations, all of which could signal a fluid leak. If components are loose, they will likely become even looser and fall out or break off over time. It's much easier — and more cost effective — to tighten a bolt in the shop next to your toolbox than to try to repair a machine in the field.
Pay Attention to Fuel
Your UTV's spring fuel maintenance needs may vary depending on the type of fuel used. Austinson recommends always double checking the fuel and additives in your machine's tank before turning on the ignition in the spring. Because diesel fuel and pure gasoline have a 12-month shelf life, machines stored for the winter with either of these fuels should be ready for operation in the spring. Ethanol-blended fuel, however, has a shelf life of only three months, so you may need to drain the fuel from your UTV if the machine has been sitting idle for long stretches of time.
Check Your Tires
It doesn't matter how great of shape your machine is in if it's outfitted with a set of tired tires. Make sure your tire treads are at least 3 millimeters or higher to get optimal traction on wet and muddy surfaces; tires with a tread lower than that should be replaced. UTV owners should also check for uneven wear and bald spots; without proper care, these issues could lead to flats or costly breakdowns. Tires should always be properly inflated before rolling out of storage and onto the jobsite.
Stock Up on Parts
To expedite spring maintenance and prepare for any service issues that may crop up this summer, Austinson says operators should always have an inventory of basic parts and fluids on hand, including grease, engine oil, antifreeze, air filters, spark plugs, fuel filters and drive belts. Stocking up on components reduces any potential downtime needed to run to the dealership if a component breaks down on the job.
Schedule Future Maintenance Checks
Proper UTV maintenance doesn't end after your spring tune-up. Most vehicles require certain maintenance tasks at regular time intervals, such as at every 25, 50, 100 or 300 hours put on the machine. Because machines get heavy use some weeks and light use during others, it's recommended to follow an hourly rather than a daily schedule. Consult your UTV's manual to determine service intervals.
"Understanding the machine and doing a quick walkaround and inspection will prevent a lot of problems down the road when it comes to UTV maintenance," Austinson says.
Laura Johnson is a technical writer with Two Rivers Marketing.