While the classic pickup has been a long-standing jobsite essential, a utility vehicle (or UTV) has become the new popular all-terrain transport alternative. Engineered with a cargo bed, tow-hitch, racking for tools and even PTO- or hydraulic-fueled attachments, UTVs are now being specifically engineered for work applications in construction, landscape, agriculture and more. Customers are using UTVs to replace other vehicles like pickup trucks and tractors to do their jobs. These vehicles are designed to work on the jobsite and in off-road environments, but they also allow customers to have fun and enjoy the outdoors. Today, 4x4s have the largest market share because most folks want four-wheel drive. Gas is also exceeding diesel because the customer segment is focused on performance engines and emissions standards, but diesel engines are still a serious player in the market. There is also a noticeable trend in multi-seat units. This growing segment allows customers to convert space to carry equipment or a crew. Utility vehicle purchasers should focus on products that combine rugged construction, gritty performance, ultra-smooth ride and feel-good amenities. Check out all the models below to help begin your search.
Bobcat Model Year 2019 UTVs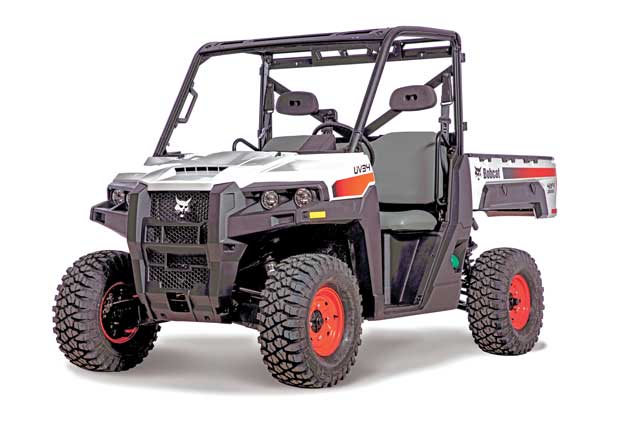 Model year 2019 utility vehicles, including the Bobcat UV34 diesel and UV34XL diesel, are designed to meet the demands of the most challenging work conditions. An all-new, more rigid chassis on both standard and XL utility vehicles gives you all of the performance you need in a work-focused vehicle. Additional comfort. Added strength. Increased performance for the job. The chassis design drastically improves ground clearance and road capability while allowing more range of motion in the suspension for superior ride quality, which is enhanced further with increased seat padding. Towing capacity is increased by 500 lbs, allowing you to haul heavier trailers. For more info, visit bobcat.com/utility-products/utv.
Cat Five-Seat UTVs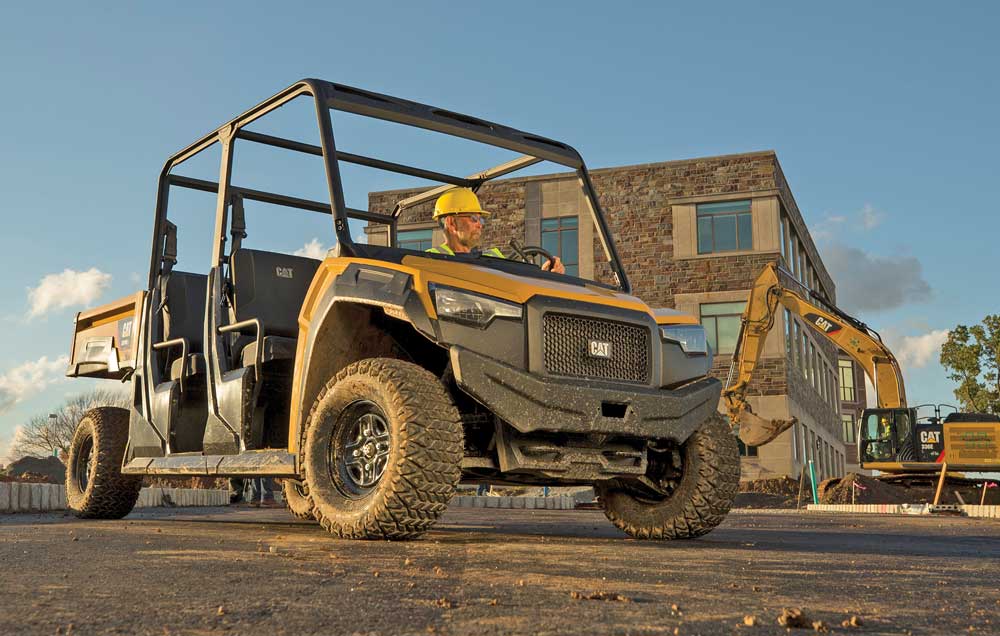 Last year, Caterpillar announced the introduction of its first-ever Cat utility vehicles — the gasoline-powered Cat CUV82 and diesel-powered CUV102 D. To expand that offering, the product line now includes the gasoline-powered Cat CUV85 and diesel-powered CUV105 D. The CUV85 and CUV105 D both feature a spacious second row to accommodate a total of five people. The CUV85 and CUV105 D feature rugged steel cargo beds and offer 1,000-lb total rear cargo capacities and 2,000-lb towing capacities for outstanding performance in a variety of applications. These Cat UTVs deliver a premium experience at a competitive price. For more info, visit cat.com.
Kioti K9 2400
A fully featured, tough and reliable companion, the Kioti K9 2400 is a landowner's best friend. The 24-hp, three-cylinder diesel engine — which makes way for ground speeds up to 31 mph — allows operators to tackle any task with strength and efficiency. The K9 2400 also has one of the largest all-metal beds in its class, with an impressive 1,102-lb capacity, a standard spray-in liner and an optional hydraulic dump kit, allowing for a full range of towing and hauling capabilities. Full-coverage skid plates, a front grill guard and a contoured bench seat add to the overall look and feel, matching the K9 2400's appearance with its powerful performance. For more info, visit kioti.com/products/utility-vehicles/k9-2400/.
Kubota RTV-X1120
The RTV-X1120 is Kubota's most well-equipped utility vehicle offered at a value price point of $13,999 MSRP. Designed for daily heavy-duty work, the Kubota RTV-X1120 combines Kubota quality with enhanced power, torque and performance at a never-before price point. Kubota-built and all-terrain proven, the 24.8-hp engine and VHT-X transmission provide a top speed of 29 mph as well as plenty of hill-climbing power. Designed for reducing operator fatigue during long work days, the RTV-X1120 features adjustable ergonomically designed 60:40 split bench seats, digital dashboard display, power steering, easily accessible parking brake and large under seat storage compartments. For more info, visit kubotausa.com.
Yanmar Brahma Diesel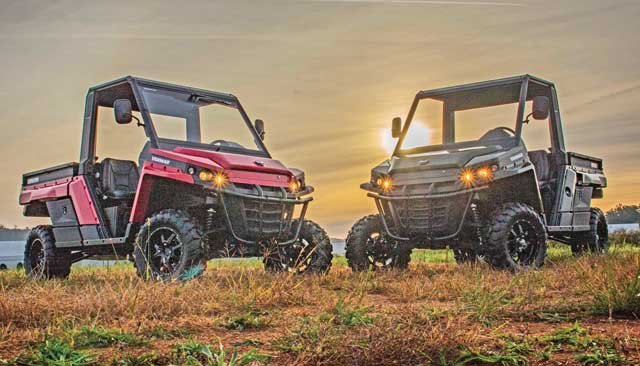 In 2016, Yanmar, a global leader in diesel engine technology, launched the Bull Series line of gas-powered utility task vehicles. Yanmar is set to launch the Brahma diesel UTV this month which will be powered by the 1,000-cc Yanmar Minimax diesel engine. The Brahma will come in three trim levels that include a canopy model, semi-cab model and a full hard cab model. The top features include: class-leading interior space and leg room; standard automotive-style tail lights with turn signals and hazard lights; class-leading storage; diesel UTV class-leading ground clearance of 12.2 in.; individual, fully adjustable cushioned seats; and more. For more info, visit thebullseries.com.
Hustler MDV with LeveLift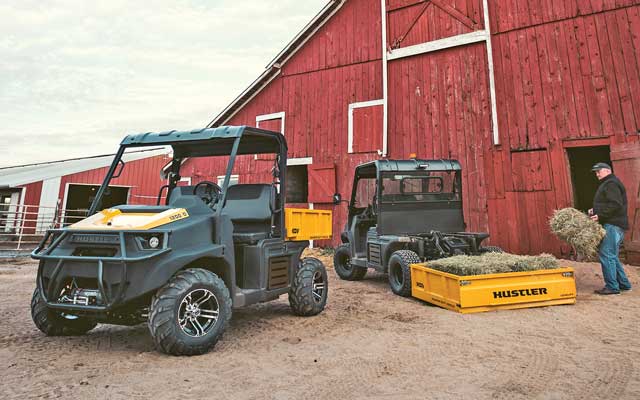 Flip the switch and the patented LeveLift brings the cargo box up, back and down, enabling the user to load at ground level or at any point along the bed's arc of motion. Once loaded, LeveLift brings the cargo box back up and into position on the MDV. The LeveLift provides a 750-lb lift capacity. The MDV is equipped with a Kohler 23.4-hp diesel engine fed by a 14-gal fuel tank. It features rugged steel-frame construction, and the MDV's power steering and dual-range continuously variable transmission deliver reliably smooth operation and easy handling. The MDV is also available with a standard bed with a load capacity of 1,685 lbs. For more info, visit hustlerturf.com.
Polaris Pro XD Line
An all-new diesel UTV lineup from Polaris is engineered for work, with durability, serviceability and safety in mind, along with an industry-leading payload of 1,930 lbs and 2,500 lbs towing for any jobsite. The recently launched Pro XD line from Polaris offers three diesel-powered models built to withstand tough duty cycles and usage — 2000D two passenger vehicle, available in two-wheel drive or all-wheel drive, and the 4000D four passenger vehicle, available in all-wheel drive. The durability of the Pro XD drives productivity and profitability by decreasing downtime, and the ability to easily conduct simple service tasks at the jobsite is critical to keeping the machine running efficiently. For more info, visit http://bit.ly/PRO-XD.
---
Spread the News: Curtis Industries Introduces Stainless Steel Salt Spreader for UTVs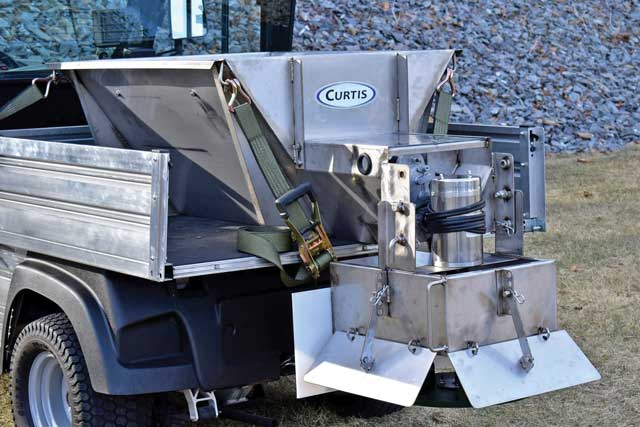 Curtis Industries announced the release of the Fast-Cast 600 spreader designed to fit the bed length and weight restrictions of most UTVs. Lighter than standard truck spreaders, the Fast-Cast 600 is ideal for applications such as sidewalks, driveways, parking lots and bike paths. The spreader features stainless steel construction and an electric drive 4-in. diameter continuous auger. The hopper has 52-degree sides for continuous material flow. The Fast-Cast 600 spreader has the fewest moving parts of any spreader on the market, says Curtis, for minimum maintenance and reduced downtime. Adjustable deflectors provide precise material spreading width to avoid overspreading in narrow areas such as sidewalks. Additionally, the spreader comes standard with a spinner speed control to fine tune spreading width. The spreader is ideal for bagged ice melt and rock salt. It can also be used with 50/50 salt and sand mixture. Salt and sand mix requires an optional vibrator kit. For more info, visit curtiscab.com.
---
Tune-Up Time: With Warm Weather Approaching, Enjoy These UTV Spring Maintenance Tips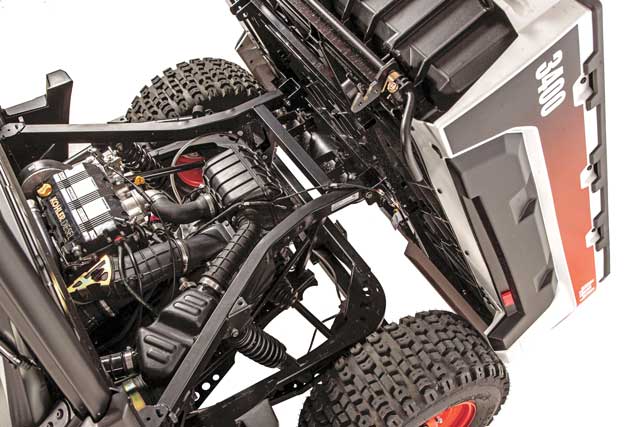 Whether you stored your machine through the winter or regularly climbed behind the wheel for snow removal work, kick off your UTV's spring maintenance tune-up by first going through your daily checklist. Check belt tension and all fluid levels, including coolant, brake fluid, oil and fuel. Batteries often lose charge when left in the cold so charging the battery is a must. Examine the air filter and swap in a clean filter if dirty. Turn the key on to observe the instrument panels and systems for correct operation. Test the throttle, brakes, headlights, brake lights, seat belts and other safety devices to ensure they're in good working order. If personal protection devices or safety measures are not operating properly, the UTV should be decommissioned immediately until components are repaired.
Make sure to record any maintenance in your machine's service records to remain in good warranty standing and to streamline any claims that may arise. Well-maintained records can also add resale value to your machine. Daily checks help familiarize operators with their machines so that when components do start to show wear and tear or break down, the operator immediately notices the abnormal change and can take action to resolve the issue. Maintenance issues to look out for during daily inspections include low tire pressure, loose bolts or fasteners, leaking seals and fittings, fluid spots on the floor and excessive dust collection near seal locations, all of which could signal a fluid leak. If components are loose, they will likely become even looser and fall out or break off over time.