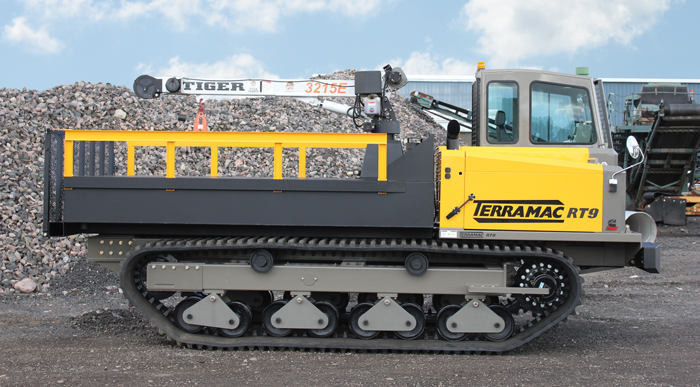 When traveling to and from difficult-to-reach project sites, sometimes a utility vehicle with four wheels and four-wheel drive just can't conquer the terrain. Sometimes a vehicle with gnarly tracks instead of wheels is needed. Sometimes a vehicle with eight wheels is called upon to traverse the most difficult terra firma. To fill those sorts of applications, clever companies like Rig Source Inc. and ARGO have engineered awesome all-terrain tanks for commercial contractors who must traverse difficult jobsites.
Rig Source Inc.'s recently launched Terramac RT9 rubber track crawler carrier is the only North American-made rubber track carrier, says the company. The carrier, which is manufactured in Ontario, Canada, features customization, versatility and easy maintenance. The CE-certified Terramac is the largest carrier of the mid-sized class that can be transported without oversize permitting. It is just 17 ft, 7 in. long and 8 ft, 5 in. wide. Excluding mount, the rig stands 9 ft, 3 in. tall with a 20-in. minimum ground clearance. With mount, the carrier's tramming speed is 2.5 to 6 mph, and it has a 10-ft turning radius.
A 230-hp Cummins diesel engine provides ample power for an 18,000-lb carrying capacity. Yet even fully loaded, ground pressure is generally less than 4.9 psi.
Customers can order the carrier direct from the factory with virtually any type of equipment mounted on the back or can order the base unit of cab and carrier ready to mount a machine they already own. Front and rear bolt-on attachments allow this innovative crawler carrier to accommodate a variety of needs in many applications. The dump bed available for the rig folds down, allowing the operator to side-load pallets or other items for carriage across sensitive ground.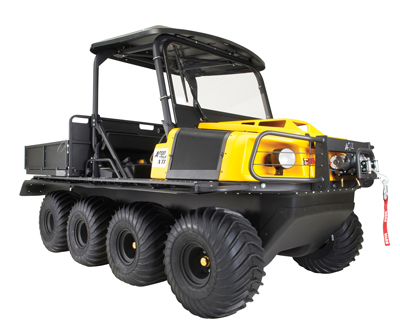 The ARGO 8×8 XTI was released late last year and has been engineered to meet the needs of industrial users requiring a durable, robust extreme terrain wheeled vehicle to transport people, equipment and supplies. The all-season ARGO XTI is a reliable partner in the toughest conditions imaginable and can operate in flooded areas, go through soft terrain, deep mud and over rocks, snow and ice. The innovative ARGO XTI combines the hard-working chassis and durability of the Centaur 8×8, with the amphibious capabilities and power-train of the best-selling ARGO 8×8 750 HDi. The ARGO XTI comes with a fuel injected 31-hp Kohler gasoline engine and an innovative triple differential ADMIRAL steering transmission. It features a 1,300-lb load capacity on land and 1,000-lb load capacity on water. The ARGO XTI adds value and performance to the ARGO lineup, now offering you six capable models to fit your budget and job needs.
The ARGO XTI is designed for applications for utilities (power lines, gas pipelines, cable and remote cellular towers), mining and oil and gas, weed control and insect abatement, fire and rescue estate management and much more. 
Tags:
UTVs