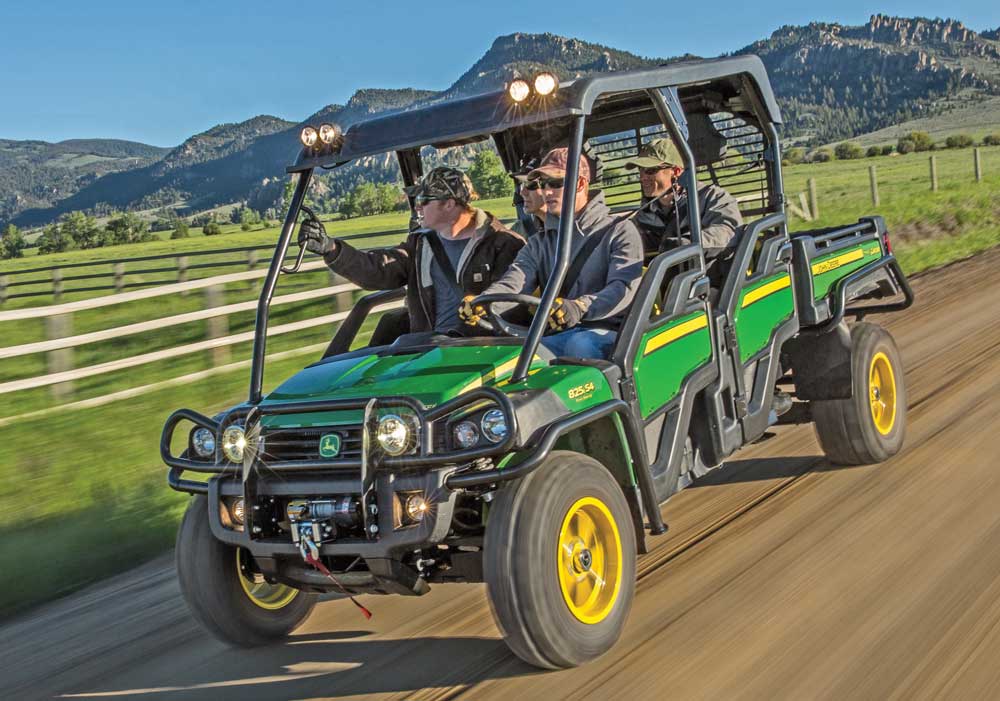 Utility vehicles (or UTVs for short) have become the perfect companions on the jobsite. These small, but hard-working vehicles are packed with enough power and payload to tackle tough terrain and get crews and their tools where they need to go. Another perk? UTVs are cheaper than a pickup, and multi-row models offer extra room to haul even more people.
"UTVs offer a lot of versatility because they're capable of traversing any terrain efficiently and with precision — from narrow sections of crowded jobsites to vast rolling acreage," says Joel Hicks, senior product support manager for Kioti Tractor. "Multi-row UTVs not only enable one vehicle to carry multiple passengers, but the size of the vehicle also makes it best to navigate congested areas. And, the cost of operation for a UTV is much less than the cost of a regular vehicle or truck."
"The more people on hand that need transportation, the more economical it is to purchase multi-row UTVs," adds Jason Fitch, Yanmar UTV division manager. "More seats mean fewer wasted trips when transporting people across various distances. Multi-row UTVs also typically have a longer wheelbase which works in the occupants' favor to make the ride smooth."
But before your crew hops into just any UTV, you have to find the right one for your needs. That search begins with understanding what applications the UTV is expected to perform. With options from manufacturers such as John Deere, Polaris, Kubota, Kioti, Yanmar, Caterpillar and JLG (to name a few), there are plenty of multi-row models and features to choose from. Justin VanderHeyden, product marketing manager for Gator utility vehicles at John Deere, offers five questions buyers should ask to help narrow down which multi-row model is best for their needs:
1. How much will you need to carry in the cargo box?
2. How many people do you want to carry?
3. What type of terrain will the vehicle need to navigate?
4. How fast do you want the vehicle to go?
5. What type of fuel do you want to use?
Heading to a dealer equipped with the answers to those questions can help in finding the right UTV for your needs. Also keep comfort in mind, especially if you plan to carry multiple people. Check out the UTV's seats, legroom and suspension. Fitch says that good suspension on a UTV can make a long day a little easier with a smooth ride, and low-travel suspension exaggerates each rut and ridge and can make off-road rides rough and even unbearable. As for price, a multi-row model costs around 10 to 15 percent more than a traditional single-row UTV.
What's Out There
In 1987, John Deere became the pioneer of the UTV category with the introduction of the five-wheeled AMT 600/622. Five years later, the first John Deere Gator models came to market with the Gator 4×2. Today, the company offers five multi-row UTV models in its extensive lineup, including three mid-size chassis models (the XUV560E S4, XUV590E S4 and XUV590M S4) and two full-size chassis units (the gas-powered XUV825M S4 and diesel-powered XUV855M S4).
"All five of these units can accommodate up to four passengers," says VanderHeyden. "On all models, the cargo box is rugged and capable, with over 20 tie-down points and a pickup-style tailgate. Most models come with standard power steering, and the rear seat can fold down for extra storage."
Polaris first entered the UTV market in 1998 with the introduction of its Ranger product line, and over the last 20 years the company has worked to continuously improve its vehicles' power, payload and comfort. Currently, Polaris has one of the biggest collections of multi-row options.
"Polaris offers eight core multi-row UTV models, including diesel and gas models ranging from 24 to 82 hp and seating capacity up to six people. With the industry's largest accessory offering, customizability is almost limitless to meet the demands of any job," says Nick Snidarich, product specialist, Polaris Work UTV. "In December 2018, Polaris launched the Polaris PRO XD, which is a utility vehicle specifically designed to withstand the toughest jobsites and built focused on three key principles: durability, serviceability and safety. The PRO XD is offered in a multi-row option."
Kubota entered the UTV market in 2004 with its first RTV. Since then, the company has evolved its product line to include diesel, gas, general and worksite models. In 2014, Kubota expanded even further to offer the new RTV-X Series, which includes the multi-row RTV-X1140 full-size model. The RTV-X1140 is packed full of convenient features and powered by a 24.8-hp Kubota diesel engine.
"Designed to adapt to your needs, this model easily transitions from hauling cargo in the hydraulic dumping bed to transporting friends and family with a second row of seating," says Roger Gifford, Kubota product marketing manager for utility vehicles. "The most unique feature on the RTV-X1140 is the K-Vertible cargo conversion system, which easily transforms the vehicle from two passengers and a large cargo bed to four passengers and a cargo bed."
Kioti joined the UTV game in 2009 with the introduction of the Mechron 2200 and currently offers two multi-row options: the Mechron 2240 and K9 2240. The multi-row models offer plenty of power and maneuverability thanks to standard features such as four-wheel drive, three-cylinder Daedong engines and 12 in. of ground clearance. The 22-hp Mechron 2240's cargo bed is more than 55 in. wide which allows for more than 650 lbs of bed capacity, and its two-row bench provides seating and seat belts for up to four passengers. Kioti's K9 2240 offers even more room.
"The K9 2440 is a fully featured, tough and reliable companion offering an abundance of storage, an ergonomic design and contemporary styling," says Hicks. "The 24-hp engine makes way for ground speeds up to 31 mph. With one of the largest all-metal beds in its class, an impressive 660-lb bed capacity, a standard spray-in liner and an optional hydraulic dump kit, the K9 can accommodate a full range of towing and hauling capabilities. The two-row bench provides seating and seat belts for up to five passengers, ample legroom and front and rear doors."
Yanmar is a newer entrant in the UTV market. The company released its 2017 Bull Series line in August 2016, with the standard three-seat Bull model and the Longhorn edition with six individual seats. The multi-row Longhorn edition comes standard with four-wheel drive, a full body welded metal skid plate, a sun top and a thick rubber cargo bed mat. It also boasts a 700-cc class gas engine and is capable of pulling 1,500 lbs and hauling 600 lbs in the cargo bed box.
"The Longhorn is available in green, Yanmar premium metallic red and Realtree AP camouflage," says Fitch. "New for 2019, the Longhorn has a special edition option with matte metallic grey paint, a matte black hood, black aluminum wheels and rugged grab bar attached below the tailgate. The hood features a large, carbon fiber Longhorn logo graphic that blends with additional graphics on the sides and cargo bed."
Fitch also mentions that every Longhorn edition UTV gets additional storage options under the front seats, and the middle storage compartment is waterproof with a sealed lid. The Longhorn edition and Yanmar's standard Bull model are both available through the company's extensive dealer network.
Equipment giant Caterpillar entered the UTV market early last year with the introduction of the gasoline-powered Cat CUV82 and diesel-powered CUV102 D. The company went on to expand its offerings in fall 2018 with five-seater versions — the Cat CUV85 (gas) and CUV105 D (diesel).
"Cat UTVs are built for quiet and comfortable operation all day long," says Amy Vincent, product specialist for Caterpillar. "The design minimizes noise and vibration during operation for a quieter ride. Spaciousness was an important variable when designing the UTVs. The CUV85 and CUV105 D feature a spacious second row to comfortably seat five riders with copious leg, elbow and headroom for tall riders. An added bonus is the machines feature a rugged steel cargo bed and offer 1,000-lbs total rear cargo capacity and 2,000-lb towing capacity for outstanding performance in a variety of applications."
Vincent continues to point out that the driver and passenger seats are all sewn for comfort as well as durability, and the driver's seat position and steering wheel adjust to ensure a comfortable fit.
"Ample behind-the-seat storage and even a document holder provide space for personal items and gear," she says. "Passenger seat bases can be removed and stowed behind the rear seat back to create floor space for hauling oversized items."
---
Ready to Work
Outfit Your UTV with the Right Tools and Accessories to Make the Ultimate Workhorse
Did you know that buying a UTV is only half the fun? The other half is making the vehicle your own with different tools and accessories. Luckily, manufacturers and aftermarket specialists offer an abundance of products to make sure your UTV is outfitted to meet your needs and comfort level.
"A glass windshield and sunshade are two nice options that make UTVs more user-friendly for long days on the jobsite," says Joel Hicks, senior product support manager for Kioti Tractor. "The windshield keeps dust down and blocks wind, enabling you to get work done in all types of weather conditions. The sunshade helps give relief on a hot, sunny day. Work and fog lights are also great features to consider to enable work at night and in darker areas of property. Finally, to make hauling and dumping easier, consider a hydraulic dump kit."
Justin VanderHeyden, Gator product marketing manager at John Deere, agrees that protection options like a windshield are highly valuable, as well as brush guards, fender guards and rear bumpers. He says that speed limiting kits are also popular on jobsites, limiting the vehicle's top speed to 25 mph.
As for attachments, UTVs can be equipped with a variety of tools to help accomplish any job. These can include everything from augers and spreaders to snowblowers and brooms. VanderHeyden says front blades are extremely popular because they allow operators to move materials such as dirt or remove snow during the winter months.
Roger Gifford, Kubota product marketing manager for utility vehicles, recommends that contractors consider a gear-box driven PTO and quick-attach system for their UTVs, which allow operators to switch from one attachment to another in a matter of seconds.
"Kubota offers the four-point K-Connect system, offering the ability to put down one implement and go to the next in under a minute, without the use of any tools," he says. "For our worksite utility vehicles, this is a very popular option."
Click on the link for even more cool UTVs.

Pam Kleineke is managing editor of Compact Equipment.