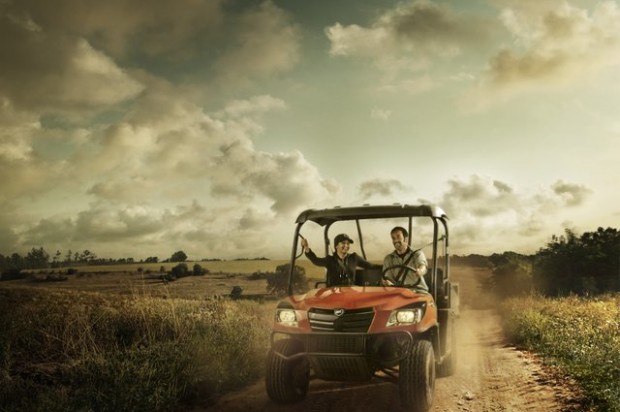 Crunching over the construction demolition left by a hydraulic breaker, maneuvering around mountains of spoils left from a digging excavator, stopping to pick up a mud-covered crew for lunch, a work-focused utility vehicle can cross busy jobsites with speed, safety and power. The dust kicks up and lingers in the air, swirling for a moment. The spinning tires grip and the utility vehicle bursts forward again. There's more work to be done. While the classic pickup has been a long-standing jobsite essential, a utility vehicle (or UTV) has become the new popular all-terrain transport alternative. Engineered with a cargo bed, tow-hitch, racking for tools and even PTO or hydraulic-fueled attachments, UTVs are now being specifically engineered for work applications in construction, landscape, agriculture and other applications. To get a grip on the latest market trends, maintenance tips, buying advice and coolest models, we reached out to eight brands in the UTV industry. Their top product managers shared these insights.  
Aaron Stegemann
Business Development Manager for Polaris Off-Road Vehicles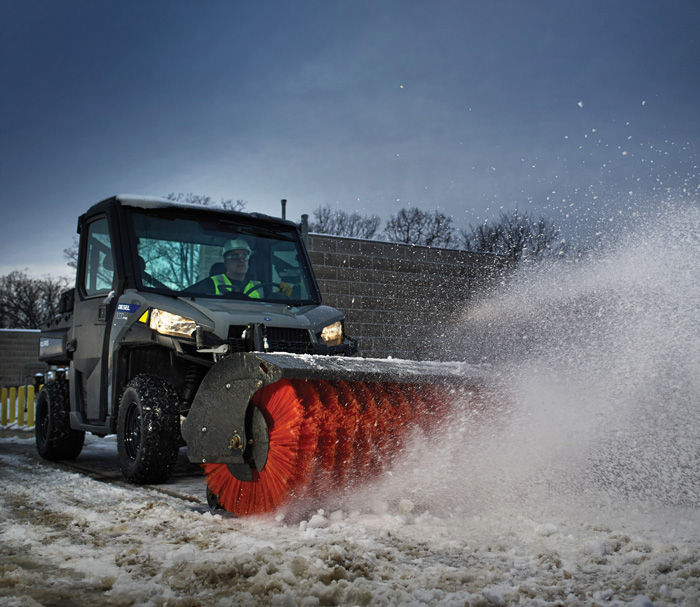 Market Insights: Specifically with the work customer in mind, attachments are certainly a growing interest. With the ability to operate purpose-built attachments, a utility vehicle can do the work of an entire fleet of machines. The most recent advancement in technology for attachments on utility vehicles is the integration of front-end power-take off systems. The system delivers power directly from the vehicle's engine to drive the attachments. Multi-seating utility vehicles are also important on the jobsite to move people and cargo. Utility vehicles provide a level of versatility that traditional work trucks cannot. 
Favorite Unit: Of the Polaris BRUTUS lineup, I find the BRUTUS HDPTO to be my favorite. We built it to be the most versatile, capable and comfortable utility vehicle, and you realize this the moment you sit in the cab. The ability to operate six purpose-built attachments through the ease of a joystick, climate-controlled cab and the Multi-Link Coil over DeDion Rear Suspension for a smooth ride over any terrain are a few of the features I enjoy the most. In the short time the BRUTUS HDPTO been on the market, we've had very positive feedback from our customers and dealers. Many of them are blown away by the vehicle's power-take off capabilities and 24-hp diesel engine.
Dan Muramoto
Kubota Utility Vehicle Product Manager
Buying Advice: For someone interested in buying a utility vehicle, first they need to determine if the vehicle will be used for work or play. There are a number of UTVs that are specifically targeted for recreational purposes, but are then limited in their utility capabilities. For commercial applications, you really need a commercial workhorse. Some other considerations to take into account are diesel vs. gas-powered, cargo capacity vs. passenger capability and the availability of implements.
Favorite Unit: The best in RTVs just got a whole lot better and the star of the line, and my personal favorite, is the RTV X-1120D. There are so many great new features and options offered on the new Kubota RTV X-1120D — from its 24.8-hp diesel engine and higher ground speed of up to 29 mph to its blue-tinted halogen headlights and attention-grabbing polished alloy wheels. The RTV-X1120D is Kubota's new deluxe model that offers a step up in power, comfort and style. According to Power Products Marketing's North American Utility Vehicle Report, Kubota RTVs have been the best-selling diesel utility vehicle in North America since 2004.
Joel Hicks
Product Support Manager for KIOTI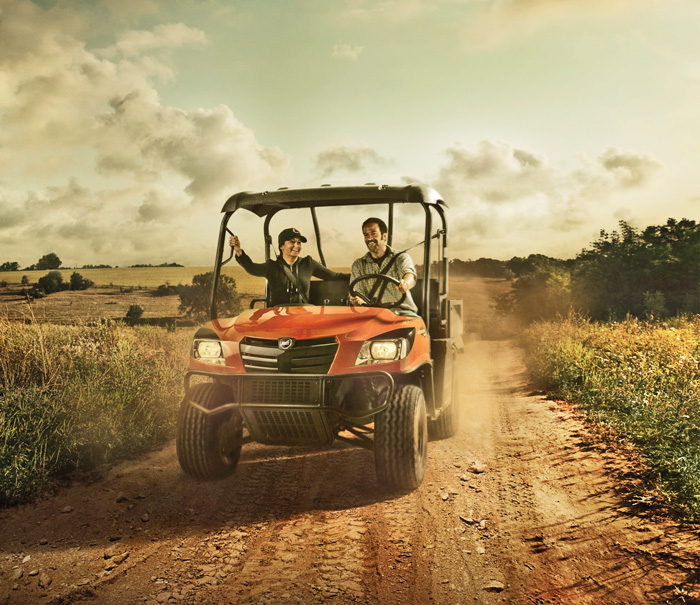 Maintenance Insights: Completing routine maintenance can help improve the overall life expectancy of the machine. Checking fluids, routinely inspecting for contaminants and preventative maintenance will help avoid premature breakage and wear due to the hazards of the job or fun. When used under extreme circumstances where aggressive work or exposure to elements is frequent, the maintenance frequency should be increased. When checking for tire and break wear, monitor for strange noises and perform visual inspections. For machines frequently exposed to mud/water, it is recommended to inspect the brakes more often.
Favorite Unit: The KIOTI Mechron 2200 reaches out to the work-minded with a sporty feel. While it offers a 1,300-lb towing capacity, 1,600-lb payload with a three-cylinder diesel engine, seating for three and the largest bad in its class, it also has a sportier feel than most work machines. With 12 in. of ground clearance, four-wheel independent suspension and four-wheel disc brakes, the Mechron is more than capable of working all day and still carry all of your toys to the woods for a weekend hunting trip or marshmallow roast with your kids.
Greg Lucey
Case IH Marketing Manager for UTVs
Maintenance Advice: The best advice is to treat your UTV like you do your car. When you're driving in inclement conditions or over rough terrain, take it slow and be careful. Regular oil changes are a must, and read your operator's manual for timing and other preventive maintenance that needs to be done. Check UTV tire tread the same way you do on a regular vehicle, and let it warm up for a few minutes before driving in cold weather. Choose a UTV that is able to meet your needs, and customize it as your budget allows. Some items to consider when choosing a UTV and maintenance: engine and horsepower; access to common maintenance items; suspension and four-wheel drive; and safety features such as brakes, seatbelts and certified ROPS. 
Favorite Unit: My favorite Case IH UTV model is the Scout XL with two seats. I like it because it has a good suspension, offers a comfortable ride and provides good power. It can certainly match up to the competition. Most customers I've talked to about this model like it, as it offers a comfortable, smooth ride. Many Case IH customers use them for chores and other needs around the farm. If you're looking for a work first, play second vehicle, then Case IH Scout utility vehicles are the right choice. These units were designed to be work vehicles. In my experience, 4×4 styles of UTVs have the largest market share. For Case IH customers, diesel UTV models are more popular, but in the overall UTV market, gas engines are purchased most often.  
Kevin Lund
Product Line Marketing Manager for John Deere Utility Vehicles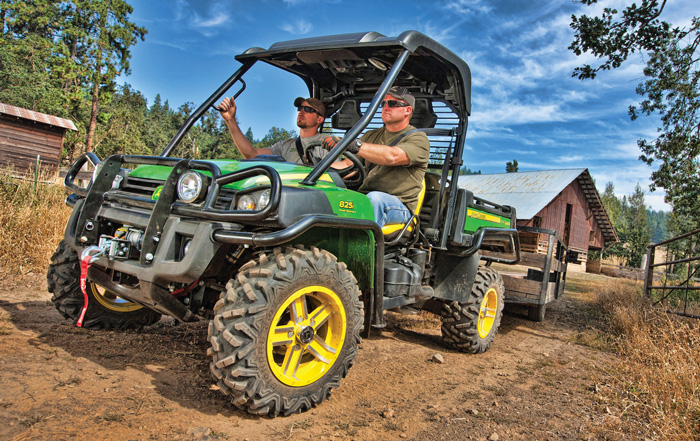 Market Insights: We're finding customers are using UTVs to replace other vehicles like pickup trucks and tractors to do their jobs. 2012 was the first year we saw UTVs overtake ATVs in the market. Innovation is focusing on speed, cargo and suspension. Our customers are finding the speed and safety of these vehicles beneficial to everyday tasks. These vehicles are designed to work on the jobsite and off-road environment, but also allow customers to have fun and enjoy the outdoors. Today, 4x4s have the largest market share because of four-wheel drive. Gas is also exceeding diesel because the customer segment is focused on performance engines and emissions standards. John Deere is also noticing a trend in multi-seat units. This growing segment allows customers to convert space to carry equipment or a crew. There are two types of attachments: integral and ancillary. Attachments that do a job are an integral part of the market, but are very niche. UTVs that are designed to run attachments tend to be more expensive.
Favorite Unit: The XUV 825i offers great off-road performance for today's operator. It's John Deere's best-selling utility vehicle and transforms the way our customers run their business. The Gator has ideal power, acceleration and a top-speed of 40 mph. It also has a lot of capacity and versatility in terms of cargo and things you can do with the vehicle. The XUV 825i is built as a heavy vehicle (hydro form) with 50 hp. While the XUV 825i can hold its own on the jobsite, its top-end speed is sufficient for off-road environments. It's the ideal vehicle for work and play. The XUV 825i S4 is the newest addition to the Gator family. The vehicle allows for extra passengers or needed cargo space. Two additional passengers can be transported in the rear seat area that includes a large under-seat storage compartment.
Ken Paul
New Holland Utility Vehicle Product Marketing Manager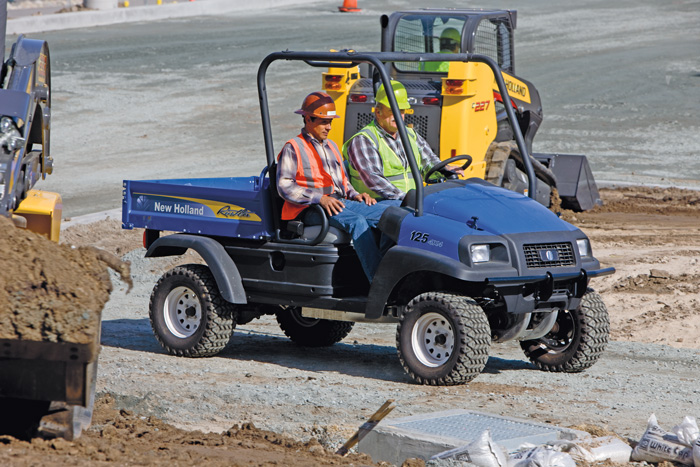 Buying Advice: Utility vehicle purchasers should focus on products that combine rugged construction, gritty performance, ultra-smooth ride and feel-good amenities. Look for strong frames and rust-proofing, which ensure long-term durability. A standard ROPS, certified to meet five international standards, should provide safety and peace of mind. Standard, retractable seatbelts should be designed to stay clean, away from dirty ground. Look at the cab, console and floor. Consider anti-slip, diamond-tread floor boards to provide additional safety in rainy or muddy conditions. I prefer independent or swing arm rear suspension, which provides a good balance between smooth ride and high load capacity. For construction or ag application, definitely get four-wheel, hydraulic disc brakes, which provide excellent response.
Favorite Unit: My pick is New Holland's Rustler models 120 and 125, identical except for diesel engine in 120 and gas in 125. Strong frames are crafted from aircraft grade aluminum, and stronger than conventional tubular frames provide remote air intake under front cowling. This unit has superior ground clearance, which permits comfortable travel over rough terrain. I love the spacious operator areas. It's roomy with comfortable space for both driver and passengers. I'm a big fan of the tilt steering column, which adjusts to almost any size driver. These units are available with a 13-position, fore-and-aft-adjustable bucket driver seat, which increases driver comfort even further. Plus, there are no levers to pull with automatic all-wheel drive — just get in and go.
Jonathan Thibault
Head of Product Management at Prinoth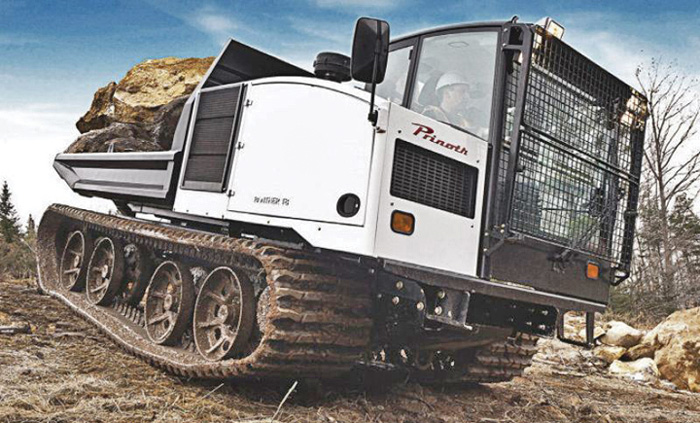 Buying Advice: First off, you should consider a utility vehicle with a dedicated track undercarriage. When purchasing a tracked utility vehicle, just like any other construction-oriented vehicle, the most important thing to consider is the return on your investment. In this way, important features to look for are payload capacity, power, operator comfort, certified safety options [FOPS and ROPS], high-quality components, reliability and parts and service availability. Tracks should be resistant and exert the lowest possible ground pressure. Attachments such as digger derrick, dump box, crane, man basket or other specialized work tools should be easy to add to the tracked carrier's frame and require minimal resources and time. Also a utility vehicle with tracks will have more maintenance on the undercarriage, so pick a vehicle that retains its value and provides you with lower maintenance costs.
Favorite Unit: I love the Panther T8 tracked carrier from Prinoth because I think it's the most performance-driven vehicle on the market. Its truck-style chassis allows for easy attachment installation and its unique patterned rubber tracks exert just over 4 psi on the ground. When comparing with competition, the Panther T8 is also two steps ahead technology-wise due to standard equipment such as the automotive control, automatic braking system and easy-to-drive steering wheel. These are all user-friendly features — something big to consider when different operators could drive the vehicle. Our customers are pleased with the performance and reliability the Panther T8 offers. It's a great return on investment — those are the key words for them.
Kurt Meyer
Club Car's Commercial Marketing Manager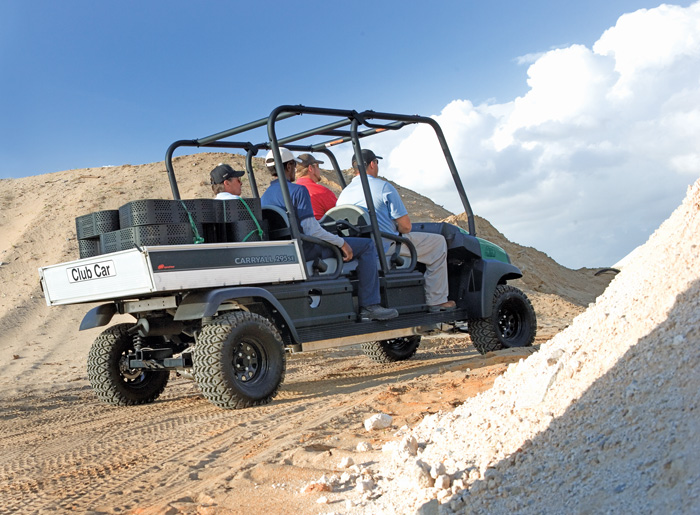 Market Insights: The UTV market is looking strong for 2013 and beyond, particularly in the construction industry. After taking a big hit during the recession, that industry has come roaring back as evidenced by the solid growth in the equipment rental companies that supply utility vehicles to contractors. Construction companies look to rental companies to improve cycle times and reduce capital on their balance sheets, a proven business model that's sustainable through economic cycles. The construction industry is moving from costly pickup trucks to more nimble, less expensive utility vehicles that compress jobsite cycle times. This shift to utility vehicles creates value for contractors who are interested in driving top-line revenue, improving job velocity and reducing cost. But this shift requires heavier-duty vehicles. As a result, 4x2s have maintained a somewhat steady growth while 4x4s are gaining market share and 6x6s are stagnating.
Favorite Vehicle: I'm a big fan of the Club Car Carryall 295SE. The vehicle's exclusive IntelliTrak automatic four-wheel drive system senses the ground it's on and shifts automatically. No training is required. Its four-link semi-independent rear suspension system delivers independent suspension performance with a solid axle's strength. This makes for excellent ground clearance, even when fully loaded. The vehicle carries bed loads of up to 1,050 lbs over rocky terrain and maintains its axle ground clearance of 8.3 in. while delivering a comfortable ride — something competitive products can't do. It seats four, with lots of cargo space, features a diesel motor with sealed intake system, and has a total vehicle capacity of 1,600 lbs. You can't beat it for construction applications.