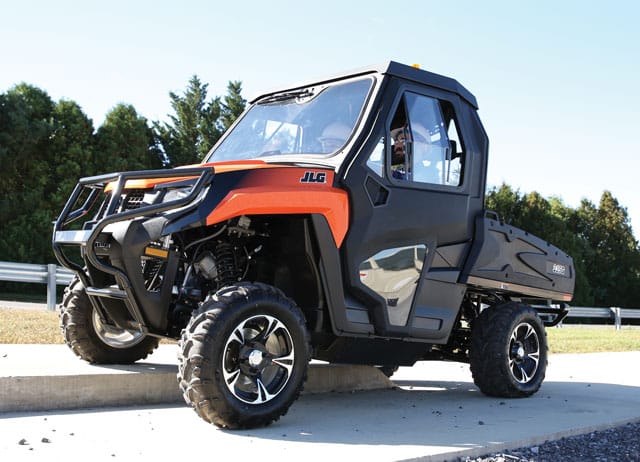 "Yea, go ahead and try it," Jeff Ford tells me as I am test-driving JLG's new utility vehicles at its training area tucked into the hills of McConnellsburg, Pa. The "it" we are talking about is driving over two cement test blocks, part of the proving grounds for JLG equipment, meant for measuring and evaluating machines on extreme terrain. This whole 4-acre, 17,000-sq-ft complex has been dedicated to testing telehandlers, booms and aerial lift equipment (JLG's bread and butter) since 2014, so I didn't want to assume it was UTV-ready and risk blasting into solid concert at 25 mph — thus ending my illustrious test-driving career. But hey, Ford is the director of global strategy and business development, so he should know, right?
Driving over those blocks and barely feeling them proved a few of the features I had been interested in testing since JLG released these utility vehicles at CONEXPO-CON/AGG in March — the independent suspension and that impressive 10 in. of ground clearance and wheel travel. In fact, I felt more bumps when operating a telehandler in JLG's virtual reality training simulator. After conquering the cement moguls, the only question left to answer is why did a company that has owned a specific machine niche for so long enter into a totally new (and suddenly crowded) utility vehicle market?
Rationale for the JLG UTV
You likely know that JLG Industries Inc. is a leading global manufacturer of aerial work platforms and telehandlers. What you maybe missed is the company debuted a new product line completely out of its core offering earlier this year — utility vehicles (UTVs). Surprisingly, the company found a clearing in the crowd that made sense for them: UTV rentals. Here's the thought process.
Streamline inventory for rental houses. For rental houses already buying a ton of JLG inventory, tacking on a JLG UTV makes sense versus procuring just the one product from a UTV-focused brand. This simplifies things. Plus, they can rely on the same JLG customer service, parts availability and customer support they have grown accustomed too. "Not a lot of UTV manufacturers are set to work with rental companies from a convenience and support standpoint," Ford notes.
Have a true rental-ready UTV available. At a top speed of 25 mph, it's for sure not an off-road consumer product, but a product designed for commercial use. JLG has no plans to hit the big time with a purchase at dealerships. The UTV has solid specs (a 700-cc, 45-hp engine; 4×4 drivetrain; plus 1,500 lbs of towing capacity) but was purpose-built to rent and run on construction and event sites.
Made for Rental
JLG partnered with Arctic Cat, now owned by Textron, to produce the three-seat 315G and six-seat 615G. Remember that JLG is owned by Oshkosh Corp. and can draw from its 100-year history in the vehicle engineering space to guide its upgrades from the standard Arctic Cat UTV platform to something built to rent and drive around a tough terrain jobsite. Those upgrades in durability and safety are noticeable immediately: front bumper, boot guards, steel braided cables, skid plates and a Dupont surlyn hood. Also included are a beefed up braking system and axles specially engineered by the big brains at Oshkosh. The roll cage and cab add-on are all steel.
"Rental vehicles don't get the same care, so for the rental company, they need something that is revenue generating with a longer life for a better return on their investment and less downtime," Ford says.
The upgrades will please the end-user as well because the specs JLG focused on are those that will likely make the most difference where construction and event site customers need it: capacity, both in the bed and in the cab. The bed with gravitational dump can carry a class-leading 1,000 lbs of capacity, and the bed panel can be removed to accommodate a full-size skid. The hood includes some additional cargo space too.
Inside, there's more to fitting three people across than just adding an extra seatbelt. These JLG UTVs feature comfortable contoured seats instead of a generic bench, extra shoulder room, individual headrests and plenty of room for getting in and out. Even this pampered media member thought the ride was comfortable. All of the extra accessories are cab-focused right now, including heating and A/C and windshield wipers. Operation is so simple that there's little to note beyond: I could do it. To be more specific, the 315G and 615G come equipped with automatic transmission and four-wheel drive that can be switched on at any time.
What's Next?
Experts estimated that North American sales of utility vehicles are in the 250,000 to 280,000 units-per-year range today, but only about 25 to 30 percent of those units go into commercial applications. It appears that 4x4s have the lion's share of the market, while gas accounts for about 75 percent of the market and diesel accounts for the other 25 percent.
Right now, JLG's 315G and 615G fit into that lion's share, but diesel versions will be available soon. Down the road there will also be a few more aftermarket accessories as well.
"Having it available with after sales support is key," Ford says. "We meet or exceed most specs — we lead in cargo space and capacity. But we are mostly in this because we have great relationships and the ability to support rental companies. We don't feel like we have to beat every competitor on every spec. Plus, that would just be added cost. We want to haul as much stuff as we can and be rugged, durable and reliable."
Tags:
Equipment Rental
,
home
,
JLG
,
October 2017 Print Issue