Utility vehicles (or UTVs for short) are the perfect companions on large properties. These small but hard-working vehicles are packed with enough power and payload to tackle tough terrain and your list of chores, as well as race down to the fishing hole or off into the woods for weekend fun. Specifically, the "crossover" category of UTVs are designed for both production and fun, and lots of commercial brands from Cat to Kubota are investing in them. These are fast, accessorized, tough little trucks marketed to people with property.
"UTVs are often replacing pickup trucks for use on large properties," says Amy Vincent, utility vehicle product specialist for Caterpillar. "UTVs combine the benefits of ATVs and pickup trucks into an easy-to-maneuver vehicle, merging the load hauling and towing capabilities you want with the lightweight off-road vehicle you need in the field. From hauling tools or trudging through muddy acres to fix fence, a UTV is up for hard work."
Luckily anyone who is interested in a UTV for their acreage has a diverse range of products to choose from.
"There are many utility vehicle options available today," says Justin VanderHeyden, product line marketing manager for John Deere Gator utility vehicles. "A customer should understand how fast they want to go, how much they want to haul and what kind of terrain they want to drive through. Knowing these three basic things, a customer can narrow down their purchase. They should look for something that is easy to use and they feel comfortable operating. It is highly recommended to work with your dealer, test drive a vehicle and demo it on your property."
Speed is an important consideration when selecting a UTV. Most jobsites limit speed to 25 mph for UTVs, but large property owners often want to go fast. Manufacturers offer their own speeds and limits depending on particular models. John Deere sells utility vehicles with top speeds that range anywhere from 15 to 60 mph. It also offers speed limiter kits on some models that can limit the top speed of the vehicle with a speed key.
Kubota's crossover vehicle is called the Sidekick and features a 48-hp gasoline engine that allows operators to travel up to 40 mph. Both gas and diesel models of Bobcat UTVs can reach speeds of 35 mph. Caterpillar units have two options for speed.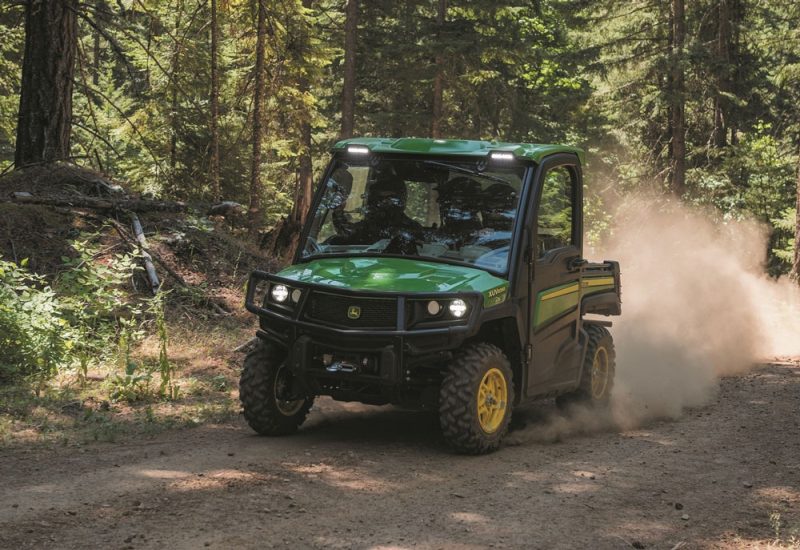 "Our gas vehicles reach over 45 mph whereas our diesel vehicles reach speeds up to 25 mph," Vincent says. "All four models offer both high and low gear. Depending on your site requirements for speed and fuel, you can choose the UTV that fits your needs. An additional feature on the gas vehicles is the ability to electronically limit and lock out the speed at a lower setting. This is a standard feature on the gas models and is integrated into the display. Customers can lower the top speed down to 25 mph or anywhere in between. They also have the ability to lock the vehicle down at this speed with a passcode."
Utility vehicles are fun to zip around on, but many large property owners rely on these machines to haul and tow loads. Therefore, owners need a UTV that's capable enough to move materials and is built to last.
"UTVs are often used to haul substantial loads on large properties, such as 1,000-lb spray rigs or heavy bags of feed," Vincent says. "Therefore, you want to select a utility vehicle with enough rear cargo and/or towing capacity to handle the tasks at hand. Additionally, it's a good idea to consider the cargo bed material. A side-by-side with an all-steel cargo bed is going to be much more durable and customizable than a plastic bed."
Bobcat boasts that its UTVs are designed with a rugged cargo box that leads the industry in size and payload capacity.
"The greater payload capacity allows operators to haul more, and in turn, maximize time on a jobsite, farm, acreage or grounds maintenance project," says Katie Redenius, product manager at Bobcat Co. "On the UV34 and UV34XL, the large cargo box can be emptied manually or with an optional powered cargo box lift. Towing capacity on Bobcat utility vehicles can accommodate hauling of light-duty trailers up to 2,500 lbs."
Kubota's newest gas-powered utility vehicle, the RTV-XG850 Sidekick, offers 2,000 lbs of towing capacity (1,550 lbs on hills) with its standard equipped trailer hitch mount. Chris Box, Kubota's director of product marketing-turf, says the Kubota Sidekick can easily tow boats, jet skis, trailers and more.
Aside from speed and cargo capacity, other important considerations include stability, comfort, single or multi-row options and ease of maintenance.
"As we all know, downtime is the enemy on the farm or ranch," Vincent says. "So, when it comes time to service your equipment, it needs to be quick and simple. Some UTVs on the market today were purposely designed with this in mind — providing easy access to service points so you can perform necessary maintenance."
Outfitting Your Ride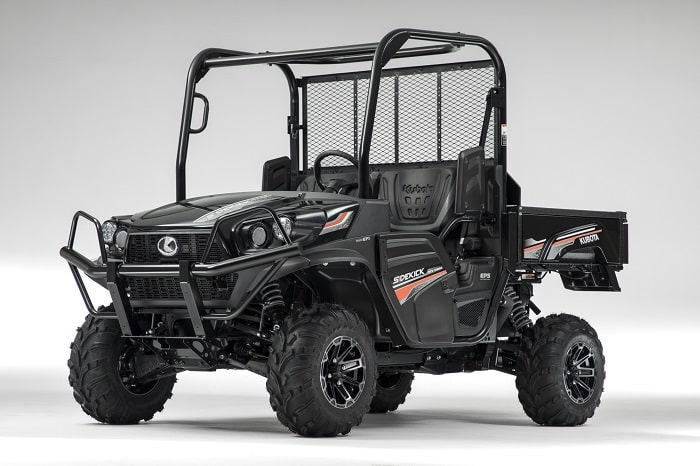 One of the best parts of buying a UTV is customizing it to meet your needs. From picking out the perfect shade — from original manufacturer colors like Caterpillar Yellow and John Deere's trademark green to a stealthy camo — and any accessories or tools needed to maximize the UTV's potential.
For example, Redenius says Bobcat UTVs can be customized with a variety of kits and accessories, including LED working lights, radio, brush guard, in-cab heater, cargo box divider and lockable tool box. Caterpillar highlights that its UTVs have over 50 accessory options available that allow the end-user to customize their UTV to their specific needs.
"Each customer has different needs for accessories based on their property type, climate and intended use," Vincent says. "We have lighting options for those needing better visibility at night, guarding options for those with rougher terrain, cab and heat options for those in cold weather and much more. All accessories on the Cat UTV can be retrofitted at a later date so customers can adapt the vehicle to their needs."
Box says the most popular accessories Kubota sells include canopies, windshields, winches and LED work lights. "They help improve the versatility of the machine and operator comfort," he says.
Depending on the manufacturer, there are also some attachments and implements that can make your UTV even more productive.
"Depending on the jobs or tasks the customer is doing, attachments can further enhance the productivity of the utility vehicle," says VanderHeyden. "For large property owners, many of the jobs are around property maintenance, such as spraying, landscaping, clearing brush/debris, hauling firewood and clearing snow. Popular attachments for these jobs are sprayers, plows, cargo box side extensions or a cargo box power lift."
Pam Kleineke is managing editor of Compact Equipment.
John Deere's Justin VanderHeyden Shines a Light on UTV Safety
Seat belts should always be worn when the UTV is equipped with a ROPS (Roll Over Protective Structure). Helmets should always be used when operating the UTV at high speeds and on uneven or rough terrain. If a customer is not familiar with the operation of their utility vehicle, the customer should reference the operator's manual and safety video to get familiar with the controls and safety features of their utility vehicle. Passengers of the utility vehicle should be tall enough to be able to reach the hand holds, keep their back against the back rest and feet flat on the floor.