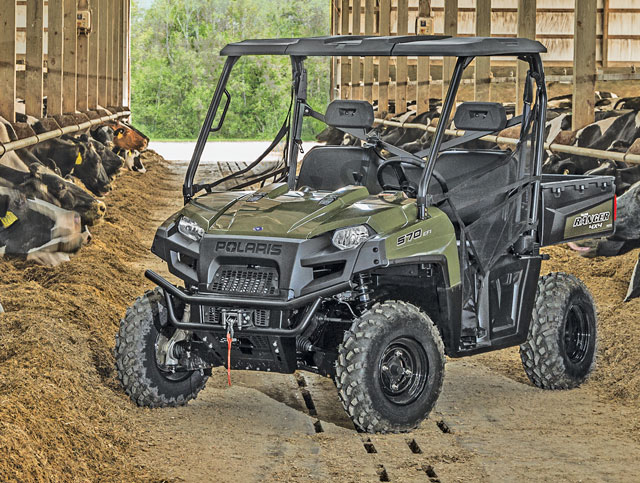 Fourteen Models from the Famed Minnesota Off-Roading Trailblazer
The Polaris Ranger utility vehicle line was introduced in 1997 and has evolved greatly since that time. What started as one vehicle is now a family of vehicles offering mid-size, full-size and multi-passenger options with gas, diesel and electric choices. Ranger is a big part of Polaris' product strategy when it comes to commercial off-highway vehicles, and according to Polaris, the Ranger is the industry's No. 1-selling utility side-by-side.
The model year 2017 lineup continues to offer more innovation with new features and models across every price point and consumer application. Polaris welcomes the new flagship Ranger XP 1000, which expands on both the hardest working and smoothest riding attributes. The vehicle features a new ProStar 1000 engine with 80 hp, 17 percent more power than its predecessor. To balance the hard-working power, the vehicle also comes with an exclusive three-mode throttle control, with Performance, Standard and Work settings.
With the launch of the new Ranger XP 1000 and Ranger Crew XP 1000, Polaris will cater to every consumer application with new, special editions including two new High Lifter mud editions in a three-seat full-size and six-seat crew models — the hard-working Ranger XP 1000 EPS Ranch Edition —built specifically to meet the needs of ranchers and the industry's first gas-powered UTV with heating, ventilation and air conditioning (HVAC) on the Ranger XP 1000 EPS NorthStar HVAC and Crew HVAC Editions.
In 2017, Polaris is offering its best-selling side-by-side of all time, the Ranger XP 900, at an unprecedented value. For $1,200 less than previous years, customers can own a premium, full-size vehicle at a good price and experience all the features of one of the most-awarded side-by-sides ever. The price reduction is available on both the in-mold base and electronic power steering (EPS) models. The Ranger Crew 900 models also will be offered at $1,000 less than previous years.
New to the mid-size line is the Ranger 500, offering the industry's best utility side-by-side value under $9,000, says Polaris. Perfect for a first-time, off-road vehicle owner or an experienced owner looking for a fully featured UTV at a value, the Ranger 500 sets the benchmark in usability with features including an automatic CVT transmission, on-demand true all-wheel drive (AWD) with VersaTrac turf mode, independent rear suspension (IRS), electronic fuel injection (EFI) and available accessories to fit any task. The vehicle's new, liquid-cooled, single-cylinder Pro-Star 500 engine delivers smooth, efficient torque and 32 hp — the most in its class, says Polaris.
Advice to Buyers
"Make sure to research capabilities and understand what specific features are needed for your application," says Donna Beadle, public relations with Polaris Industries. "It helps to test drive several machines to understand which ergonomics work best, especially if it will be a main tool on the worksite."
Polaris Industries
2100 Hwy. 55 | Medina, MN 55340
polaris.com
Click on table to enlarge