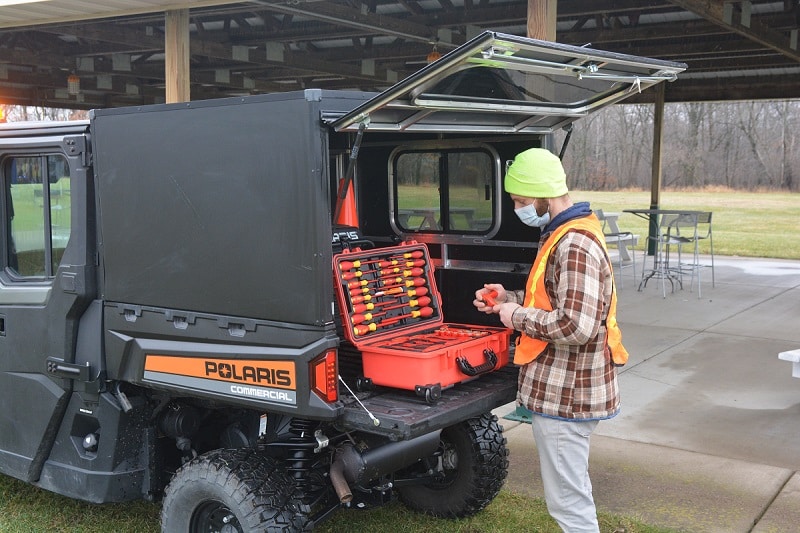 Ready to outfit your Polaris Pro XD utility vehicle to work even harder? You're in luck. The Polaris Pro XD utility task vehicle is making work more efficient with new accessories that further enhance jobsite productivity and equipment protection. As a division of Polaris Inc., Polaris Commercial is dedicated to industrial and commercial customers and has thoughtfully expanded its product, accessory and service portfolio based on customer feedback and broadening applications for its gas and diesel-powered utility vehicles. The new accessories include a cargo bed topper, rear bumper and mud guard.
The new cargo bed topper is a lockable, weather-resistant bed enclosure that keeps gear safe, secure and protected from the elements. Front, side and rear windows provide line-of-sight visibility from the cab to behind the machine, as well as inside the cargo area. The Pro XD rear bumper adds protection and minimizes damage to taillights and bodywork in the event of a rear collision. The steel bumper has a matte black finish and integrated mounting holes for easy installation. Finally, the Pro XD mud guard is a newly available accessory that will also come standard on new Pro XD diesel models. The mud guard is designed to protect the engine bay from excess dirt and mud — decreasing maintenance time in cleaning tough-to-reach areas.
Utility vehicles put the FUN in functional. From zipping down to the fishin' hole to plowing your driveway, click here to learn all about these hard-working machines.
Tags:
Polaris