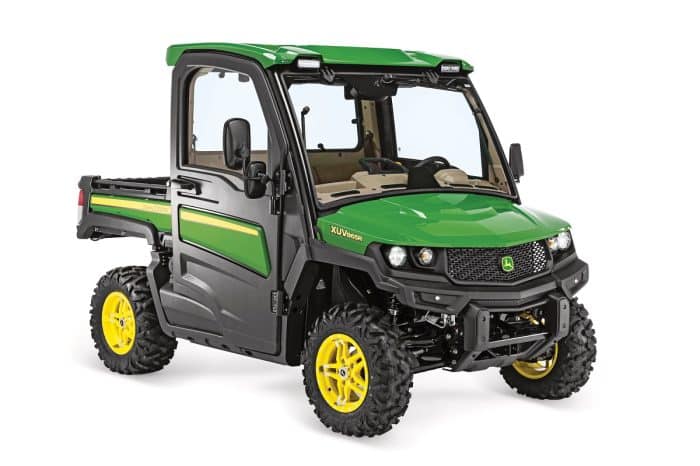 Whether you're navigating a large property or zipping from point A to B on a jobsite, utility vehicles are your go-to solution for moving people, materials and more. They're packed with enough power and payload to tackle tough terrain and your to-do list, as well as transport you and a couple buddies to your favorite fishing hole or your crew to the day's work site. Let's take a look at five UTVs designed to help you be more productive.
John Deere XUV865R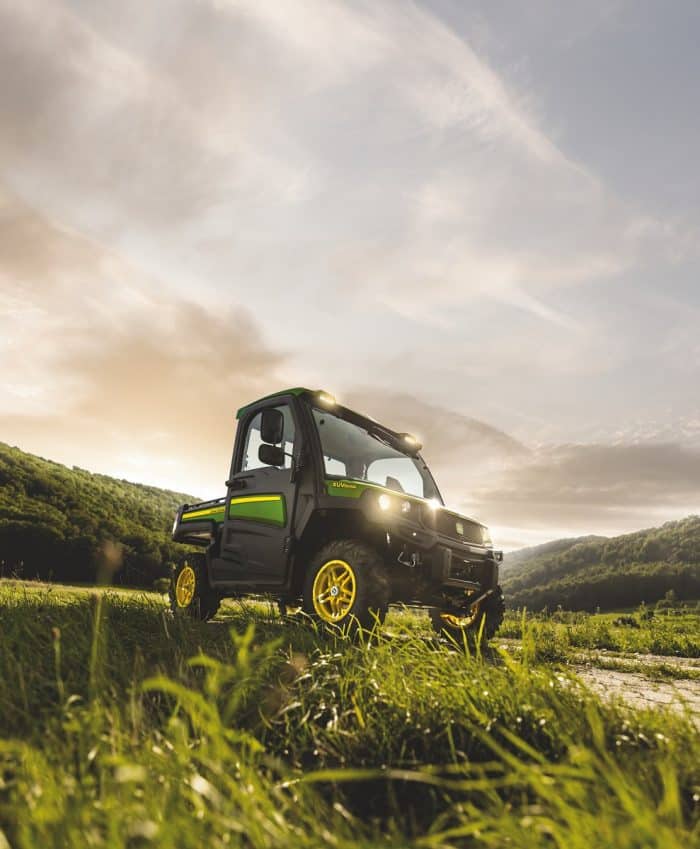 The John Deere diesel-powered XUV865R Gator, featuring a premium cab, is a crossover utility vehicle designed for customers seeking all-day comfort with off-road terrain capabilities in any season. The XUV865R comes standard with a climate-controlled cab with premium cloth seating, as well as an adjustable driver's seat, ample legroom and tilt steering to reduce operator fatigue during long workdays. The 23-hp UTV model is available with an HVAC system and pressurized cab to offer year-round weather protection, providing cooler operating conditions in the summer, and heating capabilities during colder weather conditions. The heating feature also helps by defrosting the windshield to keep the operator working comfortably and efficiently. The diesel-powered XUV865R also delivers sleek styling and increased payload capacity with a versatile, durable cargo box. Combined with a towing capacity of up to 2,000 lbs and 16 gallons of storage, operators can haul more in less time. Versatility is also enhanced by the UTV's compatibility with a full range of over 90 attachment options, from snow blades to winches. Lastly, this model features an 11-gallon fuel tank to keep the vehicle running longer between fill-ups.
Kubota RTV-X1140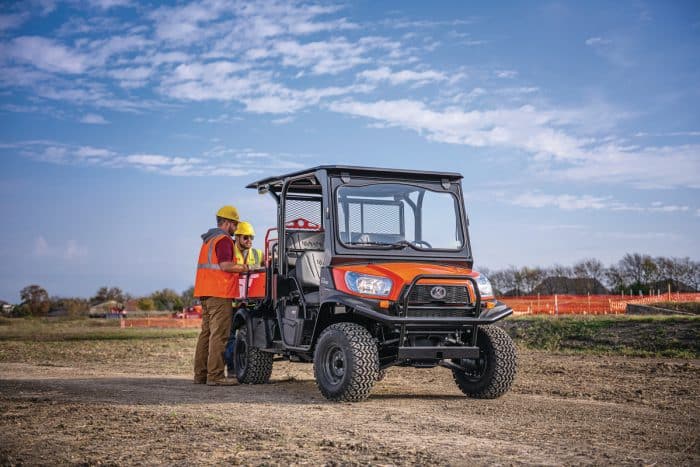 Kubota's RTV-X1140 is designed for the commercial customer and daily heavy-duty work, combining Kubota quality with enhanced power, torque and performance. Kubota-built and all-terrain proven, the 24.8-hp, 3-cylinder liquid-cooled diesel engine has a well-earned reputation for providing extra acceleration. The engine and VHT-X transmission provide a top speed of 25 mph as well as plenty of hill-climbing power. Featuring sophisticated technology, the RTV-X1140 offers an impressive array of comfort and performance features, with tilt steering, simple inline shifting, lockable storage and a long-travel four-wheel independent suspension that enhances handling in most off-road conditions. With a five-point ROPS design allowing for easy side loading, the RTV-X1140's legendary workhorse characteristics also effortlessly converts from a four-passenger vehicle to a two-passenger vehicle with an extra-large 19.1-cu-ft capacity cargo bed whenever needed. Dump sand, gravel, turf or whatever the job calls for, with an easy to operate lever that activates the hydraulic bed-lift system in either two- or four-seat configurations.
Kioti K9 2400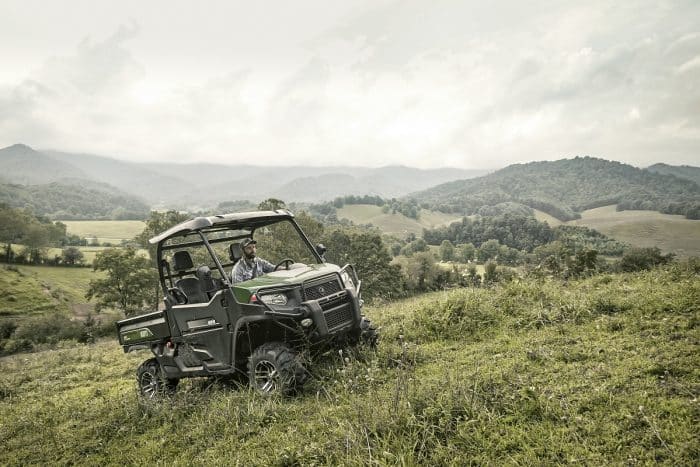 Unleash the Kioti K9 2400: a powerhouse utility vehicle that redefines versatility and performance. This utility vehicle offers a powerful three-cylinder, 24-hp diesel engine that delivers ample power for tough tasks, coupled with ergonomic seating for extended productivity. Built to combat tough terrain, the independent dual A-arm suspension on the K9 2400 guarantees a smooth ride, while its four-wheel drive with differential lock ensures reliable traction for challenging landscapes. The K9 2400 is a workhorse with a 1,300-lb towing capacity and a 1,750-lb payload capacity. Equipped with a durable steel cargo bed with a spray-in bed liner, this UTV effortlessly transports heavy loads, making it an indispensable asset for any demanding task.
Gravely ATLAS JSV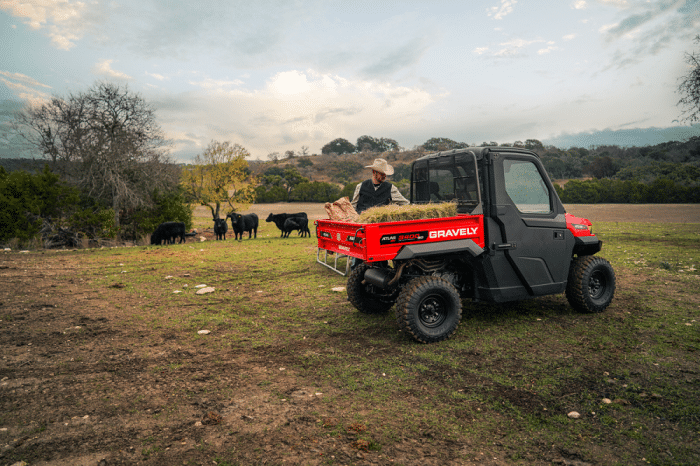 The Gravely ATLAS JSV brings power and torque to the jobsite, on the ranch and in the toughest settings where heavy-duty strength is needed. Available in spacious three-seat or six-seat/crew options, a two-cylinder 1,000-cc gasoline engine provides the power to haul and dump up to 2,500 lbs, and tow up to 2,000 lbs. Its rugged one-piece chassis and rear suspension provides rigidity over any terrain, the optional fabricated steel cargo bed fits a full-sized pallet, and numerous accessories like a winch, cab, or heater expand your capabilities to do more and work more comfortably in any weather or work environment.
Bobcat UV34XL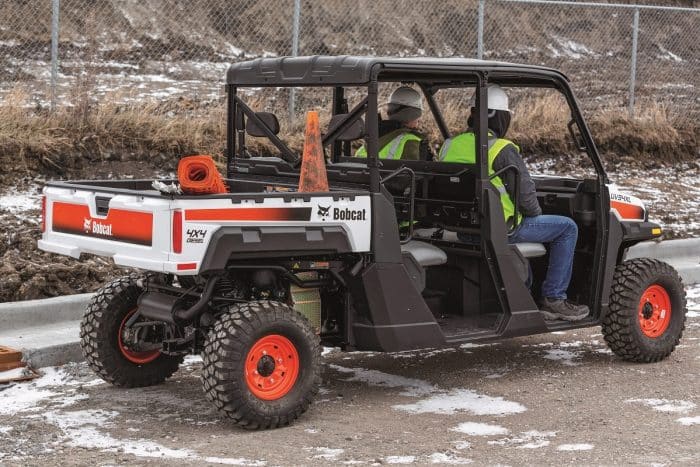 When you need to haul more materials, tow heavier loads and transport more people, the Bobcat UV34XL does it all. This 39.9-hp utility vehicle, also known as a side-by-side UTV, offers seating for six people and includes a 1,000-cc, two-cylinder SOHC engine that delivers high-performance power, maximum reliability, durability, plus gas-engine convenience. The large, 900-watt stator provides about 75 amps of output for use with the snow blade and other electric-powered accessories, while the electronic fuel injection offers the best starting performance in all seasons. A large cargo box with a durable composite interior stands up to tough cargo and materials, retaining its strength (and good looks) for years. All that, plus the Bobcat UV34XL offers all-wheel drive, convenient service access, improved ground clearance and increased tow rating — just what your toughest projects demand. It also features an industry-leading towing rating of 2,500 lbs, as well as payload capacities up to 1,250 lbs.
Utility vehicles are perfectly made for both work and play. Learn all about these sweet rides here.