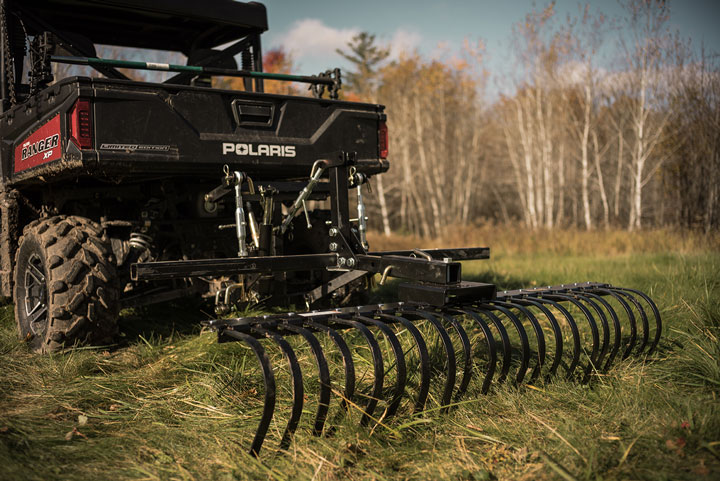 Kolpin DirtWorks provides the largest assortment of the quality tools you need to put an ATV or UTV to work! Whether establishing a wildlife food plot or just maintaining property, Kolpin, owned by Polaris Industries, has a complete line of rugged, heavy-duty Category 0 agricultural implements to complete any job. The line-up includes disc plow, cultivator, landscape rake, chisel plow, rear blades & a growing line of hitches.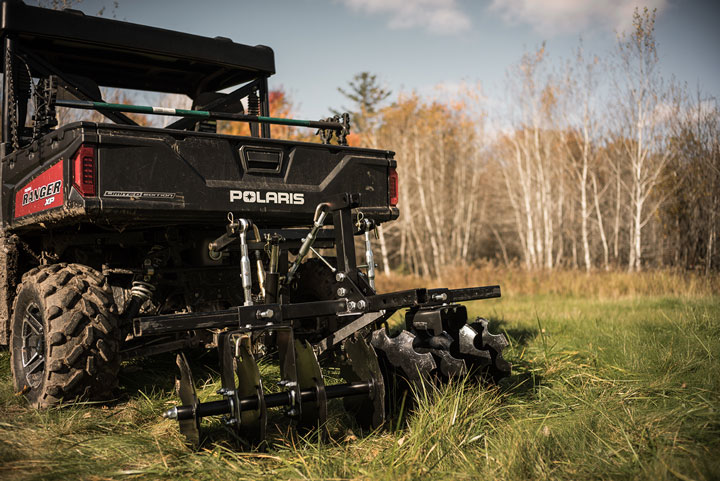 3 Point Hitch
• Category '0' 3-point hitch with a 20" drawbar spacing width and 5/8" diameter hitch pins


•

Heavy-duty 1-1/2" square tubing mainframe for use on ATVs or UTVs

• Fits any 2" automotive style receiver hitch

• 12v electric actuator lift system with 20 amp maximum current draw

• 250 lb. lift capacity at the tool bar with 300 lbs. down pressure capacity


• 15" vertical lift at the toolbar
Accessory Bars (48" for ATV / 60" for UTV)
• Category '0', 5/8" hitch pins with 20" spacing

• Allows a quick change from one implement to another


• Required to use with any DirtWorks Implements
Disc Plow
• Kolpin's bestselling implement


• 8 discs with 5 adjustable cutting angles to accommodate different soil types and conditions
Landscape Rake
•

3 position angling to Prepare food plot soil, clear trails, groom horse corrals, or maintain your gravel driveway

• 21 – 1 5/16" hardened landscape rake tines


• 60" width
Chisel Plow/Scarifier
• 2 applications in one – Scarifier OR Chisel Plow

• Hardened steel plow teeth loosen hard packed surfaces such as driveways, sand trails, or can be used to cut into hard, solid sod.

• Adjustable blade height for specific ground type and extra clearance during transportation


• (6)" heavy-duty, hardened steel plow teeth
For more on Polaris Industries, click here. It's super clickable.
Tags:
Kolpin
,
Kolpin DirtWorks
,
Polaris