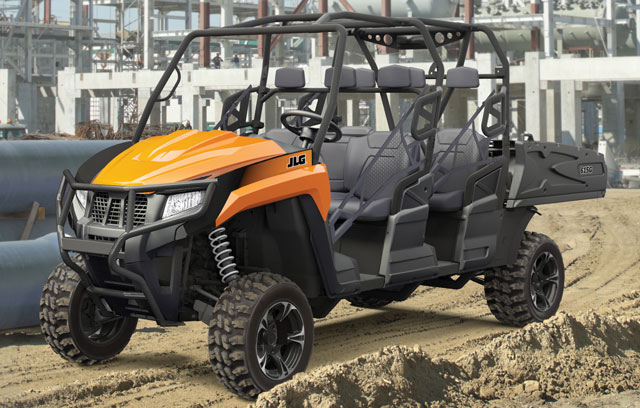 The Aerial Lift Expert Enters the UTV Market in 2017
In March of this year, JLG Industries Inc. entered a new product category with the launch of its utility vehicles. The company has two models — the three-seat 315G and six-seat 615G. JLG's parent company, Oshkosh Corp., has been making vehicles for 100 years, which coupled with the customer's need, made this a unique opportunity to introduce the utility vehicle product to the marketplace. Available in North America, these gas-powered vehicles (diesel models will be introduced in 2018) are manufactured through a partnership agreement with Arctic Cat. Their versatility makes them an efficient means of moving people and materials around large construction sites, convention centers, event venues and commercial business parks.
These vehicles have a rugged design and were built to withstand heavy, long-term use, says the company. JLG's customers will benefit from the convenience of a single source equipment supplier when purchasing these utility vehicles with traditional JLG access equipment products.
The JLG 315G and 615G feature a 10-in. ground clearance with four-wheel drive and an independent suspension to keep all four wheels on the ground during travel. While in operation, drivers can shift between two-wheel and four-wheel drive, locking the differential, for improved traction. Durability is further enhanced by rugged axles, standard skid plate, brush guard bumper, heavy-duty steel frame and powder-coated paint.
According to JLG, the 315G and 615G boast class-leading cargo capacities with a 1,000-lb capacity cargo box and 1,500-lb towing capacity. The cargo bed side panels are removable to accommodate a full-size skid, meaning operators can carry more material, reducing the number of trips around the worksite. Rental customers gain the added peace of mind that comes with knowing their investment is backed by JLG's comprehensive parts, service and support network. Standard features on the vehicles include contoured seats and foot beds, individual headrests and seat belts, power steering and backup alarm. Operators can choose from additional options to enhance comfort. These include an enclosed cab, heater, windshield and beacon.
Advice to Buyers
"It's important to understand the answers to the following questions before purchasing a utility vehicle," says Jeff Ford, JLG Industries director of global strategy and business development. "What do you want to move around the jobsite? How many people and how much material will you want to move? In addition, what type of terrain will you need to traverse going around the jobsite? Will it be a hard surface [like concrete], an improved surface [rough limestone] or rough terrain? Lastly, understand the type of fuel that will be available on the jobsite and the size and weight of what you will need to haul and tow. Understanding these questions and your needs will help you make the best decision when purchasing your next utility vehicle."
JLG Industries Inc.
1 JLG Dr. | McConnellsburg, PA 17233
717-485-5161 | info@jlg.com | jlg.com
Click on table to enlarge