Projects create nomads. For a contractor or farmer, a new job usually means another mission in a new place, making reliable transport imperative to travel from point A to point B. This often means a work truck and a trailer to haul your equipment, supplies and spoils over the road, but sometimes there are no roads — like on distant oil and gas projects, rough construction sites, expansive croplands and busy parks and university grounds. In these situations, a comfortable and utilitarian chariot called a utility vehicle (or UTV) can transport workers and products off the beaten path.
Similar to their ATV cousins, UTVs are made for off-road applications, but differ in that they can take at least two passengers (sometimes up to six), have a bed for cargo and supplies and even take attachments. There's a distinction in the market between pure recreational UTVs (units with high speeds, engineered for trail riding), work-focused UTVs and "utility" vehicles that are made for both fun and work (a category gaining traction). Today, the UTV category of equipment is extremely popular with unit sales above 400,000 units. A lot of big name brands have been making variants of UTVs for decades — John Deere, Kubota, Polaris, Arctic Cat, Kawasaki, Cushman and Club Car — but there are also lots of new players still entering the market with some pretty innovative ideas and some very targeted users.
"Now that the UTV market has matured, we do not see machines opening up large new market segments," explains Royce A. Steinert, director of engineering for work vehicles at Hustler, which entered the market in 2017. "We do see more market-focused products being introduced with new players getting into the work space, which lies between lower-cost, entry-level machines and high-power recreational machines. These machines are bringing real utility to the medium-duty market with heavier payload capacities and more reliable engine offerings."
These new brands are also hauling along some cool new tech. Hustler, for instance, offers two MDVs (Maximum Duty Vehicles), both boasting Kohler diesels, steel beds, standard power steering, spacious cabins, 37-mph max speed and selectable two- and four-wheel drive. Yet what really sets MDVs apart is LeveLift Bed technology, which allows the bed to move from the normal transport position to the ground and then lift 750 lbs back to the transport position.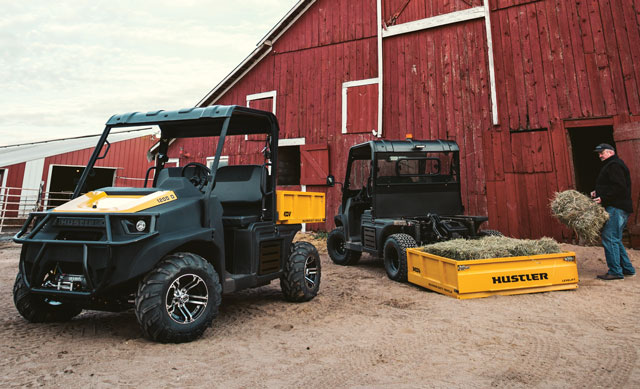 "This reduces physical stress on the operator and potentially allows tasks that would take two or three workers to be performed with a traditional utility vehicle to be performed with a single operator," explains Steinert.
That's only one of lots of cool new offerings in the UTV market that have been launched in the last year plus, coming from a whole new set of players. It's not just about new technology either. It's also about targeting a market with great service and relationships. JLG caught our attention last year. An expert at making equipment that works in elevated environments and in rental, it entered the all-terrain UTV category with the three-seat 315G and six-seat 615G. While these units have solid specs (10-in. ground clearance, two- or four-wheel drive, independent suspension, rugged axles, standard skid plate, brush guard bumper, 1,000-lb capacity cargo box and 1,500-lb towing capacity), these units were built with a specific market in mind — rental customers.
"These versatile vehicles are an efficient and productive means of moving people and materials around large construction sites, convention centers, event venues and commercial business parks," says Jeff Ford, director of global strategy and business development at JLG Industries Inc. "JLG's utility vehicles are purpose-built for use on rugged construction and industrial sites with class-leading cargo capacities for transporting more materials in a single trip. Durability and reliability are key. Customers have peace of mind knowing the product is backed by JLG's established parts and service support centers."
Brand Equity
In the rental industry and beyond, JLG's brand is gold. So, now that JLG offers a UTV, it's hoping its major customer segments (dealers and rental houses that love its brand) will choose a JLG unit over other units — for both its technical merits and its brand and service strength. "JLG's parent company, Oshkosh Corp., has been making vehicles for over 100 years. Coupled with our customers' needs, this made for a unique opportunity to introduce a JLG utility vehicle," says Ford.
To make the best machines possible, many of these companies are creating partnerships. JLG works with Arctic Cat. Both New Holland (discussed further on) and Caterpillar work with Textron, which also owns brands like E-Z-GO, Cushman and Bad Boy. These partnerships are helping many of these novice UTV brands hit the ground rolling.
Caterpillar is an excellent example. The biggest maker of earthmoving equipment in the world highlighted its first-ever UTVs — the gasoline-powered Cat CUV82 and diesel-powered CUV102D — late last year. These units are top shelf and made for serious construction contractors. Even while partnering with Textron, Cat brought a clean design sheet to the drafting table. The CUV82 and CUV102D offer a 1,000-lb total rear cargo capacity and whopping 2,000-lb towing capacity for outstanding work performance in a variety of applications.
"The new Cat UTVs will eventually have a total of four models. The two-seat units, CUV82 and CUV102D, will be available summer 2018, followed by the five-seat units, CUV85 and CUV105D, in the fall 2018," explains Norma Aldinger, marketing manager of utility vehicles at Cat. "The Cat UTV lineup has a standard steel bed for tough work applications. They also come standard with power steering and four-wheel drive. The gas versions [CUV82 and CUV85] will come with a standard speed limiter which gives the operator the control to limit speed to 25 mph."
These new units also boast a four-wheel independent suspension system, intuitive column shifter and a continuously variable transmission, tuned specifically for work applications. During operation, the choice of two-wheel drive, four-wheel drive or four-wheel drive/lock modes permits the driver to match vehicle drive to ground conditions.
"The Cat UTV is built tough," says Aldinger. "Not only has it been put through the same design and testing standards as other Caterpillar products, but we included work features in every vehicle — from a steel bed to engine braking."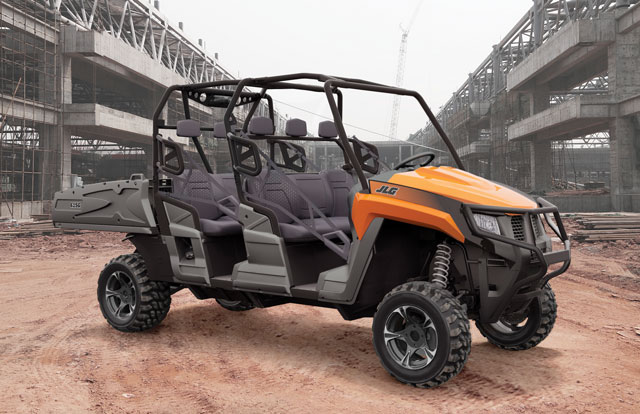 Of course, one of the most popular markets for utility vehicles is farming, where off-roading is an everyday occurrence. New Holland understands this. Being an agricultural equipment expert, New Holland released the appropriately-named Rustler 850 in August 2016, while the Rustler 850 Crew (four passengers) launched a year later in August 2017. Both Rustler 850s have a 62-hp EFI gas engine, four-wheel double A-arm suspension and (our personal fave) on-demand all-wheel drive. With a 1,500-lb total load capacity, the Rustler can handle heavy-duty loads for work or haul your gear and coolers when you're headed out for some relaxation after a job well done.
"Being an agricultural company, New Holland set out to provide a UTV solution that was really designed for farmers and ranchers, who, like professional contractors, depend on their UTV for their work and livelihood," says Todd DeBock, marketing manager for under 60-hp tractors at New Holland North America. "We created the Rustler to be reliable and rugged enough to handle day-to-day work requirements, while providing the capabilities for off-road adventures when the work is done. More specifically, the Rustler's four-wheel, progressive rate suspension provides a superior ride whether the bed is empty or fully loaded. Plus, the bed won't rust, crack or make any rattling noises while in motion, which is certainly a plus."
It's another cool product from four new UTV players, offering exciting alternatives in the off-road market. From hunters to construction crews, more and more customers are exploring the outdoors in a high-powered, go-almost-anywhere utility vehicle — and more companies are making units that can handle both work and recreation.
Yet, as fun as utility vehicles can be, commercial applications are giving these all-terrain mini trucks a reputation for hard work. Professional-grade UTVs can carry heavy spoils, pull implements, power front-end attachments and/or morph into customized work vehicles that can work in diverse off-roading markets such as landscape and construction to fire and entertainment. Sometimes simply transporting lots of people is just as important as working hard, so that's when you call in a few multi-row utility vehicles. The are an enormous amount of end applications, so let's feel lucky that the market continues to evolve both its classic product lines (check out the story on page 24) and cool new brands like these.
---
Bull Riding: Yanmar's Two Tough UTV Models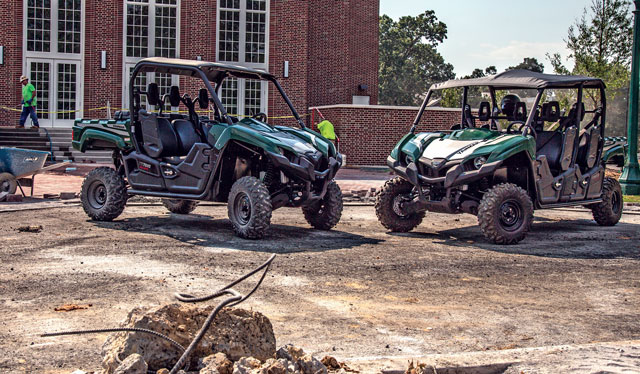 Yanmar released its Bull Series utility vehicles in 2017. There are two models — the standard Bull model with three seats in a single row and the Longhorn edition with two rows and six individual seats. Both utilize a powerful 700-cc class gas engine and a premium design. These Yanmar UTVs are sold exclusively through the company's extensive North American compact construction equipment and agriculture tractor dealer network. Color options have expanded in 2018 past the silver and red color schemes to encompass green, Realtree AP Camo and the special edition Black Angus edition, available on the standard Bull model only; it includes matte metallic grey paint and a matte black hood adorned with a large but subtle carbon fiber Bull logo graphic. Find out more at thebullseries.com.
Hold on because we have more UTVs here.