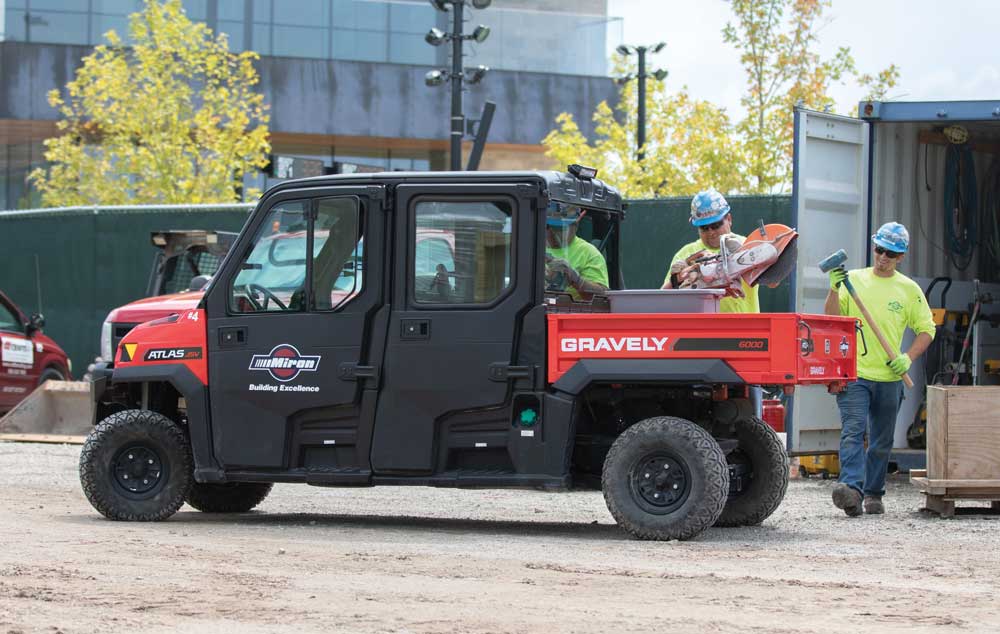 Steel Job Boxes, Impressive Payloads and a Serious Work Ethic
Gravely was established in 1916 in Dunbar, W.Va., by Benjamin Franklin Gravely. Gravely's patent of the motor plow led to the development of the famous Gravely tractor, a product that helped shape the American landscape. Today, Gravely is part of AriensCo, a five-generation family owned and operated company in Brillion, Wis. The outdoor power equipment manufacturer's North American brands include residential and commercial lines under the Ariens and Gravely brand names.
The Gravely Atlas JSV (jobsite vehicle) was introduced in September 2014 to offer contractors, ranchers and landscape professionals a right-sized option capable of quickly transporting large payloads and crews of up to six adults across jobsites.
With gasoline- and diesel-powered configurations, the Atlas JSV is built on two chassis, the Atlas JSV 3000, which fits three adults, and the Atlas JSV 6000, which fits a crew of six adults. The diesel models are powered by a 1,028-cu-cm, three-cylinder Kohler diesel engine for maximum torque and traction, and the gasoline options are equipped with an efficient, fuel-injected, 570-cu-cm Polaris single-cylinder engine with dual overhead cam.
With a heavy-duty de Dion suspension system, the Atlas JSV transports up to its full capacity with minimal sag to its 10-in. ground clearance across the 84-in. wheelbase on JSV 3000 models and the 116-in. wheelbase on JSV 6000 models. With a top speed of 35 mph in both power options and ROPS standard, the JSV is ideal for contractors who need to carry both equipment and workforces around the jobsite quickly and safely.
The Atlas JSV is spec'd for crews transporting bulky equipment. Features that separated the JSV from the rest of the UTV category at its launch are its fabricated, all-steel job box and the vehicle's payload capacity. With 18 cu ft of cargo space and a bed capacity of 1,250 lbs, the JSV can easily fit and haul a fully loaded, standard-sized pallet. Loose materials can be unloaded quickly by lowering the end gate and pushing the dump button that uses an electric motor to raise the front of the box.
If 1,250 lbs isn't enough, take advantage of the JSV's 2,000-lb towing capacity to move industrial machinery wherever it needs to go.
With options to outfit with numerous OEM accessories, the Atlas JSV is adaptable to several climates and qualified for a seemingly limitless number of demanding applications. Install the cab and heater system to stay comfortable in cold weather, use the 72-in. plow and the salt spreader to clean up after the storm and be the hero with the 4,500-lb winch. Contractors can load tools onto the equipment rack, hunters can set their rifles on the gun rack and many others can do much more.
Advice to Buyers
"What we want buyers to understand is the importance of a UTV specifically designed to alleviate the challenges of jobsite transportation," says Matt Medden, AriensCo vice president of marketing. "In many applications, a UTV can replace the need for a large capital investment in a pickup truck. Construction crews, grounds crews, ranchers, fire departments, park maintenance crews and other tradespeople are realizing the versatile advantages in this machine's strength, speed and hauling and towing capacities, as well as the enhanced abilities made possible by a full line of accessories."
[prettyPhoto title="Gravely Specs" link="https://compactequip.com/wp-content/uploads/2019/07/gravely-utility-vehicle-specs.png" type="link" ]

[/prettyPhoto]
Tags:
2019 Spec Guide
,
2019 Spec Guide- UTVs
,
Gravely
,
July/August 2019 Print Issue
,
Spec Guide 2019