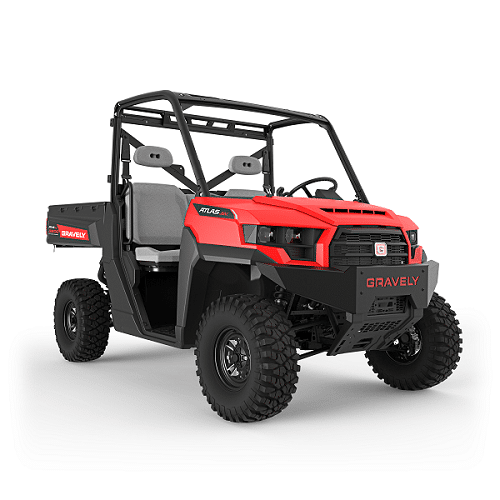 Five years ago, Gravely created a new category of UTV, a jobsite vehicle known as the Atlas JSV. Now, it's been redesigned to give more back to users in more demanding jobsite conditions like construction, ranching, landscaping and everything in between.
All new Atlas JSV models received upgrades through the powertrain. By adding a larger, 999cc, 40-hp SOHC two-cylinder engine, it supplies more power and uses a new heavy-duty clutch with a 32 percent thicker belt for increased durability and a longer belt life. An updated driveline clutches and shifts more smoothly through the automatic transmission from zero to a new top speed of 40 mph, compared to the previous 35-mph limit. While the Atlas JSV keeps its payload capacity of 1,900 through 2,075 pounds (depending on model), its towing capacity increases 25 percent from 2,000 lbs to 2,500 – shattering Gravely's own standard for the ability to tow a ton, literally.
One of the major focuses in the Atlas JSV redesign was engineering the machine to be more capable through even tougher work environments. With a completely new frame, its one-piece ROPS chassis provides more rigidity, reduced noise in the cabin and compliments a new and improved suspension package designed specifically for work applications. The JSV's independent rear suspension also increases ground clearance for better handling on uneven terrain.
Owners, not just operators of the new Gravely Atlas JSV fleets enjoy benefits in commonalities. Identical keys across every JSV model and serial number eliminates worry and headache of a lost key, and a common tire size for all four corners of the machine gives more value to any one spare. With easy side access to daily service items like the engine air filter, oil filter and oil dipstick, the Atlas JSV boasts easier maintenance, saving time and money.
As with any Gravely product, user experience is at the forefront of any redesign. For the JSV, this comes in the form of added comfort and ergonomics to match the demands of the harshest work environments. Specifically, that's a better digital display, rejuvenated interior styling, added seat comfort and an additional five inches of space for work boots in the footwells. The flip-up passenger seat creates space for a bucket to carry trash and other materials without needing to sacrifice bed space or seating. Finally, two of the four models come with EPS, or electronic power steering, standard.
"Gravely has done particularly well with understanding the needs of our customers," said Matt Medden, AriensCo vice president of marketing. "What we learned from studying jobsites and watching how users interact with the JSV is how we landed on the new features in the updated JSV. There were some critical things that needed to be addressed, and we delivered them."
New Atlas JSV models will be available in four configurations in early 2020 at independently owned and operated Gravely dealerships in the United States and Canada. Those are the 3400 SD, a three-seat, four-by-four with a steel box, electric bed lift and EPS. The 3400, a three-seat, four-by-four with a poly job box and electric bed lift. The 3200, a three-seat, four-by-two with a poly job box, and the 6400, a six-seat, four-by-four with a poly job box, electric bed lift and EPS.
Tags:
Gravely