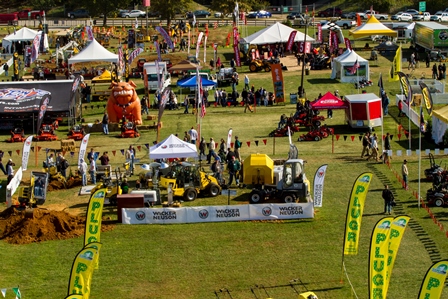 Last month, approximately 18,000 people filed into theKentucky Expo Center for the 2013 GIE+EXPO marking a 6 percent increase inregistrations.
Along with the co-located Hardscape North America (HNA) show,there were 637 indoor exhibits to see, which marked a 6 percent increase in thenumber of exhibitors.
With a show catering to those who spend most of their time,working outdoors it is appropriate that about 100 of the indoor exhibitors hadthe opportunity to give attendees a hands-on experience with their equipment atthe 19-acre outdoor demonstration area. It was also the site of HNA's sixhour-long installation demonstrations and the first-ever HNA Installer Championships.
Sixty-nine products, from 46 manufacturers, introduced inthe last year had the spotlight during the new products showcase. Looking aheadto 2014, organizers have plans to increase the number and variety of UTVs onthe show floor.
In addition to a bevy of information, several attendeeswent away with awards.
Show management awarded a travel package to WalkerMcAlister, Evergreen Landscaping & Maintenance (ELM), Marshville, NorthCarolina, for registering online. The last day of the show, dubbed "FabulousFriday," Ben Bremer, a servicing dealer with Hoyer Outdoor Equipment inBrookport, Ill., won $1,000.
The winners of the 2013 Power Equipment Trade GIE+EXPODealers' Choice Awards:
Hot topics during this year's show were the array of new environmentallyfriendly products and the Outdoor Power Equipment Institute's (OPEI) ethanolawareness campaign.
Education offered for GIE+EXPO attendees climbed 21percent over the 2012 show. Professional Landcare Network, HNA, the NorthAmerican Equipment Dealers Association, the Engine & Equipment TrainingCouncil and some exhibitors provided speakers and trainers.
The dates for the 2014 show in Louisville are Oct. 22 fordealers, distributors, retailers and media. The demo area and show dates, opento anyone in the industry, is Oct. 23-24. Show organizers announced that theGIE+EXPO and HNA co-location would continue through 2016. This year more than1,500 hardscape contractors and distributors registered for HNA.
For more information about the GIE+EXPO, visit gie-expo.com, email info@gie-expo.com, or call Sellers Expositions, 800-558-8767or 812-949-9200. Tags: UTVs