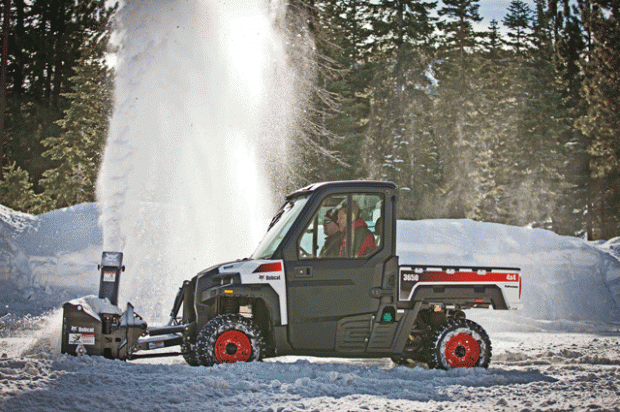 Four Models Designed for Performance, Comfort and Versatility
In 2002, Bobcat Co. introduced its first utility vehicles. Today, it offers gas- and diesel-powered utility vehicles (3400 and 3400XL) and diesel-powered-only utility vehicles (3600 and 3650). The 3400XL can carry up to six people with two bench seats.
All four utility vehicles provide ample horsepower and speed, allowing for increased jobsite productivity. The gas-powered 3400 and 3400XL feature a 40-hp engine, while the diesel-powered 3400, 3400XL, 3600 and 3650 have a 24.8-hp engine. Bobcat utility vehicles offer a top speed of 35 mph; however, the 3400 and 3600 can travel up to 40 mph when combined with an optional speed kit. Each machine features low- or high-range speeds for towing heavy loads or moving light loads at faster speeds.
Improved suspension and four-wheel disc brakes give Bobcat utility vehicles industry-leading payload and towing capacity, says Bobcat. UTV operators can haul up to 1,250 lbs of material in the composite cargo box, which is more durable and stronger than metallic boxes, says Bobcat. Continuous variable transmission (CVT) and true four-wheel drive deliver quick machine acceleration and peak performance even when moving heavy loads. Hydrostatic drive systems, available on the 3600 and 3650, allow for better machine longevity, less maintenance and easier operation.
An independent front dual A-arm suspension, with rear de Dion suspension, is found on all models for improved ride comfort and stability when towing and hauling heavy loads. The front suspension allows for 6 in. of motion, while the rear allows for 9 in. of articulation in the shocks/springs. The suspension can be adjusted to suit the specific application and jobsite condition.
Three drive mode selection options — turf mode, two-wheel drive and four-wheel drive — are available to match varying ground conditions. In turf mode, each wheel spins independently, allowing for minimal ground disturbance on turf, pavement and other hard-packed surfaces. Two-wheel drive allows both rear wheels to receive equal torque and spin for added traction on gravel roads, soggy trails and soft pasture. Four-wheel drive allows the machine to easily navigate in shallow streams, travel in snow-covered paths and pull trailers.
Specific to the 3650 is the Multi-Attachment X-Change (M.A.X.) system, which allows operators to use approved front-mounted power-take-off (PTO-driven) attachments, including an angle broom, mower and snowblower. The 3650 and M.A.X. system have a lift height of 2 ft and a lift capacity of 500 lbs. Non-PTO attachments — bucket, grapple, pallet fork and snow blade — increase versatility. A sprayer attachment is available for mounting in the cargo box of all four Bobcat UTVs.
Advice to buyers
"Utility vehicles are designed to help owners work more efficiently by transporting employees, supplies and tools from point A to point B. A durable four-wheel-drive utility vehicle helps to complete tasks in less time," says Chris Austinson, Bobcat utility vehicle product specialist. "A good UTV should take utility vehicles to the next level, operating PTO-driven attachments and converting them into true tool carriers. This capability allows owners to be more productive with compact equipment, expanding their machine's jobsite abilities."