No matter the weather conditions, location or time of day, utility trucks must be ready to perform critical repair and maintenance work.
This work can take place in-ground or overhead — such as repairing power lines, telephone lines or water mains. It can also involve maintaining or fixing vehicles in the utility fleet in order to keep them on the road, like airing up tires on a garbage truck or jumpstarting dump trucks.
To help service technicians tackle this wide range of jobs, utility and municipality truck fleets require versatile tools and equipment. The expanded capabilities available in some all-in-one solutions on the market can help fleets reduce idling, jobsite noise and operating costs while providing techs with the tools they need to get jobs done.
Here are some key capabilities and challenges to keep in mind when spec'ing your next utility truck.
Utility Truck Needs
Utility repair and maintenance work typically requires the following capabilities: hydraulic and generator power, compressed air, battery charge and crank assist and welding capabilities are among the most-needed functions.
Work trucks that carry multiple engine-driven machines have less available payload and, therefore, less room for important tools. Instead of carrying two or three separate machines, such as an air compressor, generator and welder, using an all-in-one solution can maximize work truck capabilities while reducing weight and freeing up space. This provides more available payload space on the truck for other important items that may be needed on the job.
While PTO-driven systems can't operate unless the truck engine is running, an all-in-one solution can provide compressed air, generator power, battery charging/crank assist, welding and power to support 12-volt DC needs — all with the truck engine turned off.
Welding Capabilities
Depending on the type of work being done, welding may be an important capability for utility truck technicians. In-ground repair of water mains or utility pipes can often require more of a need for welding than other types of utility service and repair.
Hydraulic Output
Some repairs may require loading heavy materials or lifting or moving large items, such as power poles. This makes hydraulic power a critical feature for utility trucks.
Some all-in-one solutions include integrated hydraulic systems that can help save space on the truck while delivering fast and precise crane operation.
All-in-ones with hydraulic systems have evolved as technologies have improved. New technology on some all-in-ones allows operators to quickly access the settings menu to maximize available power and determine how power is distributed among the equipment, prioritizing the air compressor or hydraulic system based on what is needed to get optimal tool performance for a specific job. This can help technicians complete work more efficiently to meet demanding timelines.
Compressed Air
From quickly airing up tires on fleet vehicles to powering pneumatic tools such as impact wrenches, compressed air is used frequently by service technicians on the jobsite.
For these jobs, air compressor capacity is an important feature. All-in-one options on the market provide a range of air output to meet the varying needs of technicians.
In addition, choosing a unit with a rotary screw-style air compressor can help technicians save time. Rotary screw compressors fill faster and run quieter than reciprocating designs, for greater efficiency and an improved work environment.
Generator Power
The need to power electric tools or lights — which is especially critical for emergency repairs completed at night — are among the utility truck demands met by a system's generator.
It's important to keep in mind the generator output necessary for the jobs being completed most often. All-in-one solutions can provide continuous 120/240 volts with up to 60Hz of power for high-demand electrical tools.
Chassis Power, a technology available on the Miller EnPak systems, monitors the truck battery and automatically charges it, so operators can run inverters for their laptops or lights and 12-volt tools. There is no need to stop working to start the truck and charge the truck battery or worry about draining the battery and being stranded. 
Reducing Idling and Noise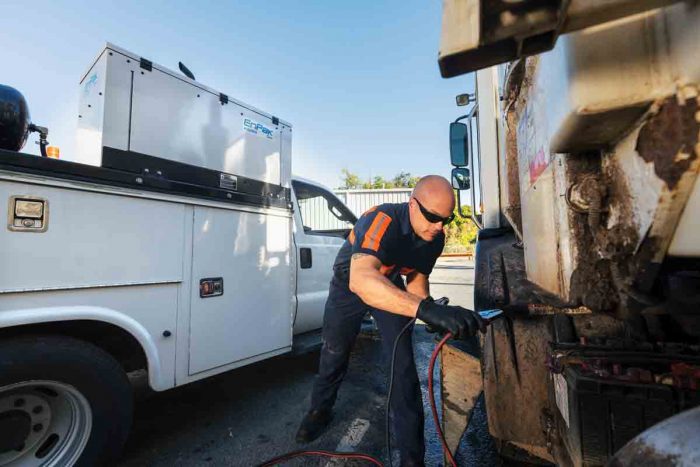 Utility repairs and maintenance often happen in residential neighborhoods where there may be noise level restrictions. When emergency repairs happen after hours, reducing noise is even more important.
In many cases, city ordinances identify specific decibel levels for various times of day. Noise that exceeds the designated level is considered a nuisance to the surrounding community. Many locations may have noise restrictions after 9 or 10 p.m., for example, and depending on the neighborhood zoning, the nighttime decibel level may be limited to 60 or 70 decibels — about the level of a conversation between two people or car traffic in a city.
A traditional truck setup using a PTO for hydraulics and an engine-driven welder/generator means idling or running the truck at low rpms whenever the tools or equipment are being used. PTO-driven trucks result in 75% more engine idling on average than trucks with an all-in-one system. Reduced idling with an all-in-one solution results in reduced noise levels on the jobsite compared to a PTO truck.
Consider New Options for Utility Truck Fleets
New technologies can help fleets achieve many of their goals. Reducing how much a truck engine idles helps decrease noise levels on a job. Less idling can also help fleets save money on fuel and maintenance and reduce wear on the truck. And for government fleets that have green initiatives in place, reducing idling can help meet clean-air and anti-idling standards.
Additional technologies available on some all-in-one solutions can help fleets meet idling reduction goals — and still provide the wide range of capabilities and power that technicians need to tackle whatever repair or service is on the agenda.
An all-in-one solution can deliver the critical capabilities for utility maintenance and repair in one space-saving machine, so technicians can get more done efficiently compared to using a PTO-driven system. To explore all-in-one solutions that provide the versatility utility trucks require, visit MillerWelds.com/EnPak.
Cari Groppel is a market development manager for Miller Electric Mfg. LLC. Click here to learn more!