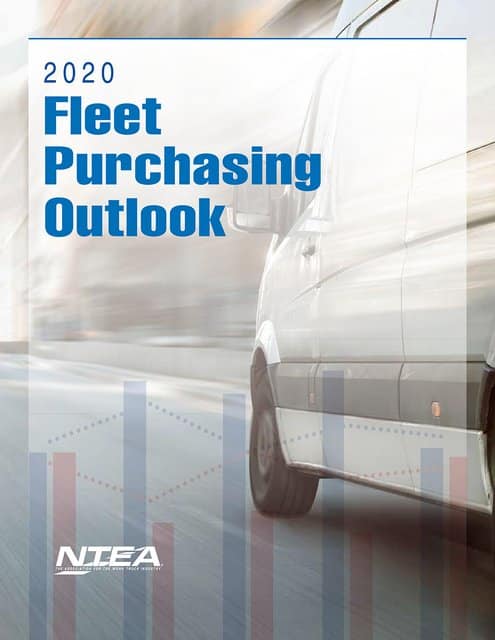 NTEA recently published its eighth annual Fleet Purchasing Outlook to showcase purchasing trends for the commercial vehicle community. The insights provided by fleet professionals give the entire work truck industry perspective on anticipated purchasing intent and areas of greatest interest to fleet managers.
"The market demand for commercial vehicles remains robust," said Steve Carey, NTEA president & CEO. "While there are some market constraints that continue, such as tight labor and equipment availability, our 2020 Fleet Purchasing outlook confirms demand for fleet vehicles continues to demonstrate purchasing resilience."
NTEA gathers feedback from a wide variety of fleet professionals in mid- to high-level management, with authority to make decisions on truck acquisition and vehicle specification. A broad range of fleet sizes, vehicle weight classes and vocational truck applications is represented as participants span the U.S. and Canada. With current survey results combined with data from previous studies, this report delivers year-to-year comparisons for benchmarking purposes and insight into the fleet perspective.
Report findings showcase
Average truck age and replacement cycles
Macro-level buying tendencies
Predicted change in fleet size
Main factors driving purchase behavior
Interest in advanced truck technologies and alternative fuels
Approach to safety and automation
Importance of financial purchasing incentives
The publication acknowledges some challenging economic factors, including a tight labor market, capacity utilization limits, a decline in the construction sector, tariffs, and political uncertainty in the U.S. and around the world. On the bright side, there's relatively high consumer confidence, good credit availability, manageable inflation, historically low interest rates, and increased state and local government spending. Together, these forces translate into continued opportunity.
Respondent feedback
32% — anticipate acquiring more trucks in 2020 than in 2019
38% — average truck age does not exceed normal replacement cycle
48% — expect a fleet size expansion in the year ahead (an 8-percentage point gain from 2019; utility/telecom application market appears most poised for growth)
51% — report current funding for planned acquisitions (an 11-percentage point drop from 2019 levels; response from fleets planning to acquire trucks in 2020)
61% — making spec' changes to enhance fuel economy and reduce fuel usage (a 16-percentage point climb from 2018 levels)
68% — anticipate procuring Class 2 vehicles in 2020 (response from fleets planning to acquire trucks in 2020)
The 2020 Fleet Purchasing Outlook is a free report download available to NTEA members. Nonmembers can purchase the report for $199. For additional detail and report access, visit ntea.com/fpo, or contact NTEA's team (info@ntea.com or 800-441-6832).
Market segmentation
Key regions
Midwest (U.S.)
Northeast (U.S.)
South (U.S.)
West (U.S.)
Nationwide (U.S.)
Canada
North America
Represented fleet types
Construction
Delivery/cartage
Government/municipal
Utility/telecom
For more info on NTEA, click this link. It's pretty darn clickable. Honest.
Tags:
NTEA