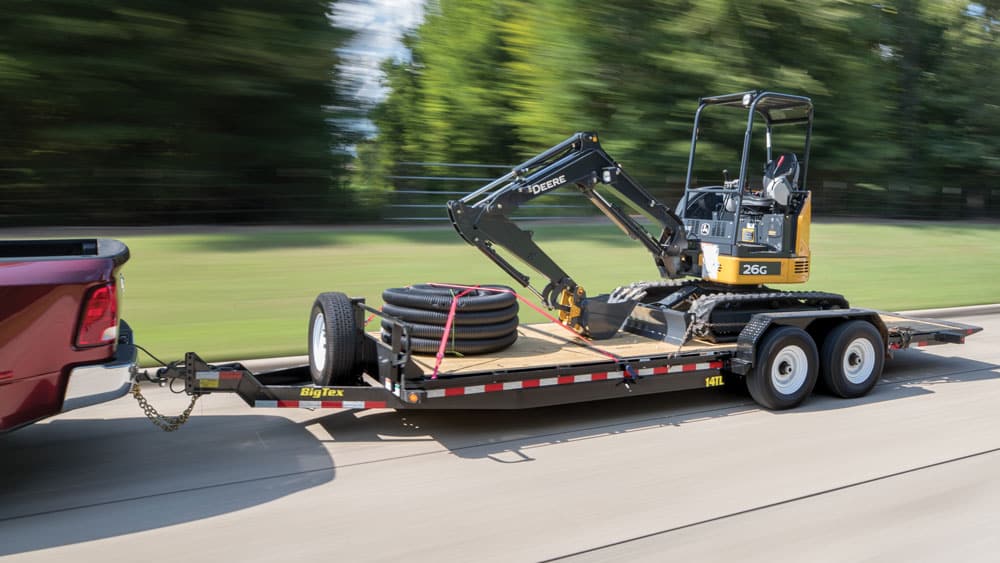 The high season for trailering is here, and with it brings a range of common safety concerns that some contractors have forgotten over the long winter. From knowing the proper weight distribution of your load to securing it with the proper tie-downs, contractors need to keep safety in mind when trailering their compact equipment to ensure they don't run into issues on the road. Even the type of trailer invested in for equipment hauling can make the difference in total trailering capabilities and safety.
"Having the right equipment for the job is crucial," said Colin Holthaus, technical director at the National Association of Trailer Manufacturers (NATM). "If you have a specific piece of equipment that you work with frequently, you definitely want to be communicating that to your trailer manufacturer and/or dealer in order to purchase the ideal trailer for your specific application."
Matching the Right Trailer to the Job
Choosing the right trailer for the job is a matter of what exactly you plan to haul. How heavy your equipment is and the total length of your machinery dictate the type of trailer that is geared for your operations.
"Those are the two parameters that are going to drive a conversation with one of our dealers," says J.D. Schmid, technical product expert at Big Tex Trailers. "We want to make sure we match the anticipated load to the trailer's capacity and include a safety margin of error."
Accounting for this safety margin is often what gets some contractors in trouble. They don't take into account the GVWR (gross vehicle weight rating) of the tow truck and machine they are hauling as well as add-ons like fuel, extra equipment, attachments and utility boxes to arrive at the total capacity their trailer can haul.
"The trailer will be marked with its gross vehicle weight, so you have to look at the tow vehicle and trailer in combination to know what that rating is," says Butch Hughes, sales representative at Car Mate Trailers Inc. "That will determine a lot of how that vehicle has to be licensed and what the driver's requirements would be to tow that equipment."
In addition, contractors need to consider the type of hitch used to attach the trailer to their tow vehicle. A ball hitch attaches to the frame of the vehicle while still providing access to the bed of the tow vehicle. A gooseneck hitch secures to the bed of the truck with a regular ball pull off the bumper. Both hitch options can be used in similar applications but are driven by the type of tow vehicle — gooseneck with dually trucks and ball hitches with standard capacity pickup trucks. For bigger jobs, the fifth wheel hitch is a heavy-duty hitch that mounts into the bed of a truck right over or just forward of the rear axle.
A Range of Trailer Options to Choose From
Trailer options are just as diverse with options for dumping, equipment hauling, landscape operations and utility flatbeds to name a few. In these configurations, the trailers are constructed with steel channels to handle the support of the machine hauled and are equipped with a variety of ramp styles for easier loading and unloading. A popular option that many contractors are gravitating towards as of recently is dump trailers. These nimble units offer the ability for a contractor to carry a material load along with the equipment needed to spread, grade or move it.
"Dump trailer sales have exploded over the last few years," says Hughes. "It's less expensive to register and insure a trailer being hauled by a pickup rather than insuring a small dump truck itself. With a dump trailer, you are looking at a double-duty trailer that hauls small equipment but gives you that dump trailer capacity as well."
Also, a favorite with small contractors is the utility trailer. This trailering option provides a lower hauling capacity usually under 5,000-lb GVWR but offers just as much function and convenience with storage for tools and accessories. These trailers are ideal for small walk-behind machines and landscaping equipment.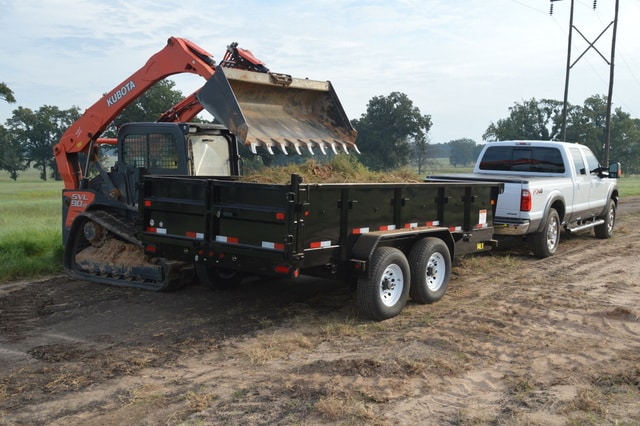 More dedicated trailer options include landscape models and equipment trailers that are both designed to haul the exact equipment of the trade. Landscape trailers are packed with features, allowing landscape contractors to haul additional equipment such as blowers, trimmers and weed eaters. There are integrated boxes designed specifically to hold these often-lengthy outdoor power tools.
"Sometimes folks use these landscape trailers for a variety of activities that involve compact equipment because the storage features and the type of ramps associated with it," says Schmid. "There are boxes built in to hold equipment, and those boxes may also serve for attachments and other small equipment."
For compact equipment such as skid steer loaders, mini excavators and compact wheel loaders, an equipment trailer provides a solid solution to haul more weight without sacrificing on flexibility. These trailers include features such as wider ramps in a flatbed configuration.
Keeping Safe When Trailering
While matching the right trailer to your specific application can provide contractors a safer way to haul equipment, if they don't take the proper tips to stay safe when trailering, it is all for naught. There are several common trailering mistakes that arise with novice and experienced contractors each season.
According to Holthaus, "Safe trailering starts by conducting a walk-around safety inspection of the trailer. This should occur every time the trailer is used, even before hitching up. Towers should always follow the trailer manufacturer's owner's manual regarding proper hitching procedures, loading and cargo securement."
Attaching the trailer to your tow truck before loading can also decrease the possibility of an incident occurring. This prevents a runaway trailer and makes it easier to secure the trailer before it is weighted down. Weight distribution of your equipment is also key to maintaining proper control when driving the tow vehicle. Loads that are too far to the front can create a whipping effect as oscillation and articulation of the trailer and vehicle are restricted. Too far back and you have a recipe for a machine to tip.
"It is important that you get the load centered over the axles completely, so you don't get too much or too little tongue weight," says Schmid. "Tongue weight is the amount of trailer load that is being pushed down on the tow vehicle. Getting the load properly balanced on the trailer is important to not create too much tongue. However, it's also important that you don't have too little tongue."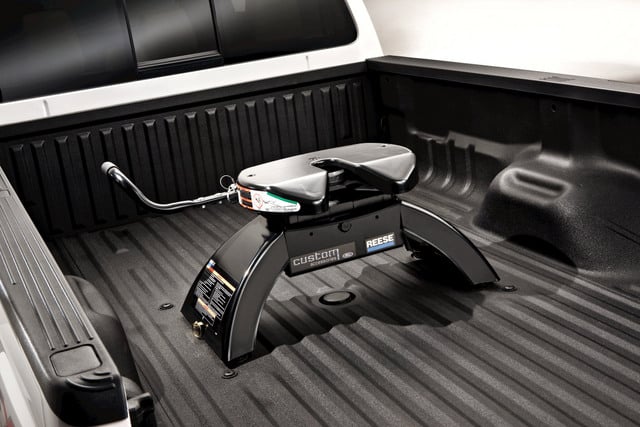 To achieve that perfect weight distribution on your vehicle, Hughes suggests backing equipment with heavy backends onto a trailer. "Those machines typically need to be backed on to the trailer because what can happen if you're going up a ramp grade with all the weight on the back of that unit, it might have a tendency to flip back over," he says.
Securing with the right equipment straps is also imperative to safe trailering. Chains and straps need to be used with machinery and attached at an angle to properly keep the machine secured.
Dawn Geske is a freelancer writer for Compact Equipment.
---
Pimp My Trailer
The trends in trailers are changing with a new emphasis placed on appearance to garner attention while also maintaining pride of ownership. Long gone are the days of a typical black trailer with no flash or appeal to sell it. Contractors are getting savvy to the use of paint, lights and custom wheels that are meshed with all the convenience and features one would want in an equipment trailer or utility model.
"The trend is for trailers to look better and be better equipped, improving the long-term durability," says J.D. Schmid, technical product expert at Big Tex Trailers. "By having the tow vehicle and trailer looking good, there's a pride in ownership. It gets the crew that's working on it to take care of it better."
There are a few factors driving the new demand for customized trailers, according to Colin Holthaus, technical director at the National Association of Trailer Manufacturers. "We're seeing strong growth and good consumer confidence. It has evolved quite a bit," he says. "It's really come a long way. People are more interested in how things look than the pure functionality of it as it was in the past." With a typical trailer having a lifespan that ranges from 10 to 15 years, it is not uncommon for contractors to invest in that splashy paint job or to chrome out their wheels. "Custom wheels are very common — chrome or black — just to make the trailers look better," says Schmid. "Customers are demanding that."
Big Tex Trailers even offers an upgradable option for the flooring of a trailer. Gone is the traditional wood, and instead Blackwood rubber-infused lumber is used. "It's really durable," says Schmid. "It's not as slippery as wood when it gets wet. You really end up with a cool looking deck and a very durable deck." There are even phone apps available to control the lights on a trailer which may be for function but may also be a part of that cool factor to turn heads as they roll through neighborhoods and communities to drum up business.