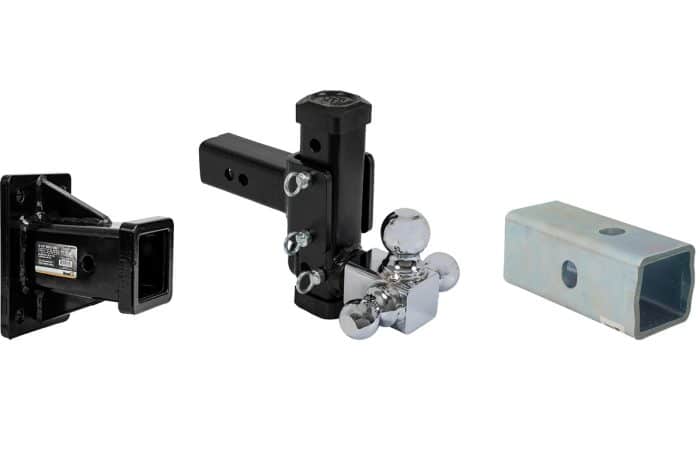 Buyers Products, a leading manufacturer in the work truck and trailer equipment industry, recently announced a new series of 2 ½-inch towing accessories to accommodate growing demand with 2 ½-inch hitches. The new line features a 2 ½ inch bolt-on receiver tube, a stowable, adjustable tri-ball hitch for 2 ½-inch hitch receivers, and a 2 ½-inch to 2-inch receiver tube adapter.
"With more and more trucks using larger 2 ½-inch receivers and hitches, we're excited to expand our lineup of hitches, receiver tubes and adapters in 2023," says Dan Doerr, director of new product development at Buyers Products. "We've noticed a shift in the industry from the standard 2-inch to 2 ½-inch and are proud to offer these new additions at competitive price points."
The new bolt-on receiver tube is rated for 20,000 pounds maximum gross trailer weight (GTW) and 2,000 pounds maximum vertical load, and easily bolts to any hitch plate with standard pintle hook bolt patterns.
The stowable, adjustable tri-ball hitch makes for tool-and-hassle-free height adjustment and allows the user to select a 1 7/8-inch ball, 2-inch ball, or 2 5/16-inch ball rated at 6,000/10,000/15,000 pounds respectively.
The updated 2 ½-inch to 2-inch receiver tube adapter features stop tabs for easy alignment. To view more details about any of the aforementioned products visit buyersproducts.com.
We'd love to keep in touch! Check us out on Facebook, Twitter and LinkedIn!