What's the best way to dig that trench? Excavator equipped with a trenching bucket? Skid steer and a trencher attachment? Never-on-time Steve, with only a shovel and some extra elbow grease, because maybe he'd finally learn a lesson? Well, if you're looking to lay open a neat, straight trench, say about 4 ft deep, quickly and efficiently, you definitely don't want to use Steve. For such run-and-trench projects, installing pipe, electric, cable, sprinklers and drainage in urban settings, it's hard to beat a walk-behind trencher for speed, efficiency, size and cost.
Uber popular on rental lots, walk-behind or pedestrian trenchers have been spearheading small earthworks with tight project parameters for some 70 years. Today, the market is ruled by three main brands — Ditch Witch, Vermeer and Toro — noting Toro acquired Ditch Witch earlier this year and recently announced a new underground construction business strategy that's not affecting walk-behinds. The pedestrian trencher industry in America is a smallish-sized but steady market with unit sales ranging from 3,000 to 4,000 units sold each year, according to the three manufacturers we surveyed, and about 70 percent of those are going into rental channels. Luckily, there are still plenty of models and options to choose from.
Ditch Witch
Ditch Witch alone offers six different pedestrian trenchers and an SC3 custom trailer built for hauling walk-behinds or its VP30 vibratory plow. Ditch Witch offers both tire (C Series) and track options (CX Series), including: the 13.5-hp, 24-in. dig depth C14; 16-hp, 30-in. dig depth C16; 12-hp, 24-in. dig depth C12X; 16-hp, 36-in. dig depth C16X; 24-hp, 36-in. dig depth CX24; and the 31-hp, 48-in. dig depth C30X. Overall, it's certainly hard to beat the company's backstory.
"Our founder, Ed Malzahn, invented, designed and built the world's first service line trencher, the DWP in 1949, and since that time, we've developed and introduced many iterations of the machine to the market," says Chris Thompson, Ditch Witch product manager for compact equipment and heavy-duty trenchers. "One of our major milestones was the CX Series of walk-behind trenchers because we incorporated exclusive track developments to yield greater jobsite maneuverability. The CX tracked models feature a shorter left track and a longer right track. The design allowed us to remove the trail wheel, making it easier for operators to efficiently move around compact jobsites with excellent traction."
Ditch Witch follows the credo that pedestrian trenchers need to be 1) safe, 2) simple to operate and 3) easy to maintain. The Ditch Witch CX Series specifically comes with advanced hand grips, alleviating operator hand pressure for long hours on the job and better machine responsiveness. The previously mentioned patented short/long track design makes Ditch Witch machines very compact and maneuverable with solid visibility for safety. Hydraulic systems eliminate vertical shafts and belts, resulting in a simple, reliable unit with no linkages to adjust, and Ditch Witch boasts no daily grease points — an industry exclusive — with easy access to all the machine's components. What's its most popular unit?
"The C16X walk-behind trencher is our most popular unit because it is the right combination of size and power for many installation jobs," says Thompson. "It's perfect for any job requiring 24- to 36-in. depth, including installing irrigation lines, drainage lines, electrical lines or sprinkler systems."
Toro
Today, trenchers with dedicated track systems are more popular than the original wheeled variants. Tracks are a popular construction industry trend we've also seen with compact tool carriers (which Ditch Witch, Vermeer and Toro also make) and skid steers vs. track loaders. Toro has offered dedicated, hydraulic, track-driven walk-behind trenchers since 2008, providing an alternative to the wheeled, belt-driven trencher options that were on the market at that time.
In August, Toro introduced its next generation of tracked pedestrian trenchers — the enhanced TRX walk-behinds — the TRX-250 and TRX-300. These two models, along with the classic TRX-16 unit, make up the 2019 TRX walk-behind trencher product family. The new TRX-250 and TRX-300 feature a cool technology called Intelli-Trench, aimed at optimizing the machine's hydraulic flow for varying digging conditions.
"Intelli-Trench automatically diverts the hydraulic flow from the traction motors, providing more power for the trencher head," says Neil Borenstein, director of marketing for Toro. "As a result, the traction handle can be held in one place without requiring constant adjustment, reducing operator fatigue and optimizing performance. In addition, the Intelli-Trench feature decreases track wear and maintains engine rpm for efficient engine cooling."
The TRX-250 is equipped with a 24.5-hp Toro engine and offers a maximum forward speed of 2.4 mph, while the new TRX-300 has a 26.5-hp Kohler EFI engine and has a maximum forward speed of 2.3 mph. A heavy-duty air cleaner is standard on both engines. Both models are 82.5 in. long, 33.8 in. wide and 46 in. tall, with a fuel capacity of 4 gal. All units, including the TRX-16, come with the option of 24-, 36- and 48-in. reversible booms. Toro also provides a custom TRX trailer for hauling trenchers, advertising easy loads, no straps or tie-downs and highway rated tires.
"The new TRX-250 has the potential to become just as popular as our previous TRX-20 model for small- to mid-duty trenching applications, and the new TRX-300 is perfect for mid- to heavy-duty applications or large-scale trenching projects," explains Borenstein. "We have just introduced the TRX-250 and TRX-300 to the marketplace, but we're confident that end-users will appreciate the outstanding power and performance they get from these models without having to sacrifice maneuverability."
Vermeer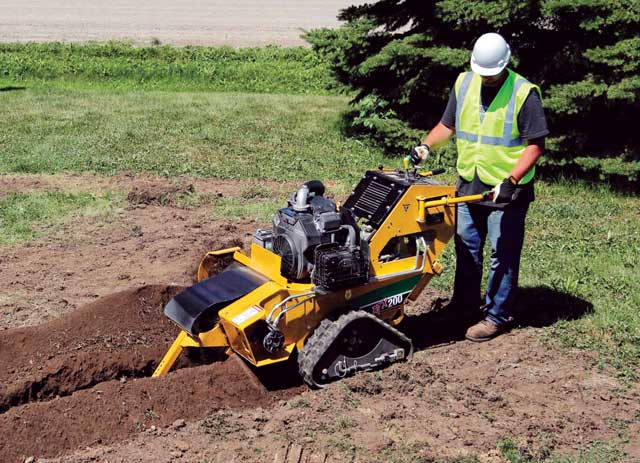 Pella, Iowa-based ag and construction equipment innovator Vermeer also offers three different pedestrian trencher models — the 13-hp RTX130, 20-hp RTX200 and 25-hp RTX250. The RTX130 and RTX200 are available with 24- to 36-in. cutting booms and 6-in. cutting widths, as well as the option of tires or tracks to give operators the versatility of varying jobsite challenges. The RTX250 features a top digging depth of 48 in., maximum digging width of 8 in. and a slender profile which allows the unit to move through narrow yard gates. On all three units, Vermeer touts the exclusive VZ steering system that allows operators to steer the machine using only the handlebars, while optimizing the trencher drive motor to better utilize available power in varying ground conditions.
The company also has decades of experience creating products in this sector.
"Vermeer introduced its first trencher back in the 1960s and has continued to innovate and expand its full line of trenchers ever since," says Matt Hutchinson, product manager of tree care, rental and landscape at Vermeer Corp. "Our latest line of pedestrian trenchers is designed to deal with soil efficiently. They are right-sized and powered for today's jobsites."
What's the most popular Vermeer unit?
"We are seeing continued growth in the RTX250 line," notes Hutchinson. "The higher horsepower translates into better productivity and flexibility to do a variety of jobs. The ability to utilize a longer boom and wider chain on higher horsepower units allows the contractor to tackle more diverse jobs from irrigation and drainage to utility installation work."
All the Options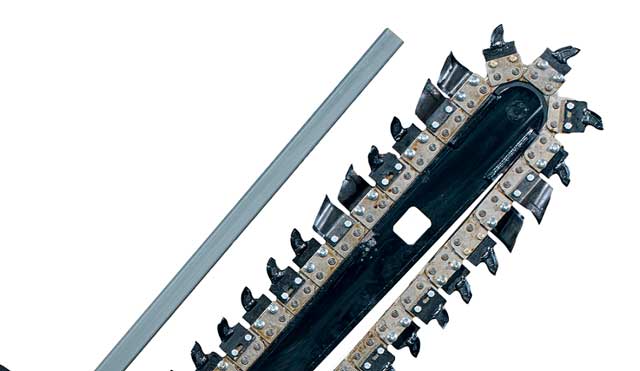 With all of these brands, a variety of options will be available, including various trenching boom sizes (like 24-, 36- and 48-in. options), backfill blades, underground boring heads (say, for boring beneath a sidewalk) or maybe a trencher crumber (which follows behind the chain to clean the bottom of the trench). Different boom chain configurations will also be available to accommodate different soil conditions. For instance, a full cup-type chain can be used to move light material when working in loose and sandy soils, while more difficult ground conditions might require a combination chain with both cups and shark teeth. Chains can be configured some 20 different ways.
"The type of chain an end-user ultimately selects is largely dependent on the terrain to be trenched," advises Borenstein. "The most basic and economic configurations are soil or cup chains. The teeth act as shovels and simply remove dirt from the trench. Rock chains, commonly called shark chains, are designed to cut through more challenging soil conditions. For extreme conditions, including frozen ground or extremely rocky terrain, the carbide-tipped teeth of the bullet chain, also known as an alligator chain, are the best option."
Since the majority of walk-behind trenchers are rented, the local rental or dealer location should be able to walk buyers through the picking process. Just make sure the dedicated trenching unit is engineered with ergonomic, almost-anyone-can-operate controls, which are clearly labeled and arranged. Safety features like an operator presence system is always a big plus. Contractors should consider the terrain, types of soils encountered, common obstacles, local ordinances and typical jobsites that they are likely to encounter. They should analyze the type and size of products being installed (irrigation, pipe, cable?) and the widths and depths required.
Owners and operators should also consider a walk-behind trencher with extended maintenance periods, fewer daily service points and features that make the trencher easier to service and repair. We say review the equipment's operator's manual and research a solid dealer — because units are usually going cost somewhere between $10,000 and $16,000 to buy.
"We encourage contractors and rental companies to look at the total cost of ownership, including maintenance costs, as well as dealership experience," says Thompson. "A low initial purchase price can quickly become a bad investment with heavy maintenance costs in the absence of good dealer support."
---
Quick Trencher Maintenance Tips
By Chris Thompson, Ditch Witch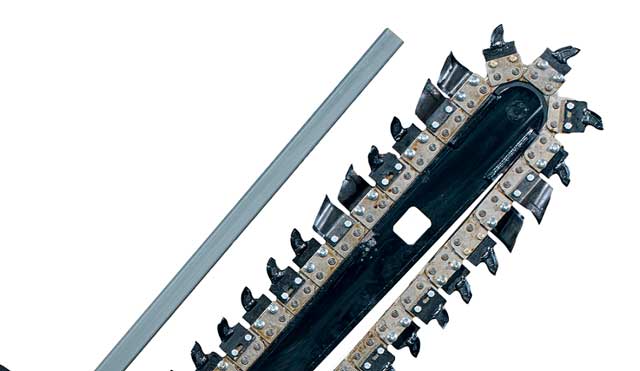 Because these machines are geared toward the rental market, all Ditch Witch pedestrian trenchers are designed to require no daily routine maintenance. However, operators and rentals yards should follow these four tips to extend the life of their trencher and trencher chains.
Look over your machine to check for signs of wear and tear before starting new projects.
If your trencher has broken teeth, replace them immediately.
Replace chains and sprockets simultaneously to increase overall system life.
Monitor digging chain tension and adjust as needed.
The most common cause of wear and tear occurs when a system is forced to perform a task beyond what the trencher is intended to do. Often, this happens when operators rush and plunge the boom into the ground too quickly, as opposed to allowing the boom to pull through the ground. Moving too fast can send your machine to the shop and negatively impact your productivity.
Tags:
Ditch Witch
,
home
,
September 2019 Print Issue
,
The Toro Co.
,
Toro
,
Vermeer