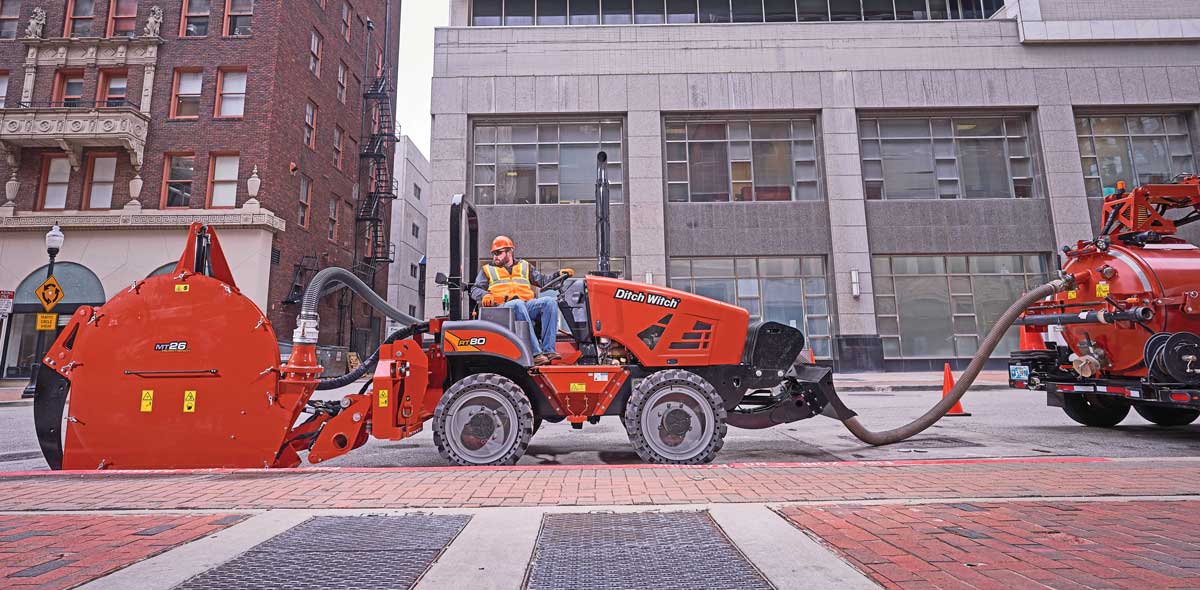 Over the past 18 months, we've learned just how important our fiber networks are so we can stay connected. Whether it's for remote learning, working from home, a Zoom session with grandma or binging The Office (again), we need fast, reliable service — and more fiber-optic networks to be built. One way to do that? Microtrenching.
"Microtrenching is increasingly popular for fiber-optic and cable installation," says Steve Seabolt, Ditch Witch product manager, Heavy-Duty Tractors. "The main reason behind the popularity is microtrenching offers the efficiency of traditional open-cut fiber installation techniques, while also providing the simple cleanup of trenchless solutions. By giving contractors the best of both worlds, microtrenching significantly reduces installation costs per foot by minimizing traffic-disruption, potential fees and permits and spoils disposal needs."
So, what exactly is microtrenching? It's a low-impact, cost-effective utility installation process achieved by pairing a microtrencher attachment with a host machine (what that machine is depends on the manufacturer). With this machine combination, contractors can carve a trench as skinny as 0.375 in. and up to 3 in. wide. Depths range anywhere from as shallow as 6 in. up to 26 in., depending on the unit selected.
Machine Options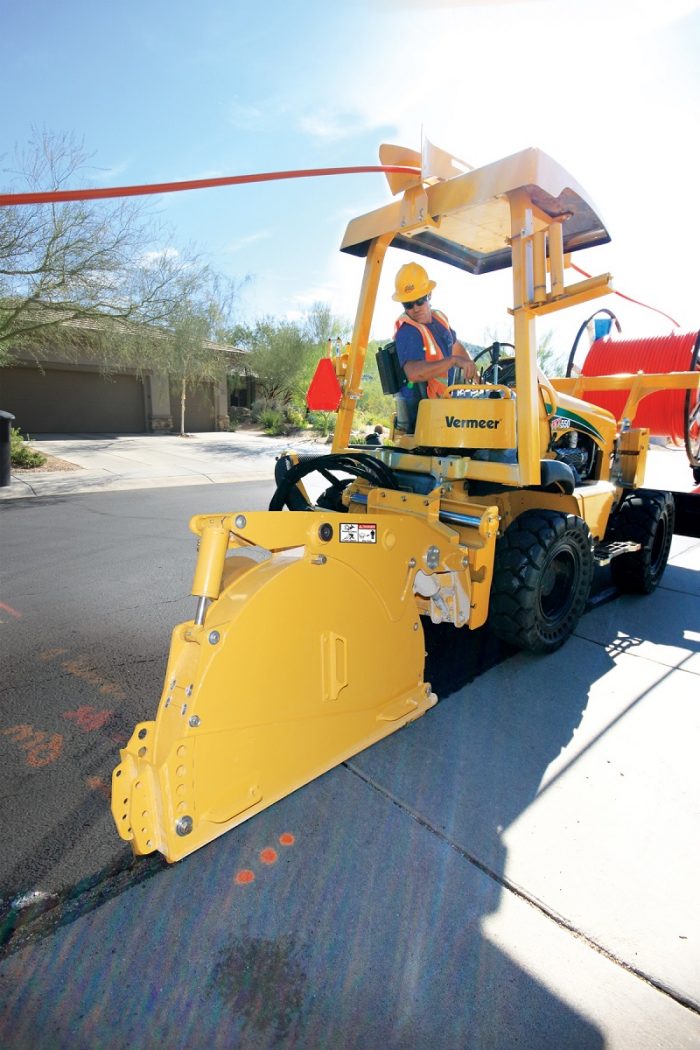 In the market for a microtrencher? Take a look at the offerings from three manufacturers.
Ditch Witch's MT models can trench to maximum depths of 9, 12, 16 and 26 in., respectively. The company offers the MT12, MT16 and MT26 microtrenchers as attachments for its ride-on trenchers. Ditch Witch stand-on skid steer operators can choose from 9-, 12- and 16-in. microtrencher attachments. Widths can range from 0.375 to 3 in.
"Each of these models can be installed on our stand-on skid steer units or a ride-on tractor," says Seabolt. "Once installed on a ride-on tractor, the unit performs like a dedicated machine, and the microtrencher is typically never removed. If desired, however, the MT models can be replaced with a trencher, plow, saw or new microtrencher, making the unit more versatile and valuable."
Vermeer has two microtrencher attachment options for its RTX550 ride-on tractor — the MTR12 (12 in.) and MTR16 (16 in.). Operators can achieve widths of 0.5 to 2.3 in. Ed Savage, product manager at Vermeer Corp., says production rates vary depending on jobsite conditions, obstructions, vac capabilities and the distance to a dump site. He says some contractors may be able to install up to 3,000 ft of conduit in a day.
"Microtrenchers are attachments outfitted to utility tractors," says Savage. "While microtrenching activity is increasing, it's important to choose a versatile ride-on tractor that can quickly be outfitted with other attachments and productive on different types of projects. The Vermeer RTX550 has an electronic ground drive with auto creep for optimal movement control and to help with maximizing the life of the cutter wheel and cutter teeth. It can also be outfitted with a reel carrier on the front to reduce the need for additional support equipment."
Coneqtec-Universal offers two models dedicated to microtrenching — the MTC6 and MTC12 — capable of producing depths up to 6 and 12 in. The units are powered by either a skid steer or compact track loader, and the width of the trench can range from 0.5 to 2.5 in. Coneqtec-Universal also sells an optional vacuum system and/or water kit to keep dust under control on a jobsite.
"With a direct drive motor and easy-to-use pilot controls, the MTC is simple to operate," says Andrew Campbell, sales manager at Coneqtec-Universal. "With the cutting wheel easily changed between jobs, the versatility is unlimited. Add the fact that it can be operated by any high-flow skid loader or compact track loader, and there is no need for an expensive dedicated host machine. The versatility of a skid steer or compact loader allows the contractor to cut the trench and clean up the millings with one piece of equipment."
Supporting Equipment
Both Seabolt and Savage agree that a microtrencher should be accompanied by a vacuum excavator to effectively remove spoils while you work. This will help ensure the area is free of any debris prior to filling in the trench — allowing the grout being used to stick to the surface.
"The ability to simultaneously cut a trench and collect the spoils is an important differentiator between microtrenching and other open-cut solutions like rock saws. Some microtrenchers come with varying port sizes to allow a contractor's flexibility in choosing their vacuum excavator," says Seabolt. "Vacuum excavators are also beneficial to a microtrenching job because they can be used to assist in locating and exposing existing utilities in the trench path. It's always a best practice to expose existing utilities before crossing them."
Savage adds that a grout mixer or epoxy installation tool is also required to fill and seal the trench.
"After the conduit pipe is laid, a grout or epoxy compound approved by the local governing body is used to backfill the trench, returning structural integrity to the roadway," he says. "Also, an asphalt sealer may then be used to finish the cut flush with the surface."
Pam Kleineke is managing editor of Compact Equipment.
Blade Buying Tips
Ditch Witch's Steve Seabolt Discusses Blade Options when Selecting a Microtrencher
One of the most important aspects to consider when choosing a microtrenching solution is the blade. There are two typical blades that most microtrenching attachments use. The first is a conical style bit that rotates in a holder and functions like a traditional rock saw. The second is a PDC blade which is composed of diamond with carbide. The conical bits are generally the more affordable option between the two, but diamond PDC blades are growing in popularity due to their cleaner cut and longer lifespan. For example, a conical bit will be effective through several hundred feet — meaning that contractors will likely need to replace it daily — while a diamond PDC blade will go more than 10,000 ft before it needs to be replaced. Manufacturers design blades so that operators can easily change them in the field quickly (less than 10 minutes) and use only basic hand tools.