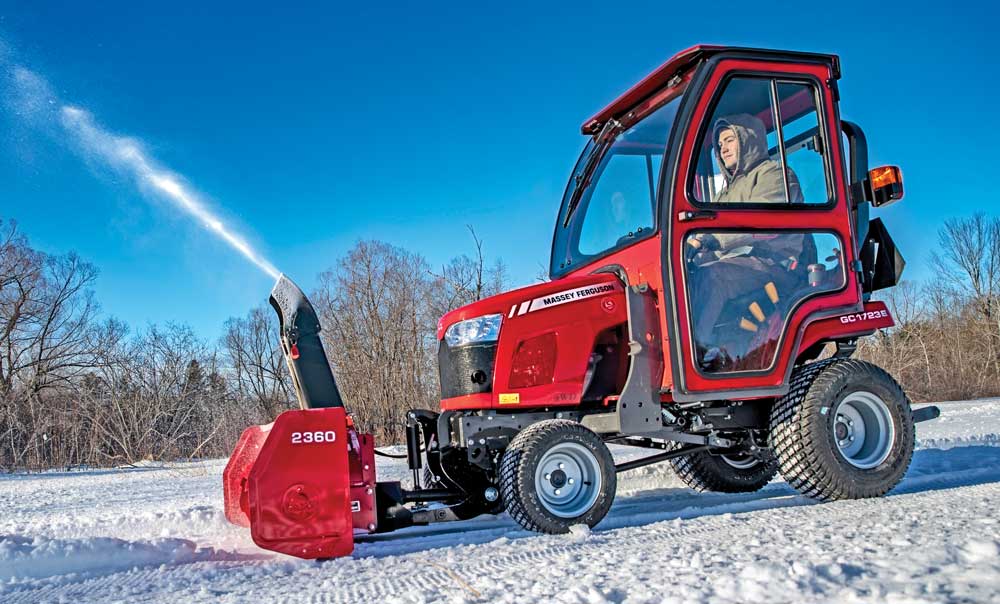 People who buy utility tractors usually aren't fair-weather hobbyists of one kind or another — weekend dabblers in the great outdoors. They are serious about crawling on their tractors in all kinds of weather conditions, including wintry.
"Farmers with cattle to feed can't wait for the weather to warm up before doing their chores. Cattle need to be fed regardless of the temperature," notes Tyler Pittson, Kubota product manager. Another obvious type of cold-weather tractor user is the snow-removal contractor. "They have to work regardless of the conditions. Theirs is a 24/7 job — and only when the weather is bad!"
These are extreme examples, of course. However, nearly all utility tractor owners have times when performing one task or another can't wait till the ice melts or the cold wind quits blowing. To take the edge off winter conditions for tractor operators, manufacturers offer standard features, optional equipment and tips. Here's a look at some of them.
Getting Started
Most of the powerplants on these machines are diesel-fueled. In the old days, starting such engines on cold mornings was a mini-adventure, with mechanical delivery systems producing too much or too little fuel and an engine running raggedly until it warmed up. Today's computerized common rail direct-injection engineering has eliminated all that. "Our tractors have real good startability," says Todd DeBock, New Holland's marketing manager for under-60-hp tractors.
His counterpart at New Holland for 60- to 100-hp tractors, Justin Raski, concurs and says most customers for his tractors purchase engine block heater kits. Also available are transmission warmers. "If you're in an area where temperatures get down to zero, I'd recommend putting them on." He also suggests that operators let an engine ease into work mode. "If you're dealing with freezing weather, when you start up the tractor, let it idle for 10 minutes to make sure everything's lubricated. It's the same with the hydraulics, let it have a nice warm-up before going to work."
Kubota also offers engine block heaters for diesel engines and glow plugs or intake heating elements to help encourage engines to come to life, according to Pittson. "Kubota engines start very well in cold temperatures."
The roots of Massey Ferguson are in Canada, observes Adam Sills, product marketing specialist for AGCO's Massey Ferguson compact tractors, so winter weather does not faze the machines. "Massey Ferguson knows what it takes to operate a tractor under wintry conditions. Massey is pretty popular in the Northeast and Canada. Owners know their tractors are going to start in the morning."
Staying Warm
Operator comfort can be a top priority of a utility tractor buyer when he knows a machine will be used year-round in northern climes. Consequently, enclosed cabs are standard on some models, optional on others, and available from after-market manufacturers on still others.
"Every tractor below our 1700M Series [36-hp] doesn't offer a cab," says Sills. "A few Canadian firms build them, though." He adds that Massey Ferguson cabs pass the warmth test. "I was in Maine during negative-30-degree weather and it was comfortable in the driver's seat. They're pretty good heating units." Deluxe models of Massey Ferguson cabs come with a window defroster.
Kubota's larger M4, M5 and M6 Series tractors either come standard with cabs or the option to add one. Its B50 Series and Grand L60 Series offer a factory cab option that incorporates heat and AC units. BX Series tractors offer a dealer-installed cab with a heater option. Customers have no complaints about the heating units on New Holland Boomer, Workmaster and Powerstar utility tractors, Raski says, but a defroster option is available only in larger (90+ PTO hp) models. Also offered in those models: heated seats, a feature that's something of an outlier among utility tractors.
Getting a Grip
All-year tires are the choice for most utility tractor owners, even in winter. The tractor's regular cleated running gear grips sufficiently well when snow and ice are on the ground. As a year-round tire suitable for wintry conditions, Pittson recommends the R14 tire design — which is said to function well on both hard (icy) and soft (snow) surfaces.
But Sills says some Massey Ferguson customers do elect to gear up with an optional snow tire. "For one thing, it's a radial tire so it's a little easier to run on the road, from place to place. The rubber is a little more durable, and it's a narrow tire to help the tractor move through snow to pavement."
While it once was common for chains to be fitted on two-wheel-drive tractor tires for traction on frozen ground — not a pleasant task on a bitter day — all-wheel-drive technology has changed things. "Most people rely on four-wheel drive to get around in winter, but occasionally someone still uses chains," DeBock says.
Winter Attachments
Utility tractors sometimes are used for commercial snow-clearing work. Raski cites Quebec, Canada, as a "good but not overly large" market for New Holland Workmaster and Powerstar midsize-and-up utility tractors set up for snow removal. "It's not a primary operation in most cases," DeBock adds. "It's usually a secondary function of the machines in the off-season by landscapers and contractors."
Compact tractors, on the other hand, most commonly are cranked up by property owners to remove snow from driveways and lanes. Municipalities and campuses sometimes use them to clear sidewalks. Tractors with 35 to 40 hp are powerful enough for small parking lot work. Sills says a popular choice is the Massey Ferguson 1735M with hydrostatic drive and a warm cab.
Snow blowers are the most popular attachment for winter work — front-mounted blowers, in most cases, with tractor owners repurposing front-loader hydraulics for the job. Other popular snow-moving, front-mounted attachments for utility tractors are rotating brooms to sweep a light dusting of snow from pavement and snow blades to shove the white stuff out of the way. Larger tractors often use multi-purpose buckets to cart away the snow or rear-mounted blades or blowers to move it.
Choices of snow-clearance tools are keyed to local conditions to some extent. The texture and quantity of snow, for example, can dictate which attachment will be affixed to a tractor. Says Kubota's Pittson: "The Northeast, for example, has a lot of moisture in the air making snow heavier, so this is where you see more snow blowers. Blades are also a good tool under these conditions as long as you have room to push the snow.
"Some other regions in the western part of the country are drier and snow volume is lighter. There, customers can use a sweeper successfully. Where ice is a factor, salt and abrasive material spreaders are essential — the choice of material to be applied depending on the conditions."
Customers who bundle up and climb on their utility tractors on frigid work days have some pleasing tractor choices. Though he naturally touts his New Holland products, DeBock concedes the competition is stiff. "There are a lot of good compact tractors in the market today. Thirty-five, 40 years ago that was not as true. Today, most everyone out there is making a solid product."
Giles Lambertson is a freelance writer for Compact Equipment.
---
Winter Operating Tips for Tractors
Operating a utility tractor in the winter — especially in northern regions of the country — demands slightly more of an operator. After all, during the other three seasons, cab windows don't frost up and engine oils and other lubricants don't lose their potency. Here are some pointers for anyone in the seat of a utility tractor in January.
"The main common-sense thing an operator should do in the winter is, before he starts rolling, have good visibility," says Justin Raski, New Holland's marketing manager for 60- to 100-hp products. "If I'm preparing a tractor for winter, I'll make sure the windshield wiper blade is good and put something on the window to make sure it de-fogs."
Adam Sills, marketing specialist with Massey Ferguson compact tractors, agrees and adds that keeping the windows clear while the tractor is being operated also is important. "Keep good visibility. Use those defrosters if you have them. Don't operate if you can't see. When snow is blowing and the windshield keeps clogging up, work in another direction if you can." He suggests visibility goes both ways. "Always run with your lights on so people will see you."
Other sensible choices when running the tractor in wintry conditions include letting a tractor warm up just as a person does a car and letting conditions dictate the safe speed of travel. Icy? Engage both brakes in stopping.
Sills has some thoughts about using a snowblower: "Try to avoid rocks," he says. "Keep the blower off the ground a little. Don't scrape the ground. And before you park it, clean it out. If you leave it full of snow, it will harden like a rock and the next time you use it, the rotor will bend something trying to break loose."
---
10 Winter Maintenance Tractor Checks
Check fluids. This includes checking, refilling and replacing fluids as needed. Check the condition of your coolant and make sure it is has the proper mix to prevent freezing.
Grease the tractor at all grease points. It is also a good idea to apply a light coat of grease to all exposed cylinder rods to help prevent corrosion. The elements get a little more extreme in the winter and greasing will help protect the machine.
Verify that your battery is in good working condition.
Make sure your fuel is winterized before the cold weather begins.
Check your tires. This includes checking for proper tread depth, proper inflation and making sure there is no tire damage. Also, check the wheel lug nuts for proper tightness.
Check that all lights are functioning properly. Days are rapidly getting shorter and you'll rely on these lights more in the winter.
Check all safety devices such as ROPS to make sure they are in place and secured properly. If you are not storing the compact tractor, do not fold or remove the ROPS.
Install any hitches or other devices that may be needed to attach snow removal equipment.
Check all hydraulic hoses for damage or leaks.
Verify that your air filter for your engine (and your cab, if equipped) is clean and free from damage.
Check out snow removal attachments by clicking this link.
Tags:
Kubota
,
Massey Ferguson
,
October 2019 Print Issue