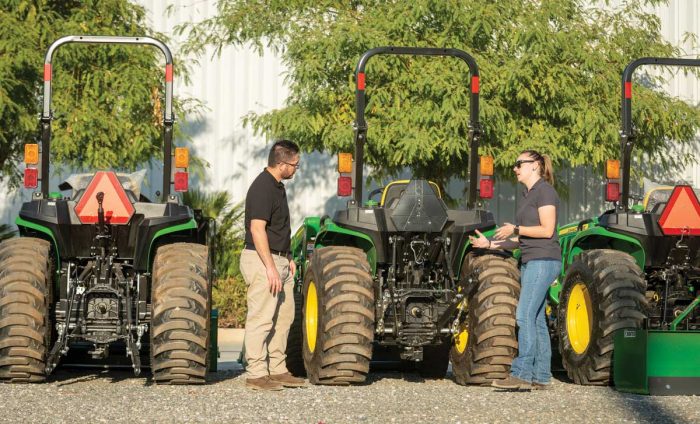 Everyone knows that compact tractors are custom made for completing tasks in a timely and cost-effective manner. If you have a compact tractor, you likely own an arsenal of attachments and accessories: bucket, box blade, mower, cab, hydraulics to the attachment and maybe even IoT connectivity. If you bought your compact tractor just to mow or garden, you're missing a great opportunity to do more with your unit. There are dozens and dozens of implements and attachments that are designed to make your life easier. From grading scrapers for refurbishing a gravel road to post hole diggers for replacing a fence, there are many tools out there that probably don't come to mind immediately. Just imagine what you could do with some of these often-overlooked implements. Here are a few cool tools and accessories we noticed of late.
JOHN DEERE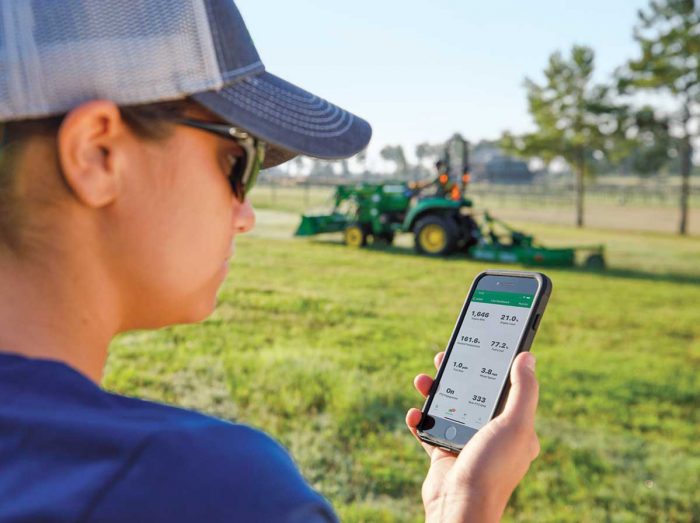 Tractor maintenance is now simplified through the new John Deere Smart Connector and TractorPlus App for compact utility tractors. The Smart Connector establishes a connection between tractor and smartphone via Bluetooth technology for easy access to tractor information, like service intervals, diagnostic codes, fuel level, engine hours and maintenance information. The TractorPlus App provides owners with convenient access to key parts of their operator's manual, parts diagrams and more. Owners can also keep track of maintenance and service intervals for optimal machine performance and see diagnostic codes in an easy-to-read list. In addition to providing valuable tractor information, the app provides location tracking for any tasks you are performing. The Smart Connector is compatible with most 2-Series, 3-Series and 4-Series John Deere CUT models. For more info, visit deere.com.
DANUSER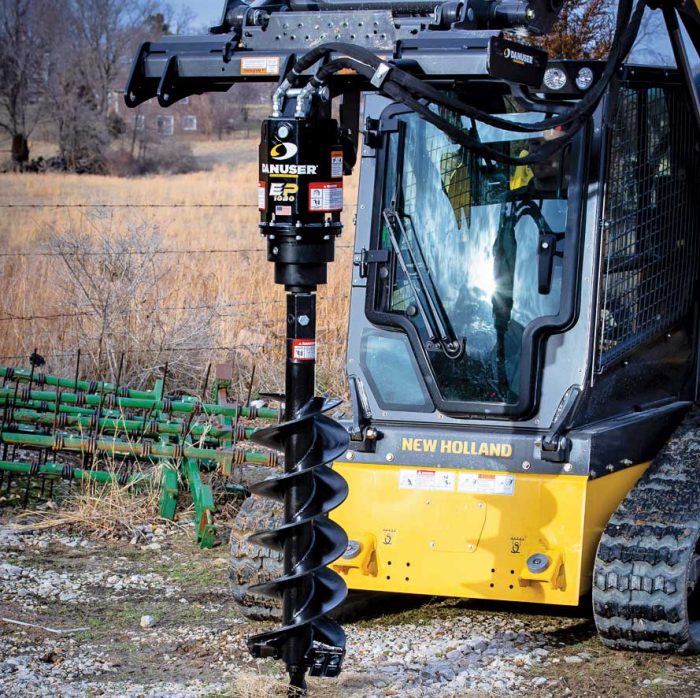 Danuser's EP Auger System features a planetary gear drive that is up to 42 percent stronger than the competition with quick and easy maintenance and multiple mounting options for tractors, backhoes, excavators and skid steers. The robust, American-designed planetary gear drive and motor rated up to 3,500 psi deliver greater torque for drilling through hard, compacted surfaces. The planetary gear drive also features easily accessible check-and-fill plugs, which means fast, simple maintenance. An array of models are offered, ranging from 6 to 35 gpm and from 1,500 to 3,500 psi, making this a versatile tool for the construction industry. Hoses are routed out of the top of the drive unit, secured with bulkhead nuts, to allow for deeper digging in tighter spots with better hose protection. For more info, visit danuser.com.
KIOTI TRACTOR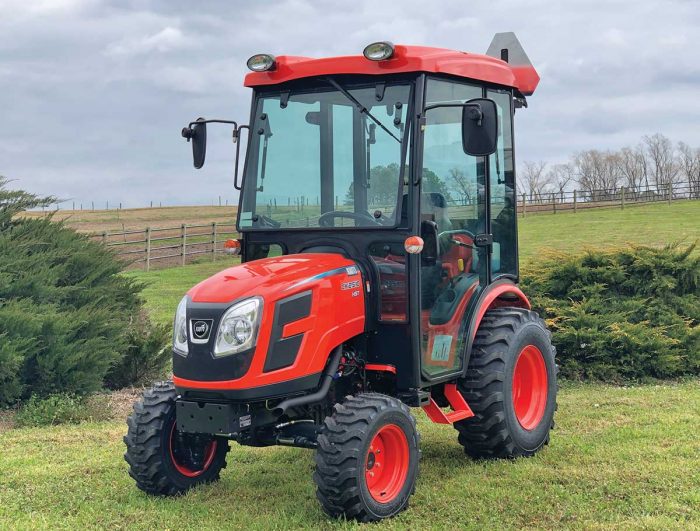 Kioti Tractor's field option cab series takes a machine that already runs ahead of the pack to a whole new level. Available for CS, CK2510, CK10 and DK10 tractor models, as well as the Mechron 2200 UTV, these cabs are factory designed and engineered for the perfect fit with your Kioti with maximum comfort. Forced air heat along with opening front and rear glass provide a comfortable workspace regardless of the weather conditions. Front working lights, front window wiper, rear window defrost and side view mirrors allow for enhanced operator visibility. Plus, an integrated ROPS keeps you safe. Optional features include rear working light, Bluetooth player, CD player, rear wiper and beacon wire kit (not available on CK2510). For more info, visit kioti.com.
STEINER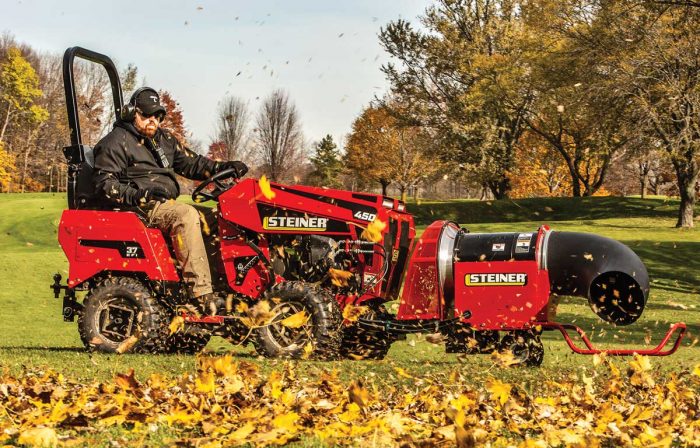 The Steiner turbine power blower helps operators clean up jobsites and properties with a powerful, axial-flow turbine design that runs quietly and produces wind speeds up to 114 mph. Also, its hydraulically controlled nozzle rotates 360 degrees to blow debris in the desired direction. For ease of operation, it mounts to the front of the versatile Steiner 450 tractor — so operators won't have to keep looking back to check on the work. It also has a blower-mounted kickstand to keep the attachment upright for simplified mounting and attaching. Bonus: The Steiner turbine power blower can even handle many snow removal tasks. For more info, visit steinerturf.com.
Mini excavators are making big waves on jobsites all over North America. Click here for the latest news on these machines and the companies that make them.
WORKSAVER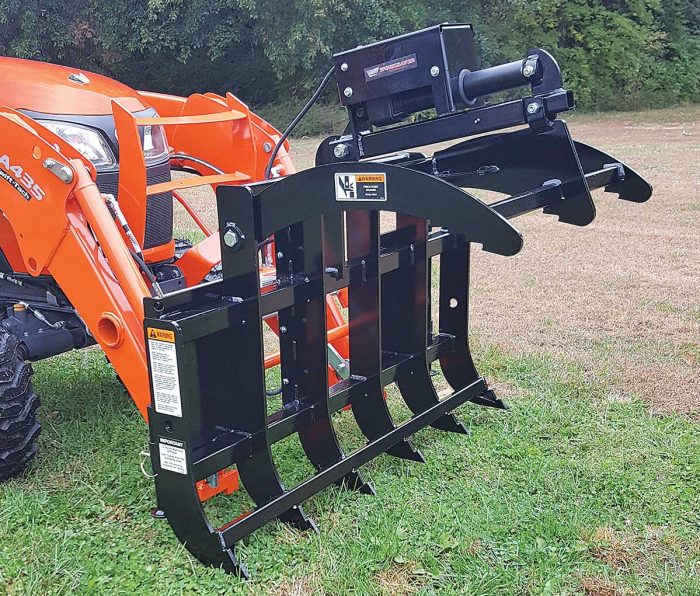 Worksaver Inc.'s electric grapple for sub-compact tractors (up to 32 hp) handles debris, brush and more. Being electric, no auxiliary hydraulics are required to operate the grapple clamp. An industrial duty 12-volt linear actuator with an 8-in. stroke operates the grapple clamp. The grapple is supplied with a wiring harness for direct connection to the tractor's battery and a pre-wired rocker switch controls the grapple's linear actuator. The 28.5-in. wide single upper grapple and lower 49-in. wide rake have tines made from 3/8-in. material. Both the upper grapple and lower rake feature gripping notches to help retain loose materials. The ESCG-48S model is designed for loaders with a universal skid steer quick-attach system and the ESCG-48JD model is for loaders that use the John Deere hook and pin type quick-attach mount. For more info, visit worksaver.com.
LAND PRIDE
The OFM26 Series Offset Flail Mowers are available in 60-, 70- and 78-in. widths with a Cat 1/Cat 2 Hitch and are designed for tractors from 45 to 100 hp. Land Pride's OFM36 Series Offset Flail Mowers feature a Cat 1 and 2 Hitch and are available in 78-, 90- and 98-in. widths. They require a properly ballasted tractor from 70 to 130 hp. Both the OFM26 and OFM36 hydraulically offset to the right either 22 or 49 in. — the offset is measured from the center of the tractor to the drive belt cover. The offset allows for mowing along fences, buildings or under trees. The available widths and heavy construction make them a good roadside maintenance mower, especially since the reverse rotation of the rotor directs clippings downward to minimize ejected debris. For more info, visit landpride.com.
Have questions about protecting your crew during the current pandemic? Check out our COVID-19 microsite for more resources from cleaning equipment to wearing the proper PPE.