Whether you're a farmer, large landowner or even a contractor, you can benefit from the versatility and power small tractors (and their accompanying attachments) can provide. If you need a little extra maneuverability and lower ground impact, articulating tractors are a great choice to consider. These machines provide the same toughness and abilities as a traditional tractor with the added bonus of articulation — making it easier to navigate tight areas with minimal damage.
"Articulating tractors have been around for years and are growing more and more in popularity," says Sam Williamson, Steiner's national golf sales manager and regional sales manager for the commercial southeast. "We have learned that a lot of our customers are surprised at the number of jobs they can complete without a standard tractor. I ask all my potential customers about what application they are using a tractor in and what jobs would they like it to complete. Typically, an articulating tractor can fulfill their needs and do so more efficiently."
If you're on the fence between getting a traditional straight frame machine or an articulated one, it's important to look at how these articulated machines can benefit operators. Maneuverability, grip (check out those eight tires; it's an option) and lower ground impact are three of the biggest selling points for articulating tractors.
"The articulation does a few key functions for its operator," says Williamson. "One, the machine turns instead of the tires. This prevents damage to any surface you are driving over while you also turn. The articulation also adds maneuverability. When the machine turns by articulating in the middle, you can change the direction the tractor is going without turning your tires. This means turning around at the end of a pass is quicker and more efficient. Smaller tractors, like from Steiner, use the articulation to help hold slopes more effectively. We can balance our tractors' front and rear axles evenly to create the optimal ground pressure for better traction. The articulation then allows us to turn our tractor while maintaining balance."
The two main brand options out there come from Steiner and Ventrac — both of which have been recently acquired by other companies. In December 2019, Doosan Bobcat Inc. shared its plans to acquire the assets of Bob-Cat Mowers and the Steiner and Ryan brands of ground care equipment from Schiller Grounds Care Inc. Then in January 2020, Toro announced an agreement to acquire Venture Products Inc., the Ohio-based manufacturer of Ventrac products. In addition to brand names, buyers should look at a model's maintenance, versatility and power prior to purchasing.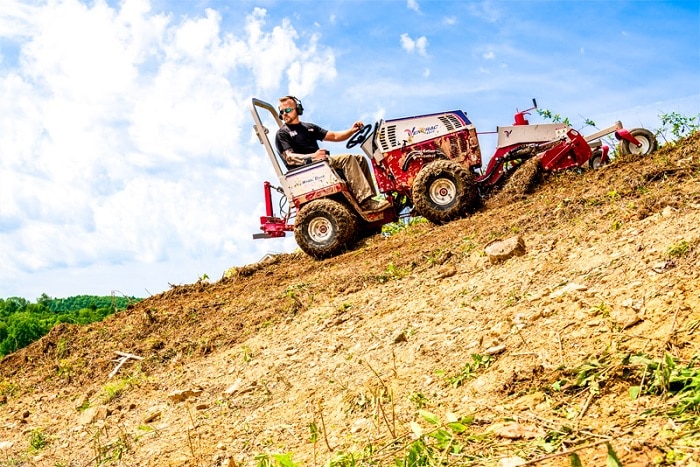 Articulation means a lot of moving parts, so maintenance is super important. Can you get to those maintenance points easily? "Steiner has three main grease points to service the entire articulation joint," says Williamson. "Each of those grease points maintain bolts that can be easily checked or tightened through the life of the machine. Easy-to-access oil filters and oil drains mean less hassle when it is time for an oil change."
As previously mentioned, power should be considered when purchasing an articulating tractor. If the machine does not have the power to get the job done, then it loses efficiency — leaving an operator frustrated and a job left undone.
"The body of a Steiner is not large enough to run a high-horsepower Tier 4 engine, so we increased our hydraulic power," says Williamson. "Steiner is a hydraulically powered tractor. Everything from traction control to lifting and lowering attachments is powered by hydraulics. This means our engine only focuses on turning the PTO and dual hydraulic pumps. Our dual pumps allow us plenty of power to drive, climb, mow and turn without limiting power."
Aside from power and maintenance, buyers should also focus on operator comfort. This includes selecting a machine with controls that are most familiar to the operator. This will help ensure that he or she is comfortable and productive.
Interested in an Articulating Tractor?
Steiner's Sam Williamson suggests a buyer should budget anywhere from $22,000 to $45,000 depending on the attachments and kits they want to add to the base unit.
"The operator station and ergonomics of the machine are very important — particularly whether the machine movements are controlled by foot pedals or hand controls; the latter being the much preferred method for safety, comfort and efficiency," says Aaron Graber, business and product development at Ventrac. "Orientation of the machine and attachments are important. Front-mounted attachments are far more productive than rear-mounted."
Speaking of attachments, articulating tractors can tackle lots of different projects throughout the year when armed with the right ones.
"The popular attachments depend mostly on the type of machine as there are articulated tractors focused on everything from lawncare to large-scale agriculture," says Graber. "For a machine like a Ventrac, we focus on snow removal and turf applications, so our most popular attachments are various types of mower decks, snow blowers, power brooms and our power rake. One of the major benefits of tractors in general is the ability to use many different attachments, so we offer over 30 attachments focused on helping professionals maintain outdoor spaces in all four seasons."
Williamson adds, "Steiner's top selling attachments are our mowing decks. The ability to mow up to 30-degree slopes whether they are grass or heavy brush adds a lot of efficiency for our customers. Our MD Series decks are great on grass and fine turf, while our Rough Cut deck is designed to mow heavy brush and woody material up to 1 1/2 in. in diameter."
Tags:
BOB-CAT Mowers
,
Doosan Bobcat
,
home
,
October 2020 Print Issue
,
Ryan
,
Steiner
,
Toro
,
Ventrac