Leading the Pack with a Tractor for Nearly Every Job
Kioti has a full line of dirt-digging, hay-hauling, trail-blazing machines ready to take on any job that demands a durable compact tractor. Offering a wide variety of tractors in the 22- to 110-hp range, Kioti currently offers six series of tractors with 40 and under PTO hp. Customers have seen many new tractor options from Kioti throughout the past four years, with the introduction of four new series (DK10SE Series, CK10SE Series, PX Series and DK10 Series), expansion of three series (PX Series, CS Series and CK10 Series) and an expansive new line of implements.
Kioti's CS Series features two hard-working, versatile sub-compact tractors. The CK10 and DK10 Series offer 14 fully-featured, comfortable and durable tractors. Each of these high-performing compact tractors pack power and smooth handling into one dependable workhorse, says the company.
The Kioti CK10SE Series was expanded with four new models available across North America. The new ROPS models are ready to tackle the toughest tasks efficiently, while providing the operator an enjoyable workstation. The new DK10SE Series contains eight hydrostatic models with ROPS and cab options. These models provide functionality, comfort and power in a tough utility tractor. The NX Series offers Kioti's premium quality with enhanced standard features to deliver power and performance on the job.
A rugged design, easy access to maintenance points and a variety of operator comfort features round out each tractor. Each series is also compatible with Kioti's extensive line of attachments and implements, including front-end loaders, backhoes, mowers and tillage equipment. Headquartered in Wendell, N.C., Kioti Tractor is a market-driven company that has been supplying tractor models to the U.S. and Canadian markets for more than 30 years.
Advice to Buyers
"When buying a tractor, it is important for customers to find the best model for their unique needs," says Jimmy Lee, inside sales manager of Kioti Tractor. "With so many tractor models, attachments and implements available, working with a knowledgeable dealer will ease the decision-making process and help you find the perfect compact tractor."
[prettyPhoto title="Kioti Specs" link="https://compactequip.com/wp-content/uploads/2019/07/kioti-tractor-specs.jpg" type="link" ]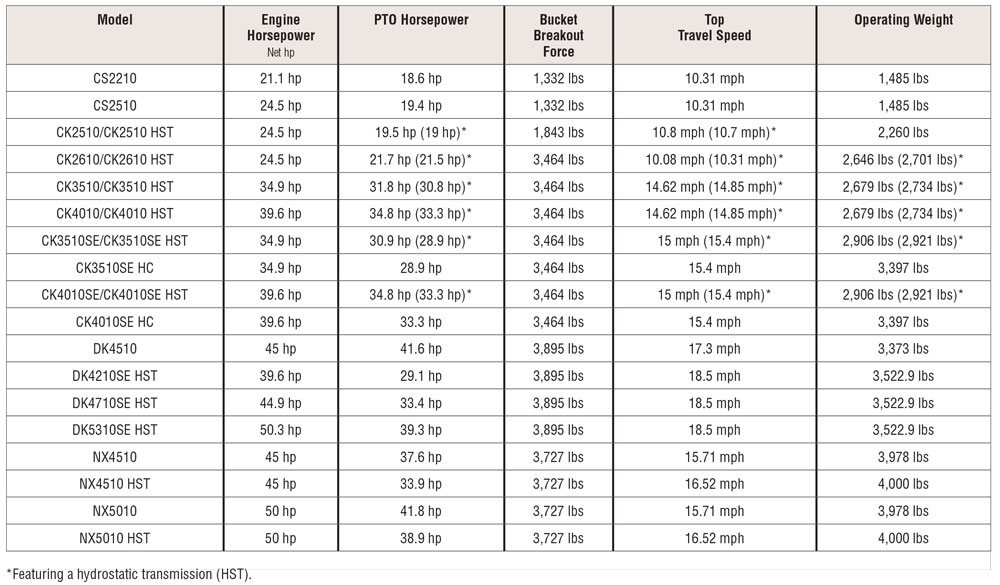 [/prettyPhoto]
Tags:
2019 Spec Guide
,
2019 Spec Guide- Tractors
,
July/August 2019 Print Issue
,
Kioti
,
Spec Guide 2019