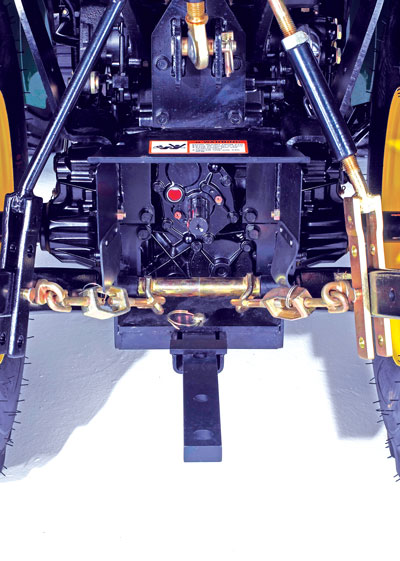 A utility tractor can be a versatile piece of iron. Ask any farmer, landscaper or large estate owner — a compact tractor is a great way to tackle that long must-do list hanging up in your garage or warehouse. Cut the grass, mulch the flowerbeds, bale hay, spread gravel, level a field, install that sprinkler system and then pick up dinner — it can tackle almost all of those labor-intensive chores.
The diversity and approachability of compact tractors have made them big business in North America. Today compact tractors are defined by their attachment system. The American Society of Agricultural Engineers (ASAE) defines compact tractors as small agricultural tractors equipped with a 540-rpm Power Take Off system (PTO) and a three-point hitch designed for (mostly) Category 1 implements.
Compact tractors generally have a mass less than 4,000 lbs and have less than 40 PTO hp. There are plenty of players in this tractor segment. John Deere, Kubota and New Holland are the three most popular manufacturers, but there are also plenty of others. Yanmar, Case IH, KIOTI, Massey Ferguson and Mahindra are all gunning for your business when it comes to tractors under 40 PTO hp.
All of these tractor brands today are sold into a myriad of industries, ranging from hobby farming to grounds keeping. That flexibility and diversity comes from the tractor's attachment system — its three-point hitch and PTO.
Early on, implements were connected to the tractor via a drawbar, a simple steel bar attached to the tractor (or in some cases cast as a part of the rear transmission housing) to which the hitch of the implement was attached with a pin or clevis. In 1926, Harry Ferguson (of today's Massey Ferguson) patented the three-point "linkage" for agricultural tractors in Britain. He realized the importance of attaching a rigid implement to a tractor. He also invented several farmer-focused innovations to this device including a hydraulic lift, which used the draft of the mounted tool to moderate the depth of the tool and therefore the load on the tractor, improving results and machine efficiency for the farmer. This system was first available on mass marketed tractors (e.g. the Ford-Ferguson 9N).
Before the 1940s, each manufacturer used their own systems for hitching or attaching implements to tractors, but by the 1960s tractor and implement manufacturers would eventually agree on the three-point hitch as the one standard system to hitch implements to tractors. As patents on technology expired, manufacturers were able to refine the system and create useful modifications. Today, almost every tractor features a three-point linkage or a derivative of it.
In addition to towing the implement and supplying tractive power through the wheels, compact tractors today have a means to transfer power directly to the implement through its PTO system and typically a one or two pump hydraulic system, depending on the manufacturer. Mowers, backhoes, augers, stump grinders, balers, box rakes, snow blowers, trenchers can all be powered off the compact tractor. A PTO system works by taking the engine horsepower and transferring it through a driveline to a series of gears in the transmission housing. This drives a PTO shaft that can be attached to an implement. What is important is how efficiently the machine accomplishes this task, so it's always important to compare PTO horsepower.
Ever since International Harvester (in a tight race for market share with Ford) introduced the first PTO in 1922, this valuable tool has been sending tractors into new applications and markets. Buying a tractor without attachments today is like buying a computer without software. Attachments such as rotary cutters, tillers, posthole diggers and snow throwers can run off your tractor's PTO, which can drive attachments in the front, middle and rear of the tractor. Overall, technology has not changed too much over the years in terms of PTO systems. There are three major types of PTO systems on the market today:
Independent PTO allows you to engage and disengage the PTO regardless of the transmission or clutch operation. It's the most popular and easiest to use.
Live Two-Stage PTO uses a dual stage clutch pedal, so depressing the clutch pedal completely disengages the transmission and PTO and releasing the clutch halfway engages the PTO. Fully releasing the clutch pedal engages the transmission; this allows the PTO-driven implement to get up to speed before forward/reverse travel starts (so a mower starts cutting grass before moving and doesn't leave skips).
Transmission Driven PTO uses the clutch pedal (when it's depressed) to disengage both the PTO and the transmission. It's the most economically priced, but not as functional as the other options.
There is also a mid-mount PTO, used mostly to operate mowers. A mid-mount PTO is center mounted below the transmission. A mid-PTO differs from the rear PTO in rotational speed and type of shaft used. A mid-PTO generally operates at 2,000 rpm at rated engine speed. The faster shaft speed is necessary to supply the proper speed in order to reach the high blade tip speeds associated with grooming style mid-mount mowers.
Front-Mounted Implements and Overall Maintenance
Once you choose the right tractor size, PTO system and PTO horsepower, you're going to want to figure out which attachments you will need — because it's always wiser (i.e. cheaper) to buy extra attachments with your initial purchase and get a package deal. Returning to our early purchasers of compact tractors — a common product fitted to them was a front-end loader or bucket, and this remains the most popular attachment for tractors today. Most compact tractors never take the bucket off the front, but most units can also run attachments on the front end of the machine.
Snowblowers are a typical example of a front-end implement, used for clearing snow from driveways, paddocks and feed storage areas. Front-mounted rotary brooms can be used for jobsite cleanup and clearing snow off sensitive surfaces like decorative paver driveways and walks, greatly reducing any damage to the surface. Fount-mounted dozer blades can be used for clearing snow, grading dirt or pushing the competition to the sidelines.
As for maintenance needs, the usual requirements for any piece of compact equipment apply, but the PTO and attachment systems will have special needs. Take the time to look over your tractor and get to know where everything is and how it should look. Check for loose, damaged or missing hardware, worn hoses, cracked belts and similar defects before you set out for the day. Inspect the three-point hitch for signs of abnormal wear and tear or missing parts in order to prevent damage to attached implements or processes. Check the levels of engine oil, hydraulic fluid and coolant for proper fill. For the hydraulic system, aside from checking and changing fluids at the manufacturer's suggested intervals, the fluids used should be of high-quality, particularly the oil. Using high-quality fluids will ensure your tractor operates with peak efficiency.
A compact tractor owner should always check to ensure all safety shields are in place and functional. These shields can crack or break from time to time and should be immediately replaced when they do. They serve as a protection element for the operator and the tractor to prevent breakage, accidents and injury in relation to the PTO. As long as you maintain them, compact tractors can indeed become very useful, safe and productive pieces of equipment.
Keith Gribbins is managing editor for Compact Equipment, based in Brecksville, Ohio.