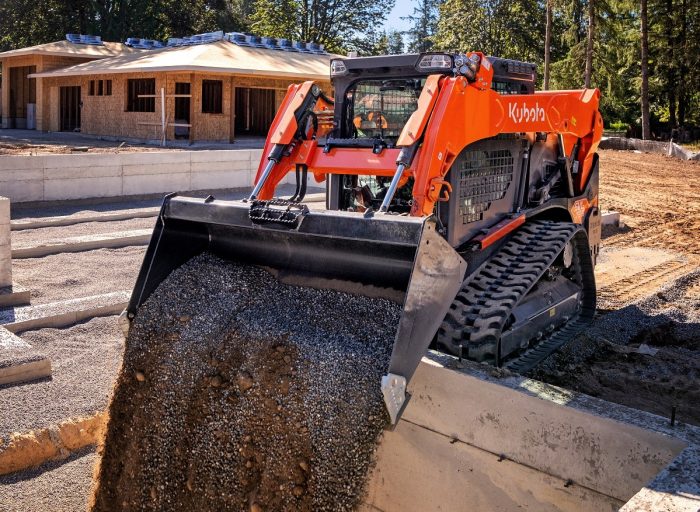 CONEXPO was crazy. Don't even get me started on the Festival Lot. It was madness, but it was also coolness. The CONEXPO-CON/AGG 2023 tradeshow took over Las Vegas March 14-18, attracting more than 139,000 attendees to America's biggest construction tradeshow, which only happens every three years. There were more than 2,400 exhibitors from 36 countries spread out over 3 million sq ft of exhibit space. The giant tradeshow had many storylines — electric equipment, automation, autonomy, hydrogen engines, crazy amazing booths like Caterpillar's Operator Stadium — but one of the biggest CONEXPO trends I gleaned is that everyone wants in on the compact track loader business.
Many of the top brands in construction — John Deere, ASV, Yanmar, Gehl, Manitou, Hyundai, Wacker Neuson and Kubota — announced new compact track loaders at CONEXPO. Track loaders are possibly the hottest category in construction equipment right now. In 2022, compact track loader sales in North America were more than 90,000 units, compared to some 30,000 units for the original wheeled skid steer. As the market appears to still be in expansion mode, new equipment makers are entering the fray (Hyundai and Yanmar) while the veterans continue to expand their product offerings (John Deere, Gehl, ASV and Kubota). Let's dig into some of these new offerings and see what they're bringing to the market.
John Deere Announces Its Biggest Track Loaders/Skid Steers to Date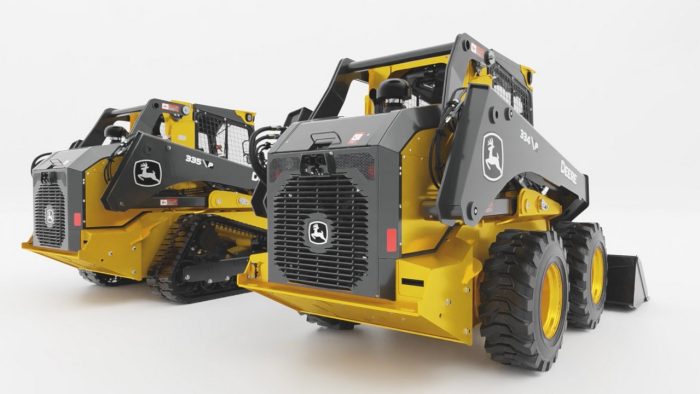 John Deere launched a metric ton of cool machines at its booths at CONEXPO. The company put a big focus on its performance tiering strategy at the show, and it unveiled awesome new models of excavators, small dozers, large scrapers, electric backhoes and electric wheel loaders (both still concept vehicles). Deere also announced some giant new compact track loaders and skid steers, which are also a big part of its tiering model.
At the show, three new big new units were on display, including the revamped 333 P-Tier skid steer and the all-new 334 P-Tier skid steer loader and 335 P-Tier compact track loader models. These machines boast features like redesigned cabs with creature comforts including heated/vented seats, touchscreen displays, hands-free Bluetooth technology and JDLink telematics. These units can also be equipped with Deere's new vision system solution, Surround View, that enables increased visibility from the cab around the sides and rear of the machine. Powered by 118-gross-hp diesel engines, the new 334 P-Tier and 335 P-Tier boast 44 gallons per minute (gpm) high-flow capabilities and a 4,000-max-psi auxiliary pressure rating.
"Customers are continually asking for more power and better hydraulic capabilities on skid steers and compact track loaders," explained Luke Gribble, solutions marketing manager, John Deere. "The 334 and 335 were Deere's answer to these requests. Packed with more horsepower, more hydraulic flow and pressure and a redesigned cab, amongst many other updates, these machines will be able to efficiently tackle an array of applications, particularly those that require the use of high-flow attachments. Along with the new machines, we also introduced a brand-new mulching head attachment, the MK76, and a suite of new cold planing attachments."
Developed in response to evolving customer needs and expectations, John Deere launched its Performance Tiering Strategy in 2021, delivering a range of products at different levels of capability and user experience — G-Tier, P-Tier and X-Tier. X-Tier models are built with the most innovative John Deere technology and features. P-Tier models showcase advanced features delivering big performance, efficiency, comfort and service life, and G-Tier models are practically equipped and economical.
"The launch of the new generation of large frame skid steers and compact track loaders marks the first set of machines to transition to Deere's performance tiering strategy," said Gribble. "P-Tier machines can be counted on to produce at high levels, day in and day out. They offer advanced features that deliver exceptional performance. We feel the P-Tier designation suits these new large frame machines perfectly."
We'd love to keep in touch! Check us out on Facebook, Twitter and LinkedIn!
ASV Focuses on Forestry with the VT-100 Posi-Track Loaders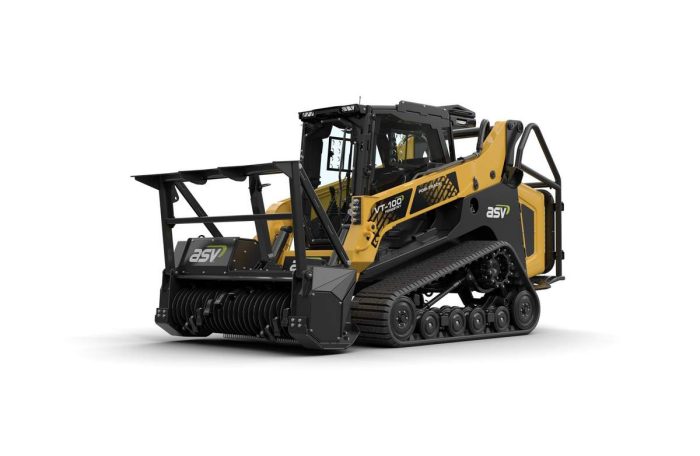 ASV is one of the originators of the compact track loader concept. The company introduced its first model in 1998, and this year ASV will continue to expand that legacy with the new VT-100 and VT-100 Forestry Posi-Track compact track loaders. The VT-100 is a vertical-lift machine geared toward loading and grading applications in landscaping and construction. The VT-100 Forestry is suited for mulching, right-of-way clearance and site prep. The latter unit is a smaller option vs. ASV's beastly radial-lift RT-135 Forestry unit, which is one of the most powerful CTLs on the market.
"The introduction of these two new loaders reinforces our reputation as a compact track loader specialist," said Buck Storlie, product manager for the ASV brand, in a press release. "They are the perfect option for those looking for a little more power than the RT-75 without having to go to the heavy hitter of all CTLs — the RT-135. The lifting capabilities, pushing power and hydraulic flow of the new VT-100 and VT-100 Forestry is sure to impress."
ASV's VT-100 and VT-100 Forestry come equipped with a 103.5-hp Tier 4 Final Yanmar diesel engine and standard 40-gpm high flow. The VT-100 features a 3,500-lb rated operating capacity and 10,286-lb tipping load while the VT-100 Forestry includes a 3,700-lb rated operating capacity and a 10,571-lb tipping load. The models feature ASV's patented Posi-Track rubber track suspension. Well known for its smooth ride, the dual-level suspension of the VT-100 and VT-100 Forestry features both suspended wheels and axles, allowing it to manage terrain at fast speeds.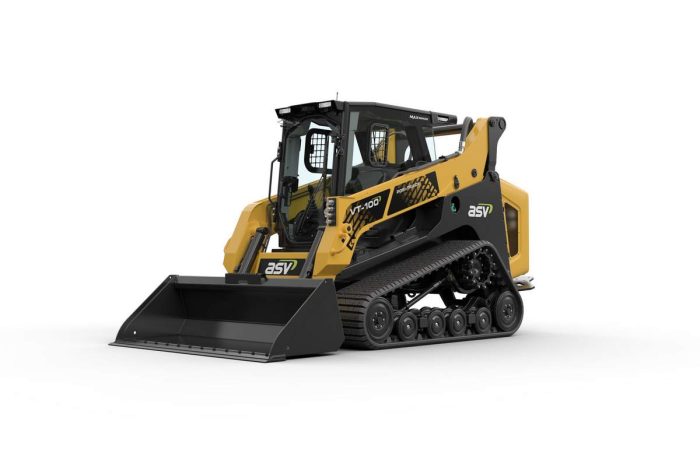 Cool technology on these units include a work-tool positioner, which allows operators to create a preset for the angle of the attachment based on the task at hand, allowing return to position at the push of a button. Operators can move material more quickly with less loss with the VT-100 and VT-100 Forestry's self-leveling and ride control features. These new models also have auto two-speed, as well as a state-of-the-art 7-in. color display for improved convenience on the jobsite. The vibrant color display provides vital monitoring tools, shows the view from the backup camera and integrates with service schedules and history for added convenience.
Hyundai Re-Enters the Skid Steer and Track Loader Markets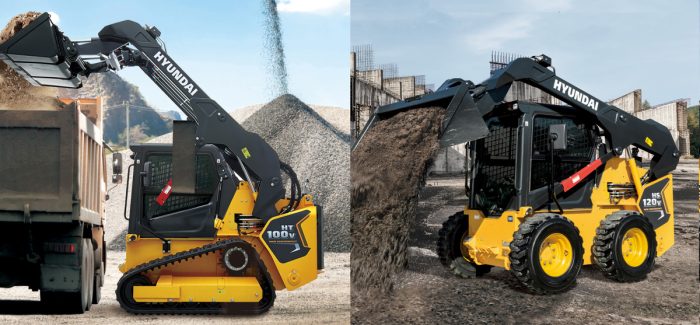 At CONEXPO-CON/AGG in March, Hyundai Construction Equipment Americas announced the first availability in North America of a new skid steer and compact track loader in the large-frame size class. The new Hyundai HS and HT models are powered by Hyundai HTI4 four-cycle, turbocharged, electronically controlled diesel engines, meeting Tier 4 Final and EU Stage V emissions standards and delivering 70 net hp at 2,200 rpm. The Hyundai HS120V skid steer loader has a rated operating capacity of 2,690 lbs, and its heaped bucket capacity is 0.58 cu yds. The Hyundai HT100V compact track loader has a rated operating capacity of 2,300 lbs, and its heaped bucket capacity is 0.58 cu yds. Key standard features include: multi-function joysticks; vertical-lift path; two-speed travel enabling quick movement around the jobsite; rearview camera; "escort system" that keeps the LED lights illuminated for 30 seconds after machine shutdown; and an emergency escape hatch through the front door. Optional high-flow, ride control and Hi Mate telematics are available.
Yanmar Enters the Track Loader Market Focused on Construction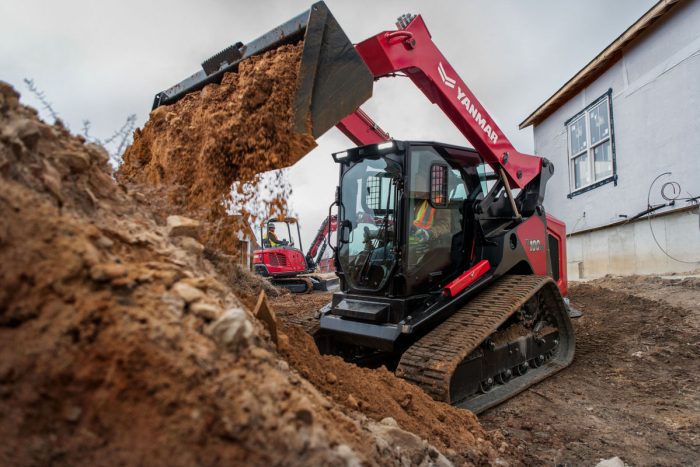 Yanmar bought track loader pioneer ASV in 2019. The companies continue to integrate. Several ASV track loaders now house Yanmar engines, and both companies now reside under a single legal entity — Yanmar Compact Equipment North America or YCENA. It was a natural progression for Yanmar to get into the compact track loader market, but…
"This is not a me-too track loader," said Buck Storlie, product manager, Yanmar Compact Equipment, at the CONEXPO press conference. "This is an all-new design by Yanmar, and with that, we really stepped forward with some specific design principles in mind. One of the first ones was high quality. The next was reliability."
At the show, Yanmar Compact Equipment announced the TL65RS, TL75VS, TL80VS and TL100VS units. Ranging from 67 to 103.5 hp, these new compact track loaders cover a wide range of customer needs, but they have a specific focus on construction vs. ASV which tends to have a market focus on landscape and forestry work.
"We want Yanmar compact track loaders to work alongside of our excavators, alongside of our wheel loaders in that construction environment," said Storlie. "Dirt, rock, concrete, rebar, we want a construction grade machine that's ready to go to work at its best in that environment."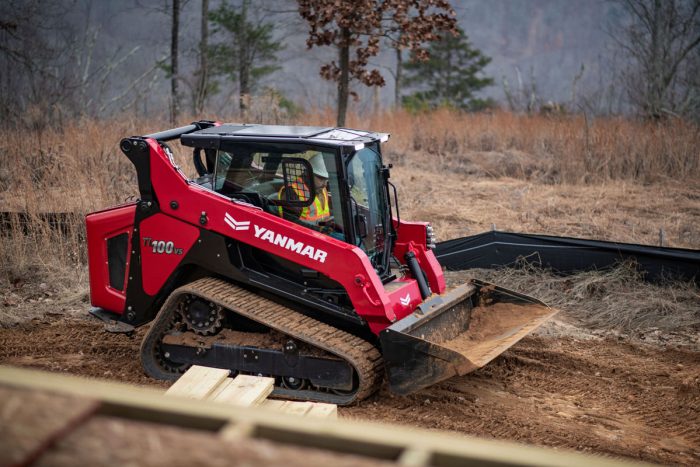 While I don't have info on every unit, Yanmar has announced details on its TL100VS, which comes equipped with a 103.5-hp Tier 4 Final Yanmar diesel engine and standard 40-gpm high flow. Paired with a 3,600-lb standard operating capacity and 10,286-lb tipping load, the TL100VS boasts travel speeds up to 8 mph, while only emitting 4.5 psi of ground pressure. The TL100VS will start production in the summer of 2023 while the other three units will begin production in late 2023. All of "these machines bridge the space between 2,100 and 3,600 lbs [operating capacity], which really covers about 93 percent of the CTL market, and it also happens to be the fastest growing segment," noted Storlie.
These Yanmar units utilize similar ASV systems: a torsion axle suspended undercarriage; 7-in. color display for improved convenience on the jobsite; work tool positioner; return-to-position technology; self-leveling; ride control; roof escape hatch; and auto two-speed capabilities. Also, these units will be made at the Yanmar Compact Equipment North America facilities in Grand Rapids, Minnesota (where ASV models are made).
"We've been manufacturing compact track loaders and skid steers [in Minnesota] for 30 years," said Tate Johnson, Yanmar CE North America president. "We have a heck of a lot of capability there, and [with these new Yanmar units] we're going to triple the business over the course of the next five years."
Wacker Neuson's ST27 Is Its Smallest, Most Advanced CTL Yet
Wacker Neuson is a compact equipment king of Europe, but its compact track loaders are manufactured at Wacker Neuson's impressive Menomonee Falls, Wisconsin, facility. The company currently has three track loaders, and it's expanding its lineup with a new small unit called the ST27. Weighing in at only 7,350 lbs, this machine is easily towable. With a rated operating capacity (ROC) of 1,890 lbs (at 35 percent of tip), this is not only Wacker Neuson's smallest model, but…
"It's our most technologically advanced CTL to date," said John Dotto, product application and training specialist, Wacker Neuson, at the CONEXPO preshow breakfast press event. "The ST27 has an auto two-speed shifting system. So, what it's doing is, it's reading the operator's command and automatically shifting up and down based on the movement the machine thinks the operator is looking for. It's going to improve cycle times in load-and-carry applications."
Wacker Neuson's ST27 features two-speed travel drive as standard with an impressive 9.1 mph top speed. The auto feature engages in and out of the two speeds based on joystick input and eliminates the need for the operator to make manual shifts.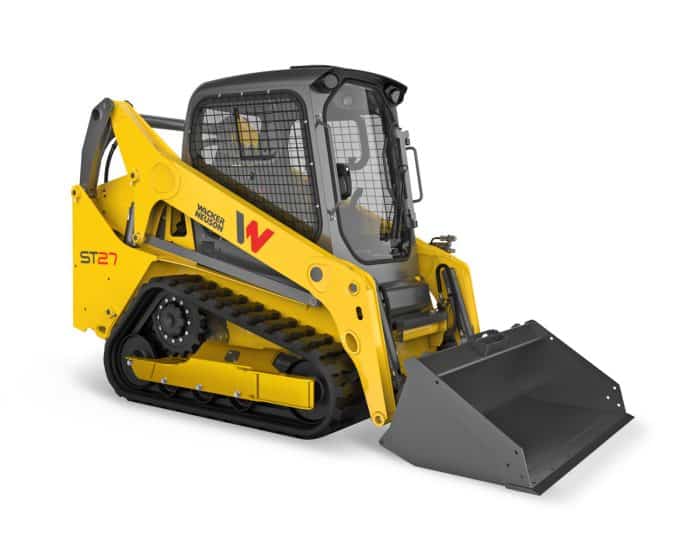 The ST27 has an ROC of 1,890 lbs and 74-hp Kohler KDI 2504 turbocharged engine, while offering best-in-class reach at dump height, according to Wacker Neuson. The vertical-lift ST27 offers a hinge pin height of 120 in. and a dump height of 94.3 in. The spacious cab includes a standard 5.7-in. color display and selectable EH joystick controls that allow the operator to toggle between ISO and H-Pattern. Visibility was a priority: The vertical loader arm linkage is designed to maximize visibility to the rear. The shape of the rear linkage aligns with the cab posts in the operator's line of site in order to minimize obstructions. Maintenance was also a priority.
"We've got a new cyclonic pre-cleaner, which is standard on the ST27," said Dotto. "We're trying to increase service life on all of our service components, including our filters. Total cost of ownership — we're looking to reduce that. Also, in terms of the overall engine compartment layout, this is the easiest to service engine compartment in the industry. Always has been. So, with auto two-speed, improved visibility, industry serviceability, we're looking to put a lot of power into a small frame."
Compact track loaders are the most popular category of compact equipment in America. Learn why with loads of track loader features right here.
Kubota Introduces New -3 Series Compact Track Loader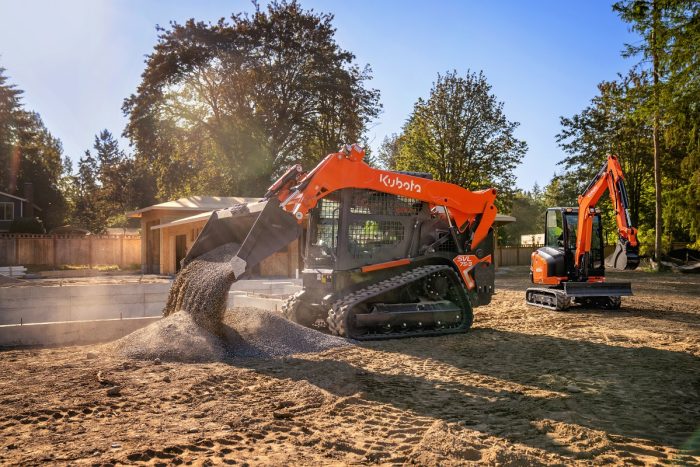 The famous orange-and-black brand Kubota joined the compact track loader market in 2010, and today the company offers its ultra popular SVL97-2, SVL75-2 and SVL65-2 units. Now, one of these models will be getting an upgrade. At CONEXPO, Kubota introduced the SVL75-3, which is set to replace the popular SVL75-2 and will be available at dealerships beginning in May 2023.
The new SVL75-3 is powered by a 74.3-hp Kubota engine and has a working range that includes a rated operating capacity of 2,490 lbs at 35 percent or 3,557 lbs at 50 percent. This unit has 6,191 lbs of breakout force and a hinge pin height of 122.7 in. Updated features include a faster two-speed travel and the Advanced Auto Downshift system from Kubota compact excavators that automatically downshifts from high to low gear while making turns. Visibility has also improved.
"We've got a rearview camera that's incorporated into the bonnet," explained Jerry Corder, Kubota product manager, construction equipment, at the company's CONEXPO press conference. "This is a 176-degree, wide angle camera that gives you three side-to-side visibility angles from the cab."
The SVL75-3's hydraulic system features an innovative Advanced Multifunction Valve (AMV) that helps to ensure smooth movement of all hydraulic functions when operated simultaneously. The Electronic Travel Torque Management System enables operators to work faster and with more power by constantly monitoring the load of the machine to optimally control hydraulic pump output according to the load, reducing engine stalls.
A new 7-in. color LCD touch panel with jog dial comes standard in the SVL75-3. Additional features include keyless engine start, with the ability to save up to 51 user pass codes, and a new integrated Bluetooth radio that provides streaming and hands-free calling, available in closed cab models only.
"We also now have a reversing fan, and this blows air back up through that top deck, so we keep it clean so that the air flow is unimpeded," said Corder. "Continuing on, we've added a standard in-engine pre-cleaner, and there's also a lock for your fuel fill, which seems like a minor thing, but in some parts of the country is very important to maintain your fuel."
Manitou and Gehl Launch Six V-Series Skid Steers/Track Loaders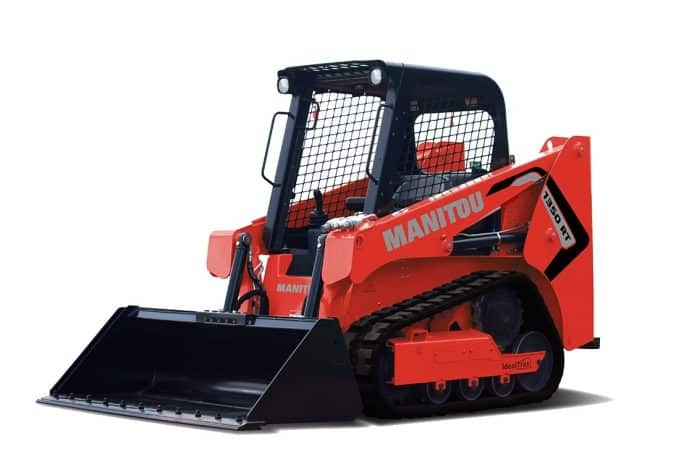 Manitou Group has been busy. One year after announcing a massive $74 million investment plan to expand and modernize its U.S. production facilities, Manitou Group presented a brand-new range of skid steers and compact track loaders at CONEXPO.
"All models are vertical lift and feature a new lift arm design," said Nathan Ryan, compact loader line manager for Manitou, in the press release. "The driver's station has also been redesigned with an improved version of our patented folding door. The new cab also offers some of the best visibility on the market thanks to a new window and roof design."
Manufactured at its Madison facility in South Dakota, three V-Series skid steers and three VT-Series compact track loaders will be available under the Gehl and Manitou brands. These six new models have operating capacities that range from 2,100 to 2,750 lbs. According to the press release, the breakout force is now 12 percent higher on average (compared to the previous range) and the fuel tank capacity is increased by 14 percent. The new loaders feature keyless start (requiring only code activation), LED lighting and a patented pilot joystick system as standard, adjacent to the operator's seat. Numerous innovations also facilitate maintenance with a lifting cab and centralized maintenance points.
For added comfort, the track loader range is standard equipped with the patented IdealTrax system, ensuring automatic track tensioning and extending the life of the tracks. Numerous options (LEDs on the sides, high hydraulic flow, rear camera, etc.) are also available to meet the requirements of each user.
More to Come
The upward trajectory of compact track loader sales looks to continue in 2023. Wheeled skid steers will always have their strong markets (especially when hard surfaces, cost of ownership or increased cycle times come into play), but compact track loaders will continue to eat up market share in a variety of classic jobs (from heavy dirt work to light landscape jobs) and niche applications (from grade control to brush cutting).
Keith Gribbins is publisher of Compact Equipment.
Develon Prepares to Launch the DTL35 Compact Track Loader in 2024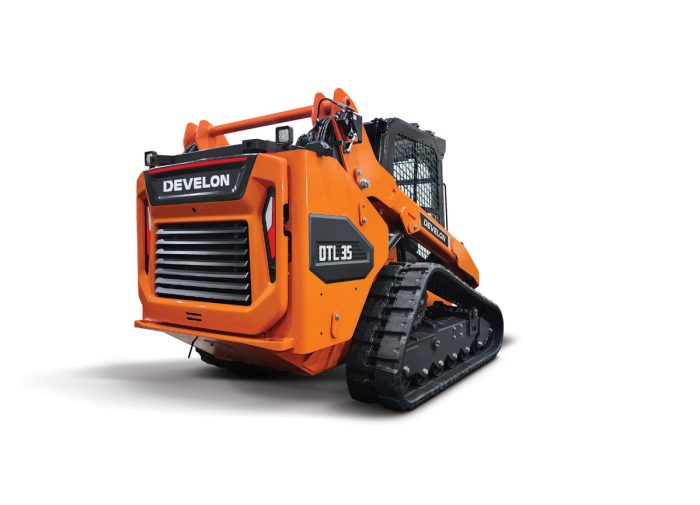 Develon, formerly known as Doosan construction equipment, offered visitors at CONEXPO-CON/AGG a preview of its new DTL35 compact track loader, which will be available at dealerships in North America in 2024. The 116-hp compact track loader is the company's first entry in this product category for the North American construction market. The DTL35 is on the large frame size of compact track loaders from a horsepower perspective, making it a high-performance grading and excavating machine. The compact track loader will come standard with a torsion suspension system, providing a smooth ride for operators and durability for use on construction jobsites. Optional high-flow auxiliary hydraulics — up to 40 gpm — will be available for the DTL35 for enhanced performance with attachments like asphalt planers, forestry cutters and breakers that require additional hydraulic flow. An optional 360-degree, all-around view monitoring (AVM) camera system will be available when the machine goes into production. Look for additional info later this year.
Tags:
ASV
,
CONEXPO
,
CONEXPO-CON/AGG
,
DEVELON
,
Gehl
,
Hyundai
,
John Deere
,
Kubota
,
Kubota Tractor Corporation
,
Manitou
,
Wacker Neuson
,
Yanmar