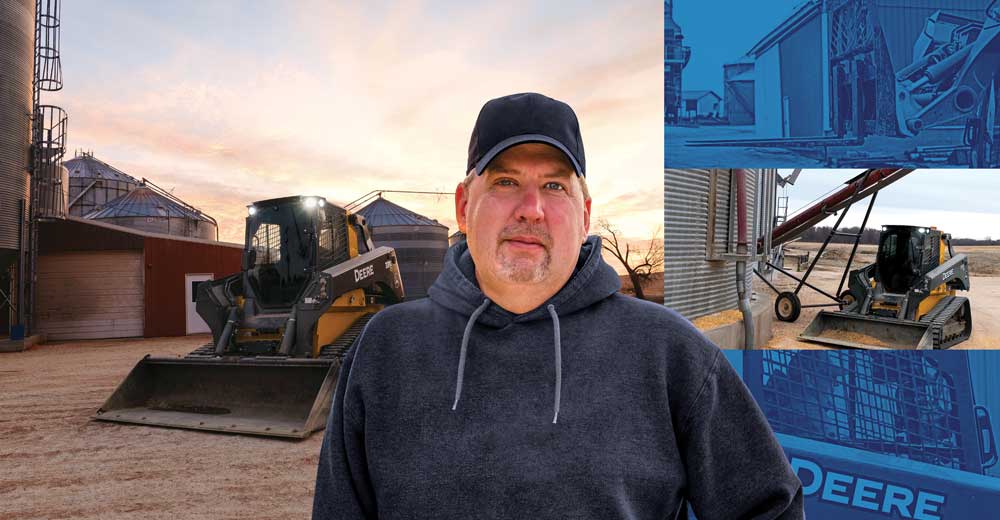 Mitch Zumbach and his father, Doran, owners of Z Valley Grain farm near Coggon, Iowa, love what they do.
"During the summer, I'll get up in the morning and look out the window at the green cornfield," says Mitch. "Here's a crop that you planted, you sprayed and you fertilized. You do all you can do, and Mother Nature takes care of the rest. It's fantastic. Farmers are a different breed. We work, and then we go to places and talk with like-minded people about work. Then we get up and do it all over again."
"Farming is different than any other occupation," adds Doran. "You live and breathe it." Now 46 years old, Mitch has been working with Doran since he was 10 years old. "We're a sixth-generation farm," says Doran. "I've been working with my son for over three decades. We have a fabulous relationship, and now my grandson helps out. I don't know what more I can ask for in life, really."
The Zumbachs rely on compact equipment like track loaders to succeed with their farm operations. Unfortunately, Mitch lost the use of his right arm in a childhood accident, which makes operation cumbersome, but luckily the family would find a brand that could accommodate their unique needs.
Imagining the Possibilities
Doran's ancestors immigrated from Switzerland. For generations, the family operated a dairy farm and raised other livestock, including beef cattle and hogs. During the 1990s, as livestock operations were growing much larger and became more expensive to run, the farm exited the livestock business to become a crop operation. Today the farm raises corn and soybeans. Mitch also runs a very successful seed business.
Farming has changed dramatically since Doran started over a half-century ago. "I grew my 51st crop this year," he reflects. "When my father wanted a new machine, maybe he'd raise a few extra pigs or milk a few extra cows. Today, even when I buy a small machine, I must be much more business minded. Can we justify the investment? How can we use the machine? How will it improve our operation?"
Doran is a big fan of the compact track loader category of equipment. "It's so versatile and efficient," he says. "We use it most every day."
The farm uses its John Deere G-Series track loader mainly to remove rocks from fields, as well as for mowing waterways and ditches and moving pallets of seed and fertilizer.
"It's always been difficult for me to run a skid steer or track loader," explains Mitch. "We had a competitor machine that we modified so I could use it, but that made it difficult for anyone else to run. My father often wondered if it might be possible with today's technology to design a machine we could all use."
In 2017, Doran was visiting a John Deere dealership in Monticello, Iowa, when he found a machine that made him believe this was possible — a G-Series track loader. "I was not aware that Deere offered foot controls as part of their push-button selectable controls." Thus began the journey that ended with the purchase of the modified 331G track loader that the farm now owns.
Enabling New Opportunities
Doran prefers traditional H-pattern controls, while some of his employees prefer ISO. Mitch needs a machine that would allow him to control the machine with his left hand and his feet.
A Deere employee informed Doran that a new ISO and foot-control option was soon going to be available on 330G and 332G skid steers and 331G and 333G track loaders. "He was very gracious with me," says Doran. "Some people will talk over your head, but this was not the case. He wanted to learn as much from me as I wanted to learn from him. We spoke for a long time about our machine needs." The farm took possession of the 331G in September 2017. "It works like a charm," says Mitch. "Just get in, push a button to select the desired control pattern and away you go. Now we only need one machine."
The option converts the machine's three-way switchable electrohydraulic (EH) controls to a four-way control pattern. By pressing a button on the sealed-switch module, the operator can select the desired pattern. In Mitch's case, he can select the ISO-foot controls that allow him to control the boom and bucket with his feet, while the left joystick controls machine direction. The right joystick is deactivated.
"Now all of us can get in the same machine and operate it efficiently," says Doran. "We don't have another machine on the farm that can adapt to the individual operator as quickly and easily as this track loader."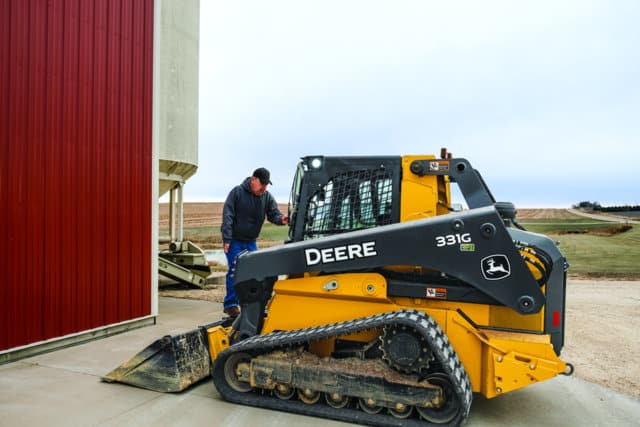 EH control systems allowed Deere to add the fourth control option. "The old pilot mechanical-linkage control systems were not expandable," explains Gregg Zupancic, product marketing manager for skid steers and track loaders at John Deere. "The EH system is driven by wires. Your imagination is the only limit really because it is all done with programming."
Doran was not the first customer to approach Deere about creating a control system that could be operated by someone with one hand. "Engineering believed we could develop the software and provide the configuration," recalls Zupancic. "At Deere, it is very important for us to give back to the community. The fourth control pattern provides opportunities to people who otherwise might not have access to this equipment. It's yet another way that our small machines are making a big impact."
Z Valley Grain farm is serviced by Bodensteiner Implement Co. of Monticello, Iowa.
Kevin Orfield is owner of Orfield Communications and a writer for John Deere's Worksite Journal.