You need backup, and you've decided reinforcements will come in the form of a skid steer or track loader rental. Wise choice. Cool machine. Versatile. Construction tough. Lots of options. Maybe your crew needs help tearing up and rebuilding a busy roadway. Maybe you just need to tear up your backyard to put in that Ninja Warrior training course. Either way, skid steers and track loaders can spearhead probably more construction projects than any other machine on the rental lot. They offer extreme maneuverability (zero turns) and high lift (especially on vertical-lift configurations). They boast commercial construction power (the biggest track loaders offer over 3,500 lbs of operating capacity and over 10,000 lbs of tipping load), and they have the ability to wield exactly one zillion different attachments (breakers, brooms, buckets and way beyond).
To find the right unit, there are thousands of different equipment rental houses around America that can help you rent a skid steer or track loader. They range from the giant national rental chains with hundreds of locations around the country to region-specific indie rental centers servicing locals. Even big box stores like The Home Depot rent loaders these days. But before you get to one of those lots, you'll probably want to decide between wheels or tracks — skid steer vs. track loader.

"Renters need to consider the worksite conditions, and let that guide their decision on whether to go with a wheeled or tracked skid steer," says Brent Kuchynka, vice president of corporate fleet management at United Rentals, which boasts a 1,000-plus locations nationwide. "Wheeled works well on developed surfaces and can usually cover more ground in less time. Tracked are better in wet, muddy or loose surfaces. Tracked also offers a smoother ride but requires more maintenance than wheeled."
Skid steer loaders excel in applications where the ground conditions are firm, and they typically have higher ground speeds. A skid steer loader weighs less than a comparably sized track loader, allowing for more flexibility in transport. Skid steers are often preferred in applications like concrete and asphalt work, snow removal and lots of agricultural tasks.
Rolling on rubber or steel tracks with a dedicated undercarriage, compact track loaders can spearhead operations and navigate jobsites with more flotation than wheels — especially in the wet weather months. A dedicated undercarriage also gives added tractive power (great in dozing operations) yet dispenses the weight of the entire machine through multiple track contact points for a lighter footprint than a skid steer. With extra power, lower ground pressure and added flotation and traction, the advantages of compact track loaders are growing on pros. Track loaders have outpaced skid steers sales over the last year few years. Applications range from landscapers spearheading big projects and minimizing damage on nice yards to construction pros doing heavy dirt work and site prep. What is more popular?
"I would say the standard has flipped from people calling and asking for a skid steer to calling for a track loader," says Austin Caskey, product line manager at Sunbelt Rentals, which has more than 900 locations across the United States. "But, there's still a huge percentage of our fleet that is both skid steer and track loaders. We're half and half realistically."
Sizes Galore
Skid steers and track loaders come in all types of sizes and configurations. Serving this expansive market, at least 14 major brands of skid steers and track loaders are being sold in North America in 2020: ASV, Bobcat, Case, Cat, Gehl, JCB, John Deere, Kubota, LiuGong, Mustang by Manitou, New Holland, Takeuchi, Volvo and Wacker Neuson. There are a lot of different types of machines on the market. The Bobcat brand alone offers 12 different sizes of skid steers ranging from its ultra-small, 760-lb ROC, 23.5-hp S70 to its really big 3,950-lb ROC, 100-hp S850. Rental lots tend to gravitate toward the medium-sized units.
"The 2,000- to 3,500-lb [ROC size class] has been in high demand," notes Kuchynka, but unit sizes are all over the board when looking at a rental brand's entire network. "There used to be more clear delineations on the most popular size, but the more the category grows, the more they keep coming out with in-between sizes and bigger and better and also smaller," says Caskey.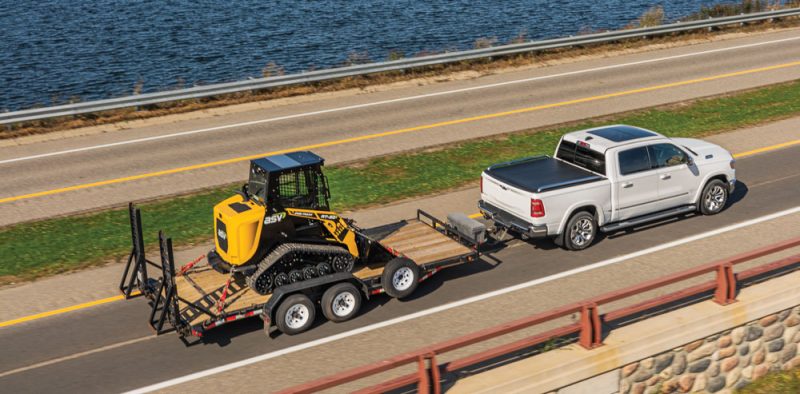 ASV's RT-25 is the smallest compact track loader on the market, aimed at rental fleets, boasting a 665-lb ROC, 1,900-lb tipping load and an 8.4-ft lift height. Because of its low weight, drivers can pull the RT-25 and slightly bigger siblings, the RT-40 and RT-50, behind a 1/2-ton pickup truck or SUV.
"We're seeing a lot of demand from rental customers for our smallest Posi-Track loaders because of the advantages that come from a compact size," said Daniel Vosberg, ASV southeast district sales manager. "The machines can fit into tight areas that a larger machine might not be able to access without removing a fence, for example. Plus, they're easy to transport and maintain. Most rental houses want a streamlined machine that performs well but has a low acquisition cost, which means fewer creature comforts such as suspended seats and roof liners that an owner-operator is more likely to purchase. Common configurations for our smallest loaders include hands-only joystick controls for simplified operation, a cab with HVAC and various adapter plates that allow proper fitment across most OEM attachment brackets."
Another great loader brand, Case Construction Equipment just launched its next generation of compact track loaders and skid steers with the introduction of the B Series this year — five track loaders and eight skid steers spanning radial- and vertical-lift patterns, as well as numerous horsepower and size classes. Which of its units are popular in rental?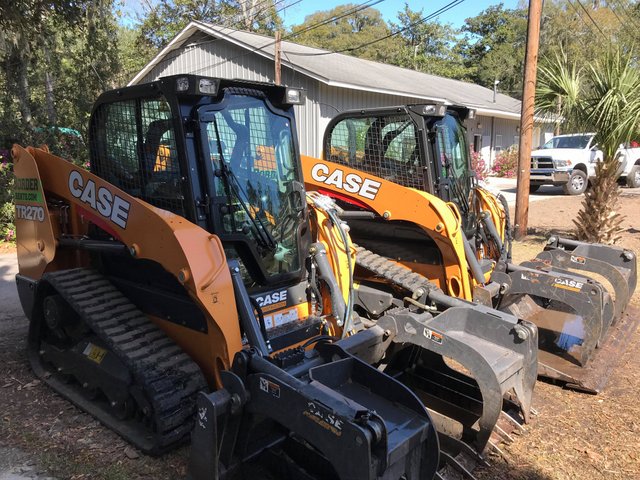 "One of our most popular machines in the rental business is the TV370B compact track loader," says George MacIntyre, product manager for compact equipment at Case. "At 74 hp, and with a 3,700-lb rated operating capacity and vertical-lift design, the TV370B is suited for a variety of general applications where contractors value the strength and lift capacity of a large-frame CTL, but may not be interested in paying the extra rental fees associated with a higher horsepower machine. This machine is ideal for rental because it sits right in that Goldilocks zone of productivity and profitability. Another popular model is the TR270B. While the specs are not quite as robust as the TV370B, rental houses and their customers like the lower price point and its smaller footprint allows the machine to get into tighter areas on jobsites."
Options Galore?
We're talking about rental equipment here, which are traditionally low-frills, low-cost units focused on ROI for the rental houses. That means you might not find your luxury track loader with heated seat, Bluetooth radio, backup camera and grade control configuration. "We carry the full range of specs, but you'd have to give your rental store some heads up if you're looking for something specific because you're going to mostly find the basic models," says Caskey.
There will be important choices, starting with radial- vs. vertical-lift configurations. Loaders with a radial-lift design get their name from the fact that the loader boom arms rotate on a single pivot point, causing the lift path to arc out until the pin height, and then back as it reaches full height. Radial-lift machines are used in tougher, more ground-engaging applications like breaking, prying, grading or hard digging, and they tend to be equipped with slightly more horsepower than vertical-lift loaders. The vertical-lift linkage design uses two pivot points that allows the boom to raise the bucket straight up to full height. The system offers greater reach, which is why vertical-lift loaders are preferred for loading high-side trucks, feed carts and other taller containers.
There may be options in controls, ranging from classic dual steering levers to control drive functions and dual foot pedals to operate loader lift and tilt to high-tech, low-effort selectable joystick controls where ISO or H patterns can be easily activated with a switch inside the cab. Other choices might include tires and tracks. Perhaps your job calls for solid tires to eliminate punctures or maybe a smooth, low-ground pressure track for operating on expensive landscapes. Consider your seat. Decide between an open-air ROPS cab or enclosed cab with heat, air and less noise.
Both skid steers and track loaders have tons more options — sophisticated digital control panels that allow for attachment and machine automation where routine tasks such as boom settings, attachment speeds, hydraulic flows, wheel speeds, ride control and return-to-dig functions can be automated into your joysticks. Telematics systems can be installed to track and log all machine functions, spearhead maintenance schedules and perform security measures like geofencing. There are visibility enhancements like backup cameras and deluxe LED lighting outputs that are helping operators stay productive longer, BUT those are often more for buyers than renters. Though telematics is becoming more of an option for data savvy renters.
Attachments for Sure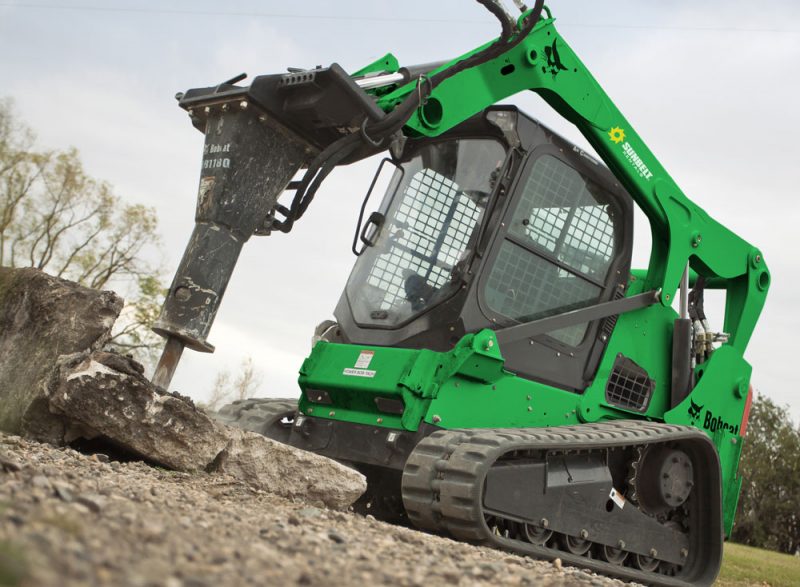 Skid steers and track loaders are tool carriers. They are cool loaders, no doubt, but they can handle more attachments than almost any other type of construction equipment. After buckets and forks, grapples, augers, brooms, snowplows, trenchers and breakers are popular rental implements for wheeled and tracked machines.
"Attachments are a game-changer," says Kuchynka. "United Rentals has a wide range of attachments. A few examples are auger attachments that let you quickly drill holes, breaker attachments that break up concrete or pavement, brooms for managing debris and grapple bucket attachments that use two big claws to close over and remove large debris. Skid steers are already extremely versatile, but if you leverage different attachments, they become like a Swiss Army Knife of earthmoving equipment. There are so many options when using an attachment versus renting an entirely new machine that could save project time and budget."
Choosing the right type and size of attachment will depend on the job and category of attachment. Let's take trenchers as an example. A light- to medium-duty trenching job will most likely require a standard-flow trencher attachment with a 2- to 3-ft dig depth, while a heavy-duty trenching job might need a 3- to 5-ft dig depth trencher featuring hydraulic side-shift for trenching close to buildings, dual augers to move spoil away from the trench and high-flow hydraulics to cut with speed. Definitely understand flow and pressure. Sticking with our trencher example: Typical trencher flow and pressure requirements for small skid steers and track loaders can range from 8 to 20 gpm with hydraulic pressures ranging from 1,750 to 3,000 psi. Trencher and flow and pressure requirements for mid-size to large skid steers and track loaders can range from 10 to 42 gpm with hydraulic pressures ranging from 2,000 to 4,200 psi.
Skid steers and track loaders can also be equipped with high-flow hydraulics to operate the most powerful attachments (like an asphalt planer or brush cutter). High flow or standard flow, each attachment category will require its own research project, and the rental houses and dealer lots are always willing to help.
"Aside from choosing the best attachment for the job, renters need to pay close attention to the specs to match a tool to their machine," said Vosberg. "Look at horsepower, pressure, flow and coupler size and make sure they match up for the best performance. The most popular rental attachments I see are grapple buckets, augers, pallet forks, hydraulic breakers, trenchers and soil conditioners. An often-overlooked tip for attaching tools is to keep the loader engine rpm at low for a smooth attaching process. Attaching at a high rpm can result in jerky movements that make the alignment with the interface difficult. Finally, a piece of advice for operators of rotating attachments such as rotary cutters or trenchers: Slower is faster. For example, some new operators run a brush cutter at full speed before digging into the material, ultimately creating a less safe situation, a higher rate of wear and a lower-quality product. These precision tools require finesse because they need time to generate the torque needed to do their jobs well."
Operational Advice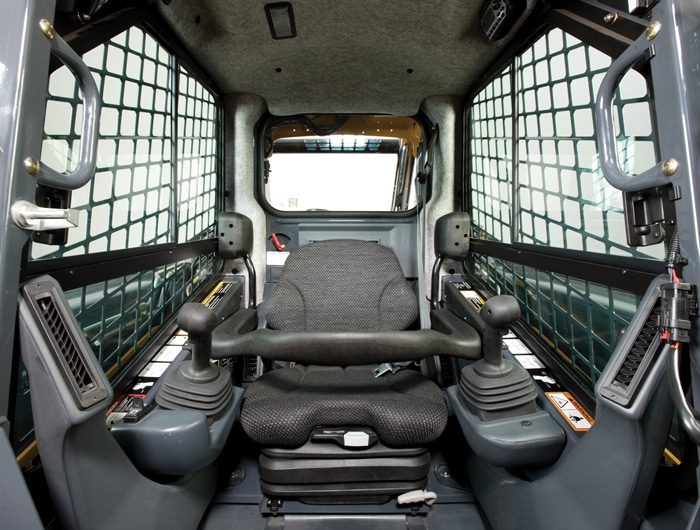 If you're experienced at operating off-highway construction equipment, skid steers and track loaders are not overly complicated machines. But if you've never operated a skid steer or track loader before, it can seem very complicated at first. If you need some sort of familiarization, ask the rental establishment for help.
"My advice is just to be honest," says Caskey. "Let us help you if you need it."
Advice will include keeping the bucket low during travel. Don't travel sideways on steep hills. Use three points of contact entering and existing the machine. Set up your cab properly. Adjust your seat position. Use your seatbelt. Adjust your rearview mirrors. Become familiar with all those nobs and switches and know what control pattern you will be operating — ISO, H or hand and foot controls. Starting the unit may require some sort of security measure like clicking a switch or bringing down the safety bar.
"Consulting an expert before beginning a project or using any type of machinery is always a best practice," says Kuchynka. "I would also encourage contractors to consider the worksite and ultimate needs of the machine. If you have questions about the project or how an attachment could be beneficial, ask our team ahead of time and they can guide you through the best attachment options. These machines really are versatile, and the team of experts can help guide you through the process."
Operation always means maintenance too. Check the tire pressure or track tension. Grease tracks and attachments. Be sure to check your attachment to ensure it is secure. Whenever changing attachments, operators should be sure to check that all hydraulic connections are clean and cleared of any debris. We, of course, have some other articles full of routine maintenance best practices — here and here. Skid steers and track loaders are powerful and hardworking construction machines, and while rentals are always pushed even harder than personal units, preventive measures will go a long way toward maintaining your rental.
"Do inspections daily," says Caskey. "Walk around. Look for leaking fluids. Clean debris off the machine before starting every operation. The machine is going to tell you if a filter's plugged or your oil pressure's low or it needs oil. There's alarms and lights on today's machines. Just pay attention to those. If one goes off, reach out to the branch. Call our 800 number. We also have preventative maintenance schedules on all the machines. There's a decal. Some machines even have telematics, but not all. Communication with the rental house is definitely key."
How Much Does It Cost to Rent a Track Loader or Skid Steer?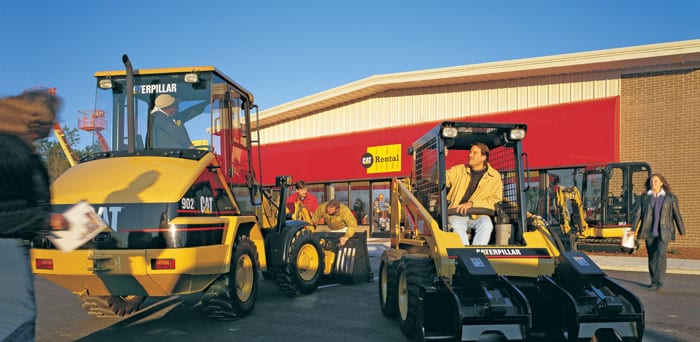 Rental centers offer daily, weekly and monthly rates which vary by location. Prices will also vary based on size of machine and duration of rental. An average price for a skid steer or track loader rental would be around $300 per day, $1,000 per week or $2,500 per week. There will also be numerous options from the rental establishment that might include no-contact delivery and pickup services, online ordering, rental protection programs, varying maintenance and fuel services and lots more. Just ask.
Tags:
ASV
,
Case Construction Equipment
,
Digital Rental Guide
,
home
,
Rental
,
Sunbelt Rentals
,
United Rentals