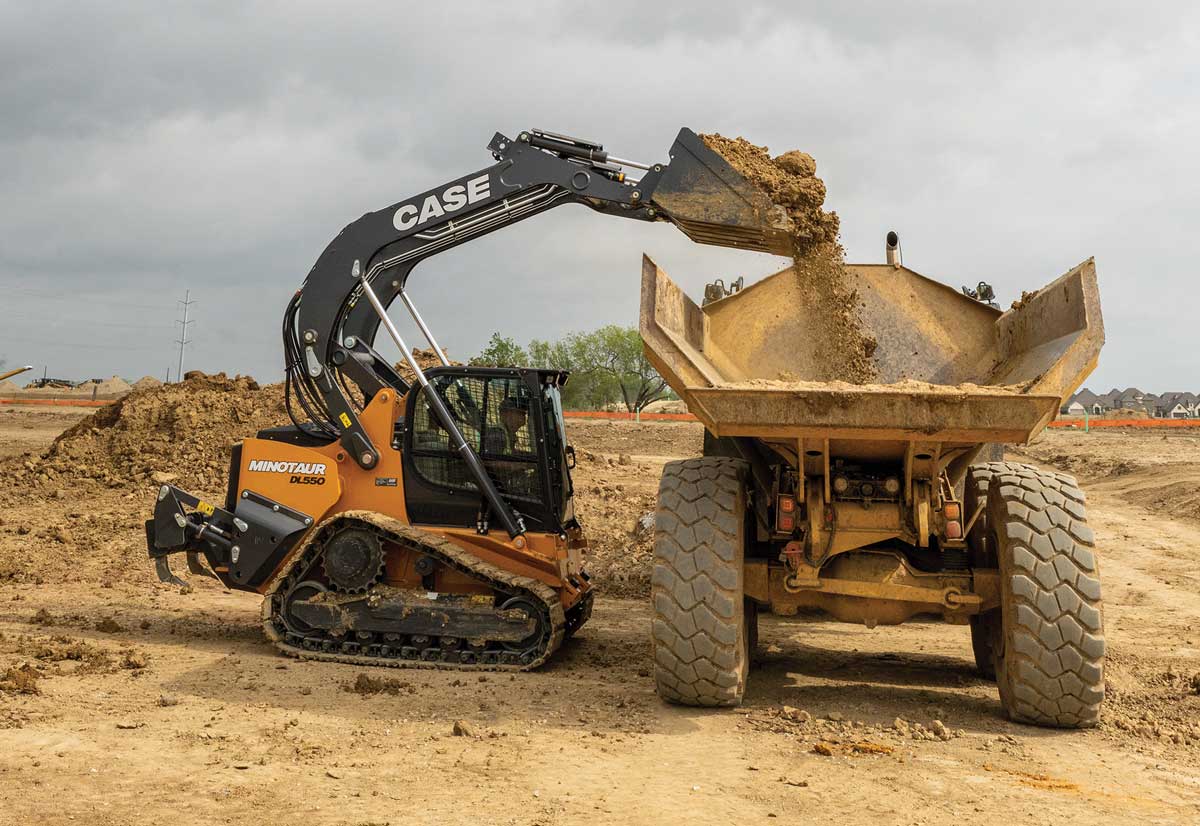 The Top Construction, Landscape and Rental Equipment Launched in 2022
Throughout 2022, the Compact Equipment crew traveled the countryside (tradeshows, product launches, zoom interviews, operation opportunities) to analyze and catalog every model of compact machinery released into the wild. Looking back, the last 12 months saw the introduction of an impressive array of off-highway construction equipment and OEM systems, but a certain set of equipment stood above the rest. We call them the Innovative Iron Award winners, and these particular units are, in our humble opinion, the best compact equipment released in 2022. Here comes a winner right now. See them all right here.
The First of Its Kind: A Hybrid Dozer Compact Track Loader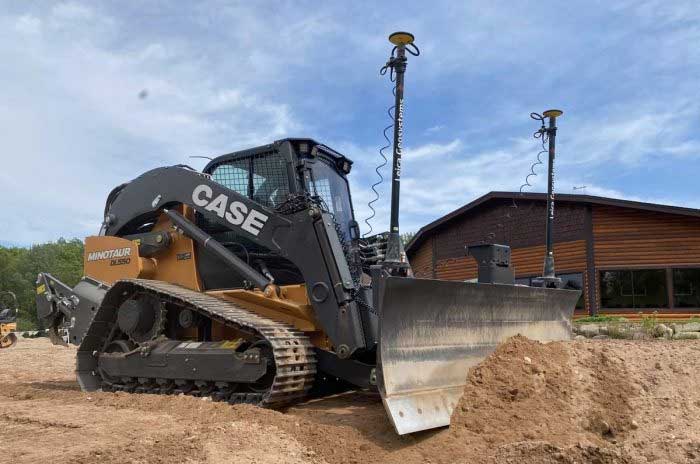 It's true that Case's Minotaur has already won a previous Innovative Iron Award — when it was in concept phase — but the machine has changed so much since then that now it's the only machine to win two. For example, the unit went from radial to vertical lift, which is a big deal for high lift truck loading applications. The finished product overall is market shattering.
Minotaur's C-frame blade is as big as the blade on Case's 650M dozer. It's a chassis-integrated six-way dozer blade, and it attaches to the DL550 via two enormous C-shaped metal hooks. The DL550 can be outfitted with a five-shank ripper on the back for tearing up tough terrain. There are a variety of grade control options (2D, 3D), multiple track choices (including two steel tracks with single or triple grousers) and the use of dozer-style paddle joysticks (with 16 virtual gears). But once that big C-frame blade is dropped, the DL550 can attach to and power any skid steer or track loader attachment with its high-flow auxiliary hydraulics (standard), delivering up to 41.6 gpm. There's nothing else like this on the market, so let's get into the details.
Weighing in at more than 18,000 lbs and working with 114 hp, the new first-of-its-kind machine delivers true dozing and grading performance, as well as powerful site loading capabilities and compatibility with hundreds of attachments. Just don't confuse the Minotaur with a CTL. Here's Terry Dolan, head of Case Construction Equipment-North America, at the Minotaur press launch back in August, which I attended.
It's a dozer first," emphasized Terry Dolan, head of Case Construction Equipment-North America at the Minotaur press launch last week. "It looks like a compact track loader. It shares basically the same skin, but it's what's inside that's very different. I really want you to make sure you look at the controls. Get in the cab. Those are dozer controls inside. The integrated C-frame is different than putting a small dozer blade on a compact track load or skid steer. This is truly a dozer first, but you can also quickly and swiftly drop that C-frame blade and enable it to be a loader. So small contractors, large contractors, contractors looking for a nimble, powerful product, the Minotaur is going to deliver that for them.
The hallmark advancement of the Case Minotaur DL550 is the chassis-integrated C-frame with six-way dozer blade. The C-frame hydraulically couples into both the chassis of the machine, as well as the attachment coupler. This design provides the stability and smooth operating plane of a small dozer while ensuring that all operating power is channeled through the whole body of the machine. This establishes greater performance and long-term reliability than the simple combination of a dozer blade attachment to a traditional compact track loader.
It unit comes standard with Case Universal Machine Control, which makes the machine ready for any of the major three providers of machine control technology, which are sold separately. It's also available with an optional, industry-exclusive fully integrated ripper for tearing up tough terrain to simplify dozing and earthmoving operations. The C-frame is then detached to allow the operator to use it as a loader with a heavy-duty 1.25-cu-yd bucket or with hundreds of common loader attachments many equipment owners already have in their fleet.
The Minotaur DL550 compact dozer loader holds 29 patents and has pushed through more than 10,000 hours of field tests, in addition to countless customer clinics and typical lab and engineering testing. Built on a dozer-style undercarriage and pushing with more than 25,000 lbs of drawbar pull, the Case Minotaur DL550 delivers true dozing power and performance. The machine is available with three different track options to meet operator preference and jobsite profiles:
14-in. single-grouser steel tracks
18-in. triple-grouser steel tracks
17.7-in. rubber tracks
The 90- or 96-inch six-way blade connected to the integrated C-frame is the same blade featured on the CASE 650M dozer and gives the operator a full range of dozer controls and movements. The machine's electro-hydraulic controls also deliver responsiveness like full-sized CASE dozers, with the ability to adjust blade, steering and shuttle sensitivity to smooth, moderate or aggressive to meet the operator's preference. Blade responsiveness can be further dialed in to operator preference by independently setting the speed of the blade tilt, lift and angle.
The industry-exclusive, fully integrated rear ripper is easily controlled from within the cab — it comes standard with three shanks and can be expanded to five shanks for more aggressive ripping. The rear ripper feature must be selected when ordering as it cannot be added after the time of purchase.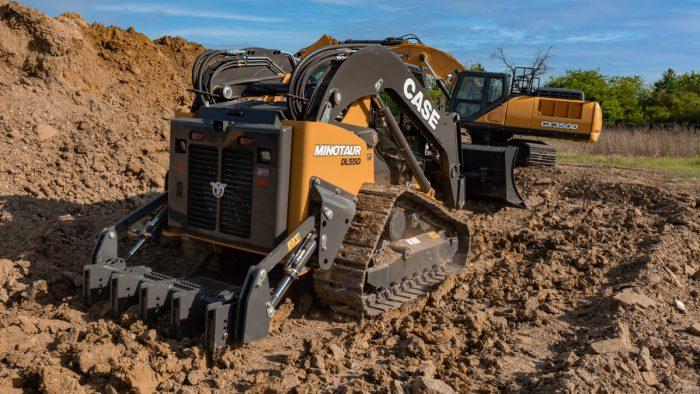 CASE Universal Machine Control provides universal harnesses and brackets to integrate machine control solutions from any of the big three providers of precision construction solutions — Leica Geosystems, Topcon and Trimble. This allows equipment owners to add the machine to their fleet with the confidence it can be integrated directly into preferred/existing machine control ecosystems. It also provides rental fleets the ability to easily switch between machine control brands, which allows for excellent rental flexibility based on customer preference.
In its loader configuration, the Case Minotaur DL550 features a 5,500-lb rated operating capacity (50 percent of tipping load) with 12,907 lbs of breakout force. It features a vertical-lift pattern and operates in the ISO control pattern. It also features advanced electro-hydraulic control capabilities where operators can easily dial in total machine responsiveness to low, moderate or aggressive; or independently set tilt, lift and drive speed, as well as loader arm and drive control to best meet the demands of the work.
Case builds the machine standard from the factory with enhanced high-flow auxiliary hydraulics for running the most demanding and high-powered attachments — such as mulching heads and cold planers. Minotaur's enhanced high-flow hydraulics can deliver up to 41.6 gpm at 4,100 psi.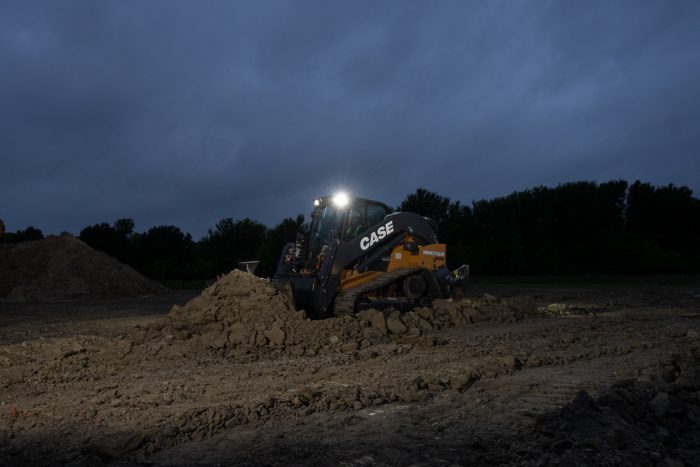 The machine also allows operators to harness all that power with "Hydraulics on Demand", where the operator can easily select the percentage of auxiliary hydraulic flow to the attachment via the machine's multi-function display. This allows the operator to dial in attachment performance to their preference or the recommendation of the attachment manufacturer — ensuring both effective and proper operation of the attachment.
The Case Minotaur DL550 compact dozer loader is manufactured in Wichita, Kan., on a dedicated line purpose-built for this one-of-a-kind, industry-first machine. It represents more than six years of development and collaboration between numerous Case plants, personnel, testing facilities and departments. Learn more about this amazing unit right over here.
Keith Gribbins is publisher of Compact Equipment.
Take a break from reading and check out our Machine Heads video series!