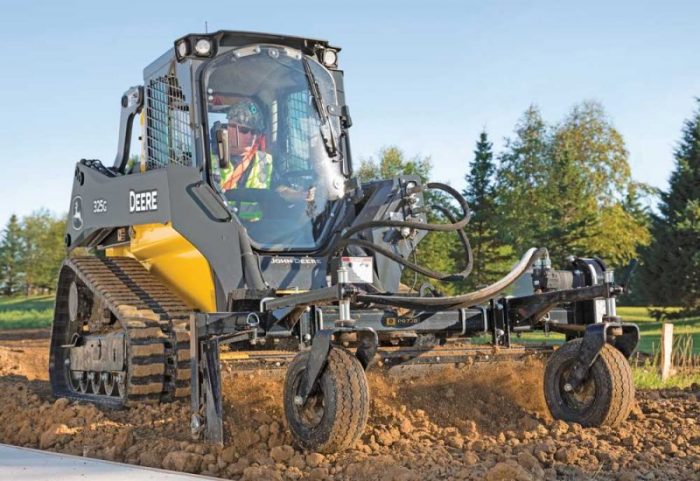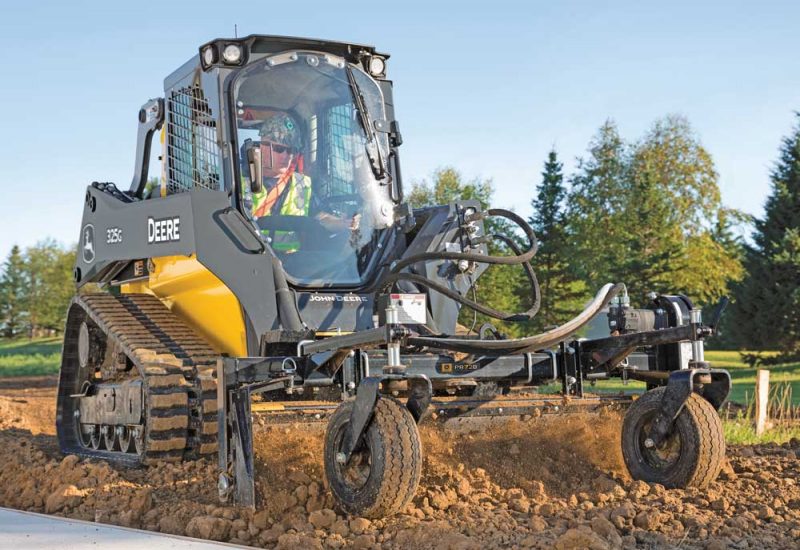 The inclement weather of spring and fall always makes finishing those construction and landscape projects a constant challenge. The wet weather makes jobsites slick and unworkable, and skid steers get little traction on those slippery inclines and delicate work surfaces. That's why it's time to call in the mobile artillery — your little Sherman tank on tracks — compact track loaders. Tackling tough terrain and giving extra power are what compact track loaders are all about. Sometimes called rubber track loaders or multi-terrain loaders (depending on the manufacturer), these compact loader/tool carriers are engineered just like your skid steers (including the same attachment plate) but with the added versatility of a dedicated track undercarriage.
Rolling on rubber or steel tracks, compact track loaders can spearhead operations and navigate jobsites with extra flotation — especially in the wet weather months. A dedicated undercarriage also gives added tractive power (great in dozing operations), yet dispenses the weight of the entire machine through multiple track contact points for a lighter footprint. With extra power, lower ground pressure and added flotation and traction, the advantages of compact track loaders are growing on all types of professionals.
Wheeled skid steers will always have their strong markets (especially when hard surfaces, cost of ownership or increased cycle times come into play), but compact track loaders will continue to eat up market share in specific applications (like grade control and brush cutting). Large or small, vertical or radial lift, enclosed cab or just ROPS, basic or opulent, suspension or no suspension, low-cost or expensive — today's market offers a wealth of choices for buyers. Overall, units range from 23 to 118 net hp and operating capacities from 700 to 3,500 lbs (remember, that's operating capacity rated at 35 percent tipping load — not 50 percent like skid steers). To learn more, take a look see at these eight top models.
Kubota SVL97-2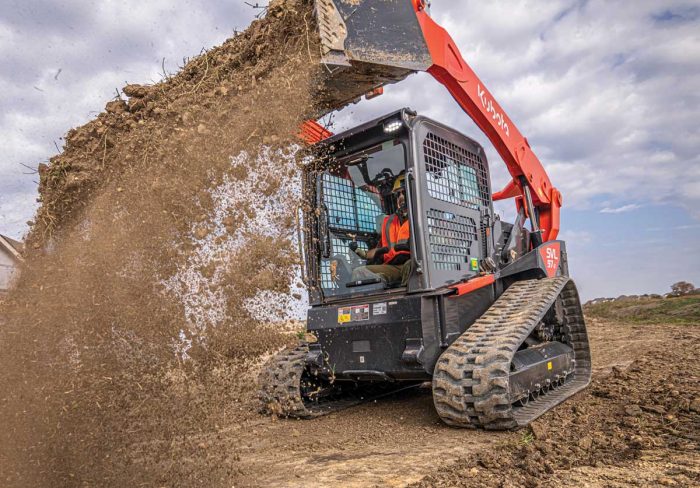 Kubota Tractor Corp. unveiled the newest member of its compact track loader line with the SVL97-2. The new SVL97-2 offers increased productivity coupled with Kubota's tradition of dependable power. The new SVL97-2 boasts a 96-hp engine with a rated operating capacity of 3,200 lbs (at 35 percent tipping load). The track loader outperforms the competition by boasting an impressive 7,961 lbs of breakout force and a staggering 3.4-ft reach at max height. The DEF system has also been re-engineered to ensure long-term reliability and productivity. The SVL97-2 also includes telematics, rearview camera and lockable DEF door as standard equipment. For more info, visit kubotausa.com.
John Deere 333G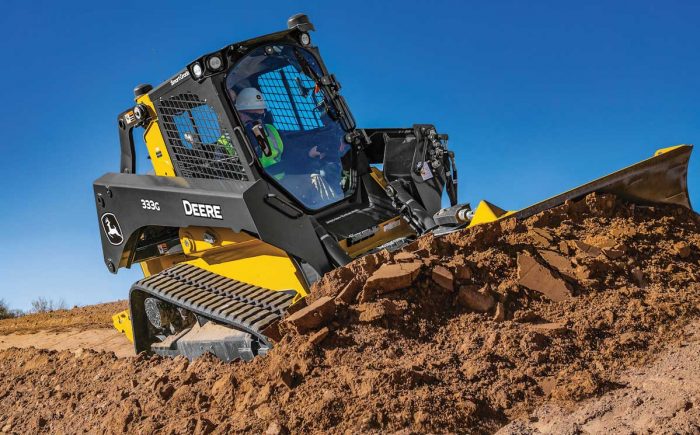 Designed to expand the capabilities of operators working in site development, road building, landscaping, residential and commercial building operations, the John Deere 333G compact track loader offers optimal power and expansive capabilities for jobs of any scale. The refined vertical-lift loader design of the 333G CTL rises higher and reaches farther than previous models for quicker and easier loading. The spacious, comfortable cab is tightly sealed to keep out noise and dust, while optional features such as heated seats, side lighting and a rearview camera enhance operator comfort on the job. The 333G CTL is easy to operate, easily transported and has a multitude of attachment options. For more info, visit deere.com.
Takeuchi TL8R2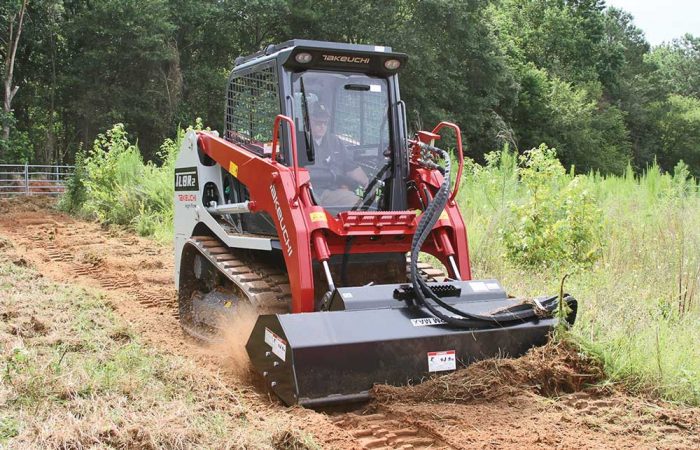 Takeuchi's TL8R2 is the latest addition to the company's redesigned track loader lineup. Featuring a radial-lift loader design, the 74.3-hp machine weighs in at 8,807 lbs, offers a bucket breakout force of 6,204 lbs and has a rated operating capacity of 2,116 lbs. The TL8R2's undercarriage features repositioned travel motors with internally routed drive lines, double- and triple-flange track rollers and quiet-ride track design. Two working modes, Standard and Eco, let operators choose the most appropriate option. An upgraded operator's station comes standard with a redesigned overhead door, 5.7-in. multi-informational color display with rearview camera, LED lighting package and more. For more info, visit takeuchi-us.com.
Manitou 1350RT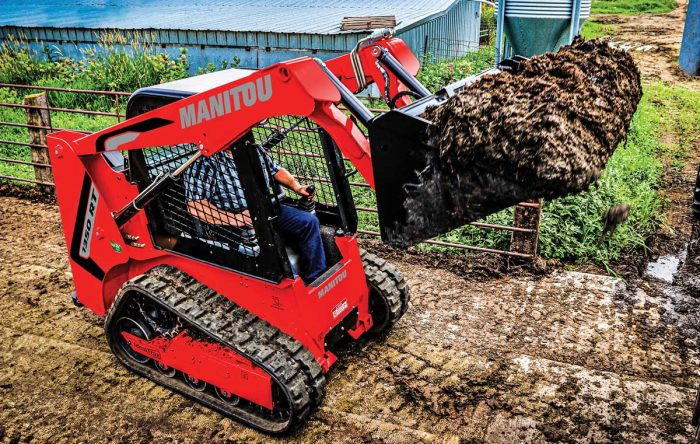 The Manitou 1350RT punches above its compact dimensions. With an overall width of 57 in. and height of 76 in., it can lift up to 110 in. and, at 35 percent operating capacity, can lift 1,350 lbs. The Manitou 1350RT features a 46.6-hp Yanmar engine that utilizes automatic regeneration and zero fuel additives, providing clean emissions with little to no effort from the operator. Equipped with the Manitou trademarked IdealTrax track tensioning system, the 1350RT saves on maintenance and track replacement costs by automatically tensioning the tracks when the engine is on. This process eliminates the chance of over-tensioning and extends the life of the tracks up to 15 percent. For more info, visit manitou.com.
Have questions about protecting your crew during the current pandemic? Check out our COVID-19 microsite for more resources from cleaning equipment to wearing the proper PPE.
Cat 299D3 XE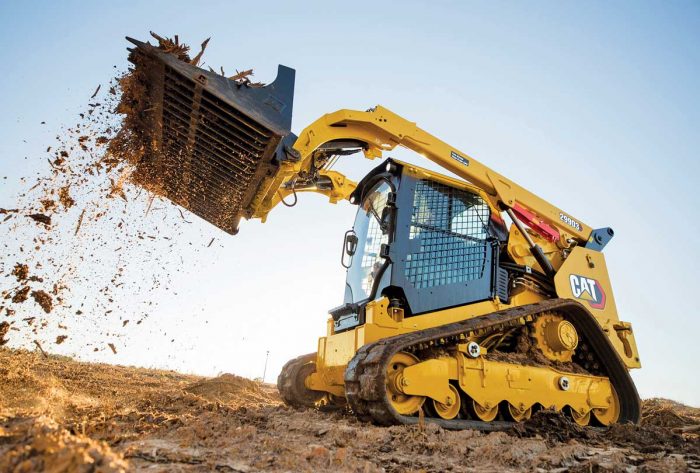 Caterpillar has seven new Cat D3 Series compact track loaders which support a new line of Smart Attachments for grading and excavating. This advanced machine technology tailors the controls and operator information to match the specific Smart Attachment that is connected. The largest of the CTL offerings, the 299D3 XE, is the highest performing and most advanced available in the line. Also included in the D3 Series CTL family is the new purpose-built Cat 299D3 XE Land Management CTL, which delivers superior performance in demanding vegetation-management applications with a 110-gross-hp engine, combined with a 40-gpm high-flow/high-pressure auxiliary hydraulic system, producing a hydraulic horsepower rating of 94 hp. For more info, visit cat.com.
ASV MAX-Series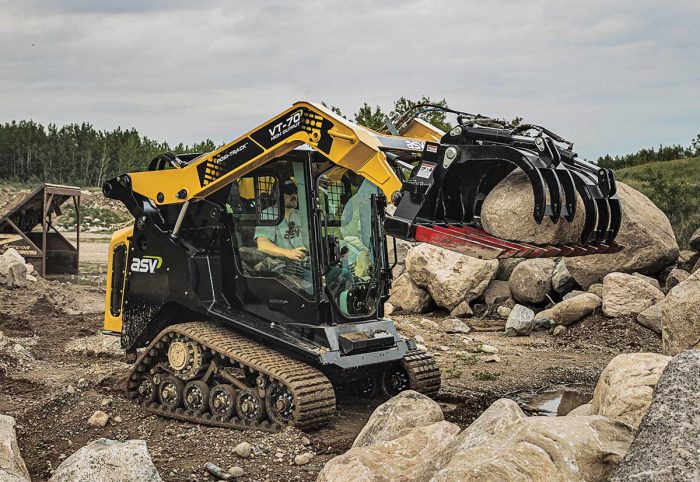 ASV Holdings Inc. gives operators a premium operator experience with the introduction of the MAX-Series loaders. The line includes the RT-65, VT-70 High Output, RT-75 and RT-75 Heavy-Duty MAX-Series Posi-Track loaders. Operators can work in comfort with the MAX-Series' new fully suspended seat, featuring adjustable recline, slide, weight and four-way arm rest settings. A roomier cab includes up to 2 more in. width at the shoulders, 8 in. more width at the knees and up to 4.5 in. more foot room. The cab also features available Bluetooth radio and improved speakers. The new cab provides premium 360-degree visibility and gives the operator 52 percent more glass area in the optional enclosed cab. For more info, visit asvi.com.
Wacker Neuson ST50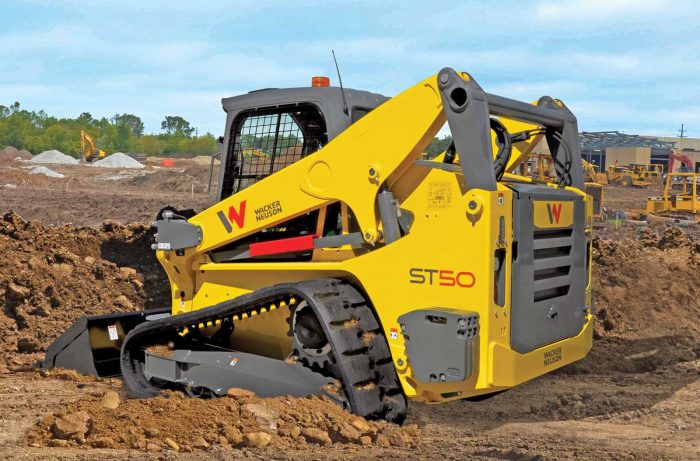 Wacker Neuson's largest compact track loader is the ST50 jobsite workhorse. Powered by a 100-hp Kohler KDI 3404 engine, the ST50 brings maximum power and efficiency to any jobsite. This compact track loader has been optimized to provide more working power to achieve faster cycle times. The hardworking ST50 provides the needed power when operating high demand hydraulic attachments such as forest mulchers and cold planers. The vertical-lift ST50 provides a rated operating capacity of 3,500 lbs (35 percent) and 5,000 lbs (50 percent). With a hinge pin height of 136.3 in. and extended reach at full height, the ST50 is ideal for dumping and loading trucks with high sides. For more info, visit wackerneuson.com.
New Holland C362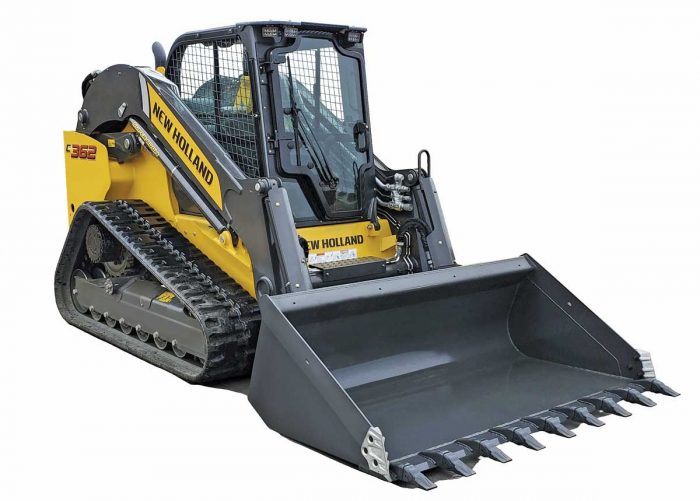 New Holland's new-for-2021 C362 Super Boom compact track loader is set to become its biggest, most powerful CTL yet. This new model offers the rugged construction, power and performance to excel on the farm, in rental yards and on construction sites. With a 6,200-lb rated operating capacity and greater breakout force, the C362 lifts more hay bales, hauls heavier pallets and moves bigger boulders so you keep ahead of schedule. Equipped with New Holland's patented Super Boom vertical-lift design, the C362 is optimized for lift-and-carry operations. This lift linkage offers better height and reach when compared to competitive machines. For more info, visit newholland.com
Tags:
ASV
,
ASV Holdings Inc.
,
Caterpillar
,
John Deere
,
Kubota
,
Manitou
,
May 2021 Print Issue
,
New Holland
,
Takeuchi
,
Wacker Neuson