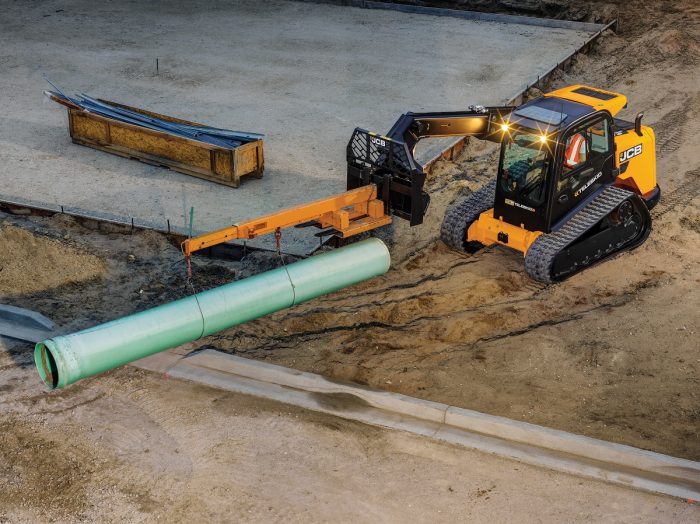 Since its introduction in the late 1980's, the compact track loader (CTL) has become one of the most utilized pieces of construction equipment on a jobsite. Its ability to perform a number of tasks in a wide range of applications make it invaluable to construction companies, landscaping businesses, forestry, demolition work, and the list goes on.
With tracks in lieu of wheels, CTLs provide additional traction and cause less ground disruption making it a perfect fit for working in uneven, sandy or muddy environments.
But some jobs and applications require just a little more than what the traditional CTL offers such as the ability to reach and dig below grade. Requirements such as this would typically mean customers purchase additional machinery or make job site adjustments to perform tasks such as loading a flatbed trailer from one side or any type of grading work.
CHALLENGING THE NORM
No stranger to challenging the traditional concept of how construction equipment performs, JCB introduced the single armed compact track loader in 1993 which allows for side-door entry, the only CTL on the market to offer such entry. And in 2017 JCB took its single armed CTL design and created the industry's first and only telescopic CTL called the JCB Teleskid.
Available in two models, the JCB 3TS-8T Teleskid has a rated operating capacity of 3,695 lbs retracted, offers 13 ft, 3 in. of lift height, 8 ft of forward reach and 3 ft of below grade dig depth. The more compact 2TS-7T has a rated operating capacity of 2,096 lbs retracted, lift height of 11 ft, 10 in., forward reach of 7 ft and the ability to dig 2 ft below grade.
TAKING BUSINESS TO A DIFFERENT LEVEL
Colby Tinsley from CTI Construction Services, whose business focuses on concrete and excavation work, was looking for a new compact track loader to add to his fleet that would be bigger and stronger than his current machinery.
"Teleskid stood out bar none and once I got in a Teleskid, it took me to a different level," says Tinsley. "I can use this machine in so many other places than where I used my previous compact track loader."
Jobs on Tinsley's sites that once required two machines or additional ramping, can be done by just one machine, transforming jobsite productivity in ways never thought possible.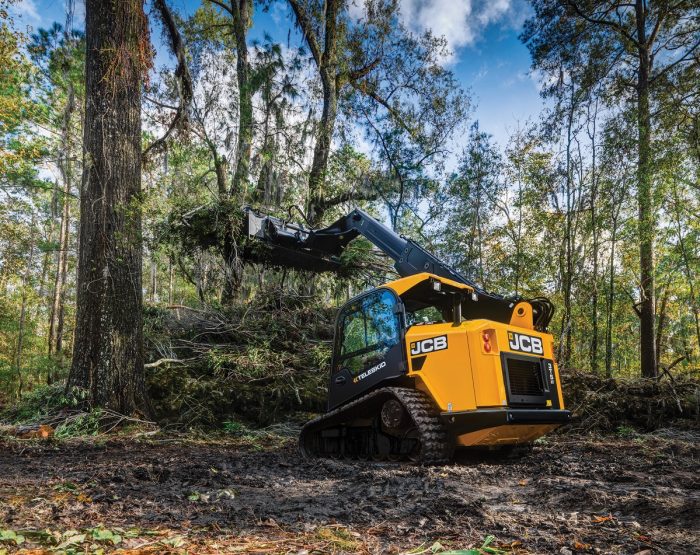 Tinsley explains, "Now with the Teleskid, we load trailers from one side, which is important because our job sites are muddy and rocky environments and you're not able to reach both sides of the trailer."
But it's not just the added reach that's changed Tinsley's business. Tinsley also uses his Teleskid for forestry applications which requires additional height he can now also get from his Teleskid with its 13 ft, 3 in. of height.
"We can go up higher than any other machine and mulch trees that normal machines can't just go up and clean."
REACHING INTO THE FUTURE
More and more customers like Tinsley are seeing the benefits the JCB Teleskid offers with added reach, height, and the ability to dig below grade leading to increased popularity of the machine and a demand for additional reach and capacity.
"We hear from customers every day about the difference the JCB Teleskid is making in their business," says Ashby Graham, JCB North America General Manager of Product and Marketing. "We're listening to those requests and are constantly evaluating what the next generation of Teleskid will look like to provide even more productivity for our customers."
This article was provided by JCB. Click here for more info! Tags: JCB, JCB North America