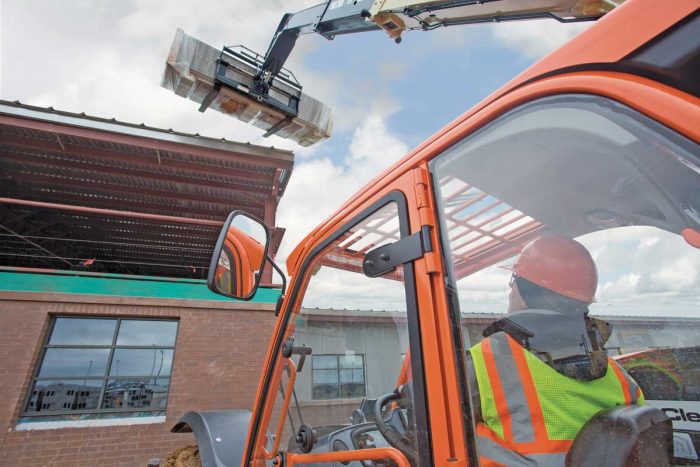 Need to move materials up high in a tight space? Bring on a compact telehandler. This small, nimble machine can load, lift and place materials all around a jobsite and fit into places larger telehandlers simply cannot.
"The main benefit of a compact telehandler, as the name would suggest, is its compact size," says Kurt Atchison, director of product management at Skyjack. "Similar to other telehandlers, a compact telehandler provides the benefit of not only lifting material up but also out and over. Being the size that they are, they obviously cannot lift the same size loads as larger telehandlers, but they are performing many of the same tasks that the larger machines would on a typical jobsite. Their compact size and weight make them ideal for not only construction applications but also agricultural applications and a variety of urban applications and sites such as parking garages."
Just like any machine, compact telehandlers need skilled operators to reach their full potential on the job. This starts with the right training and certification based on OSHA requirements, as well as ANSI standards.
"Telehandlers are covered in the Powered Industrial Truck 1910.178 regulations mandated by OSHA," says Rick Smith, senior director of global product training for JLG. "Many telehandler OEMs, including JLG, and rental houses offer telehandler training and certification programs. JLG's AccessReady training program meets all published OSHA and ANSI specifications for proper telehandler training so operators can walk onto the jobsite knowing they have the right credentials. And, AccessReady trainers can train operators on both JLG and non-JLG equipment, so they can be successful no matter what."
After completing a training program, operators should get to know the compact telehandler by practicing with the machine's controls before they hit the jobsite. Reading and following the machine's load chart is a critical part of telehandler operation, no matter if it's a compact or a full-size unit. This will ensure an operator is using the machine properly and safely moving materials on the jobsite.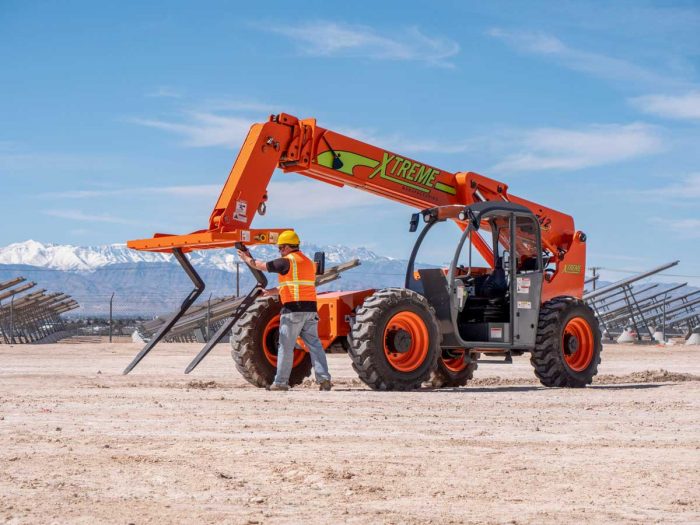 "One of the resources you need to consult before using a telehandler is the machine's load capacity chart," says John Boehme, senior product manager, JLG. "Every telehandler is equipped with one for each of the different attachments it can support, such as a fork carriage, bucket or truss boom. The load capacity chart highlights two key elements: 1) A telehandler's operating range and 2) it's operating envelope. The operating range of the telehandler reflects minimum and maximum boom angles, as well as fully retracted and extended boom positions. The operating envelope is located relative to the load center position of the attachment being used."
Boehme says that to effectively utilize the load capacity chart, an operator must initially determine some basic criteria:
The weight of the product or material being elevated
Desired height or reach that needs to be achieved
The model's load capabilities
"Once equipped with this information, the load capacity chart will provide you with guidance that will allow you to confidently utilize your telehandler," he adds. "For example, once you have successfully paired the weight and telehandler model, you can use the load chart to assess the load placement or retrieval position. Because boom angles and extensions are an integral part of every load capacity chart, you will use boom angle and extension information to place or retrieve the intended load at the required height and reach."
Aside from becoming familiar with the compact telehandler and knowing your load charts, operators need to look around the jobsite and identify any overhead obstacles such as power lines and scaffolding. Ground conditions are also important to consider to avoid getting the machine stuck or tipping it over.
"When operating any equipment on any jobsite, it's important to be aware of your surroundings," says Atchison. "For telehandlers specifically, always make sure you're familiarized on the model you're operating, and always make sure the boom is slightly lifted when driving throughout a jobsite so you have full visibility around your machine. Driving at appropriate speeds based on ground conditions will ensure the load remains securely on the forks. It is important to complete a pre-start workplace inspection to identify ground hazards as well as overhead hazards and apply controls as necessary to reduce risk. It is also recommended to have a spotter in tighter areas or in situations where visibility can be reduced."
Tool Time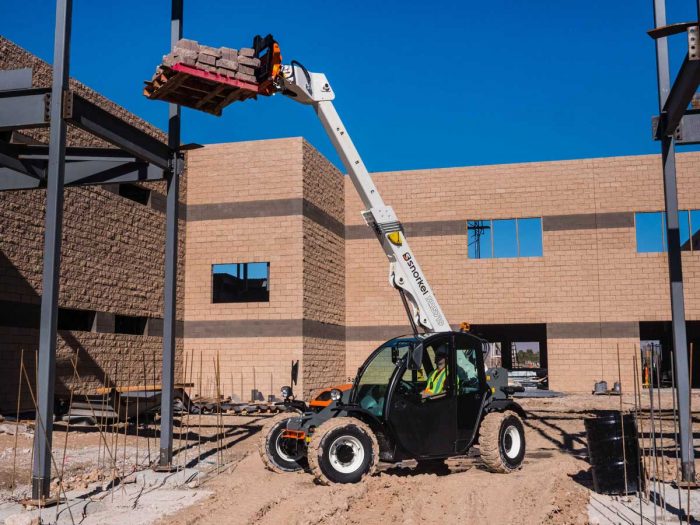 One of the most appealing features of a compact telehandler is its ability to use a variety of attachments — allowing operators to take on a variety of jobs with the machine. Some popular compact telehandler attachments include carriages, forks and buckets.
"As they serve similar applications as skid steers, you will see a number of compact telehandlers with options for adapter plates to accommodate the use of skid steer attachments," says Atchison. "Most compact telehandlers also feature high-flow hydraulic circuits, making them capable of ground engagement and supporting different rotating attachments — another benefit not found on most larger telehandlers."
Matthew Elvin, CEO of Xtreme Manufacturing and Snorkel, adds that tilt carriages, swing carriages and truss booms are commonly used attachments. A quick-attach system also comes standard on Xtreme Manufacturing and Snorkel telehandlers in North America.
Boehme says "specialty" attachments, like a sheet material handler, are gaining popularity thanks to their abilities to meet specific jobsite applications.
"This attachment can be used for picking and placing sheetrock, drywall, plywood, green board and other sheet materials," he says. "These quick coupler-mounted sheet material handler attachments can lift up to 3,000 lbs and offer a 72-in. maximum fork spread, allowing for heavy and wide materials to be delivered at height."
While there are all sorts of attachments to choose from, forks continue to be one of the most utilized among telehandler operators. They are especially useful in pick-and-place operations. Here, Elvin offers five operating tips for using forks.
Before each lift, understand the weight of the load to be lifted as well as its center of gravity. Make sure the center of gravity of the load is within the dimensions stated on the load chart.
Understand the height and forward reach requirement of the lift and its correlation to the load chart load zone. Ensure the lift is within those limitations.
Approach the load slowly and squarely with the fork tips straight and level. Make sure the forks are adjusted to the maximum width of the pallet. Insert the forks until the load is against the fork frame.
When carrying a load, keep it as low as possible but still maintain good ground clearance and visibility. Always maintain a slow speed.
Always make sure that the load did not shift during handling. Sometimes while traveling over rough terrain, the load can shift side to side and should always be re-adjusted to the center before performing the placing operation.
Pam Kleineke is managing editor of Compact Equipment.