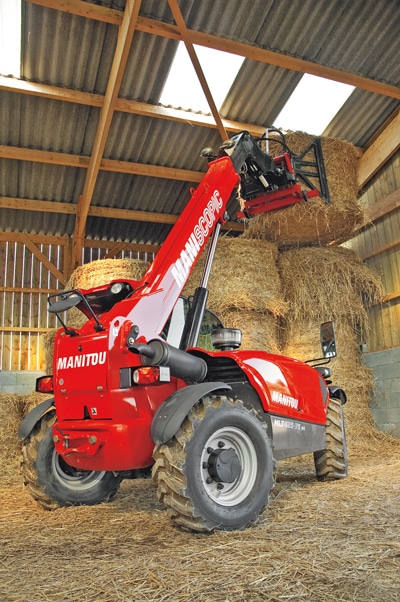 The basic design of compact telehandlers makes them service friendly: The machine's engine is on the side where shop technicians can easily access it at standing height. So, do technicians like to see compact telehandlers rolling into the maintenance shop?
"I think that probably is a fair statement," says Mike Harwood, technical specialist for JCB national accounts. "As opposed, say, to a larger excavator that has several computers on it and several different systems working at one time. In all honesty, a telehandler probably is simpler than most other heavy equipment."
JCB's simple machine is the 525-60 Hi Viz, which meets the "compact" telehandler criteria of 5,500 lbs of lift and 75 hp or less. Harwood says maintaining the smaller machine is not much different than servicing larger JCB telehandlers. "It's just a compact version. Fewer moving parts, but normal services, normal greasing. There is nothing that is specific to this machine that you won't find on our larger models."
Yes, agrees Stuart Fox, who is JCB's North America material handling product manager, "but you won't have some of the aftertreatment components that the larger machines have because of engine size." Good point. The 525-60 is powered by a Tier 4 Final 74-hp JCB diesel by Kohler diesel engine that is spared a particulate filter or other emissions devices. This is a definite service advantage.
Manitou has three telehandler models in this horsepower and lift range — the MT625, MLT625 and MTA5519. For that matter, its wholly-owned subsidiary, Gehl, also offers a compact model, the RS5-19. They differ in configuration according to application — the ag market, for example, or the rental and construction markets — with some maintenance differences. The MLT625 targets agriculture settings and has an auto-reverse fan on the cooling system to keep debris from clogging screens. The rental units, on the other hand, do not have air conditioning units to maintain and offer easily cleaned vinyl covers on seats.
But all have side engines with swing-away hoods for easy servicing. Manitou engineers also added remote lubrication points. That is to say, easily reached grease nipples are fitted to tubes leading to actual points of lubrication. "Grease needs to be in those places, and these remote points make it a little bit easier," says Steve Kiskunas, product manager for Manitou telescoping handlers. "We find that operators and service techs don't want to crawl under the machine where there is a pile of mud." Or in the case of farm machines, a pile of manure.
Neglected lubrication is the most common cause of mechanical breakdown on telehandlers, manufacturers say. Harwood says the rear axle pivot point on JCB telehandlers is vulnerable to failure if it is not periodically greased. "With a lot of machinery failures, that is exactly what the problem is — something wasn't greased."
The oscillating rear axle on JLG's G5-18A compact telehandler — which Brian Boeckman, JLG global product director for telehandlers, says gives the machine "terrainability" — also requires some servicing. "The axle requires very little maintenance. It simply needs to be lubricated every 250 hours." If not, the terrain wins.
Abuse of machinery through neglect of such commonsense maintenance becomes evident when a telehandler or any other piece of equipment is traded in, according to Kiskunas. "Lack of lubrication is one of the greatest problems people see when they buy used machines. If you don't lubricate the machine, it generally shows up in bearings and joints and pins."
Compact machines, by definition, are small, which can translate into tighter working conditions for technicians. But manufacturers uniformly claim that maintenance operations are not impaired by the compactness and, in fact, are enhanced because everything including the boom is lower to the ground and easier to reach.
"In some ways, smaller machines are easier to maintain than larger JLG models," says Boeckman. "For example, the G5-18A has only a two-section boom, so there are no chains to lubricate or adjust."
The boom is a primary maintenance focus on these machines. After all, says Harwood, "That is what makes a telehandler a telehandler. Consequently, you want to check your spacing, your trims and that there is no debris in the boom."
The service manual for the Manitou MLT625, for example, recommends that the boom be cleaned and greased daily to ensure that the sections slide freely inside one another. Also, the trims — or wear pads — should be cleaned and greased daily and inspected every 1,000 hours for possible replacement. The pads are engineered to handle the friction between the interacting boom sections and to eventually wear out. Worn-out pads loosen the smooth interaction among boom sections.
Recommendations on pads can vary from manufacturer to manufacturer. Boeckman says that "in a two-section boom like the G5-18A, the most important preventive maintenance activity is to check the boom wear pads every 250 hours and replace them if needed. Doing this, along with keeping the pins greased, will ensure a long trouble-free life in the field."
Besides the usual daily checking of engine and hydraulic fluids and the cleaning of some filters, Manitou engineers recommend weekly examination of tires to ensure they are properly inflated. While inflating tires to recommended pressures is really about tire wear, when it comes to telehandlers, it also is a safety issue: A tire with low air pressure increases the machine's instability when the boom is extended and balance becomes critical.
The 75-hp engines on compact telehandlers give sufficient power to move the machine nimbly, operate boom functions briskly and work effectively in a variety of environmental conditions. The 525-60 Hi Viz can, for example, produce peak torque at 1,500 rpm. Asked if the relatively small engine on a compact telehandler ran the risk of being overworked, JCB's Stuart Fox says definitely not. "You could put a 74-hp engine into a 10,000-lb machine. It has more than enough horsepower."
A key to maintaining a compact telehandler is to operate it correctly. Kiskunas talks, for example, about "doing everything smoothly" when operating a boom. "Start slow when you are extending the boom, and then go faster in the middle and slow down before you reach the end. The same with retraction. Don't slam one section into another. That kind of operation is not good for the machine."
Fox suggests that proper care of a machine begins with buying the right one. That is because different applications of a telehandler produce different stresses, and models are designed accordingly. "A customer needs to know what his application will be and get the right machine for it. Overheating can be an issue when a telehandler is being run at full throttle and full hydraulic function because it is the wrong machine for a job."
Kiskunas says he has begun to see movement toward more use of telematics in telehandlers, which he believes is an encouraging trend. "From a maintenance standpoint, telematics offers an outstanding opportunity for equipment owners to get the diagnostic information they need to maintain a machine."
Manufacturers agree that they want to partner with buyers of their telehandlers, not just sell them a machine, but keep it operating properly for the full life cycle of the product. To that end, some brands offer general two-year or 2,000-mile warranties, while others specify separate powertrain and structural warranties.
Giles Lambertson is a freelance writer for Compact Equipment.