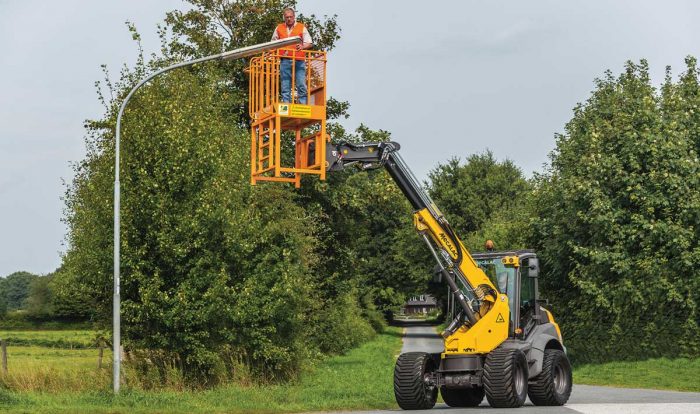 Europe is the perfect incubator for new construction machinery concepts. And that stands to reason: The continent is full of old cities with narrow streets and low-hanging, delicate buildings, and the layouts of the old cities often mean that modern buildings must also conform to tighter, more compact layouts. So, it's not surprising that both OEMs and contractors in Europe are constantly on the lookout for and willing to try out new machine designs.
One such machine that's starting to turn heads here in North America is the telescopic wheel loader — a hybrid design that is exactly what its name implies — a machine with the high-reach prowess of a telescopic handler combined with the bucket and attachment capabilities of a compact wheel loader.
"Contractors see the benefits they offer on jobsites," says Ethan Clowes, product manager, wheel loaders, JCB. "They're just simply more adaptable machines. Contractors can use one of them instead of buying or renting two different machines to get the same amount of work done."
JCB's TM220 and TM320 articulated telescopic handlers combine the features and benefits of a JCB wheel loading shovel and JCB telescopic handler, and both have farm versions (the TM220 Agri and TM320 Agri). The TM320 boasts a forward reach of 9 ft, 10 in., a lift capacity of 6,390 lbs and a lift height of 17 ft, 2 in. The smaller TM220 leverages a 74-hp engine (no DEF!) that produces 300 Nm of torque, powering a two-speed hydrostatic transmission with a max lift height of 15 ft. There's also the larger TM420M, which has a maximum lift height of 17 ft, 8 in. and 10 ft of forward reach.
How does that compare to non-telescoping variants? JCB's similarly sized 407 and 409 compact wheel loaders max out at 10+ ft at the hinge pin height. That's a huge difference.
Telescoping or not, compact wheel loaders overall already offer numerous advantages over North America's preferred loaders (skid steers and compact track loaders). Wheel loaders articulate or use all-wheel drive which is: A) easier on tires; B) easier on turf and other surfaces; and C) better on fuel efficiency. Other advantages include better visibility, faster ground speeds, serious ground clearance, longer wheelbases for better ride quality, greater lift capacities and higher lifting ability. We've seen skid and track loaders compensate for high-reach apps with vertical-lift configs and even telescoping variants of their own (JCB again), but now with tele wheel loaders, it's hard to beat these lift heights with any other compact loader.
Here's another interesting option that's hard to beat: There are variants called "swing loaders" that also have high lift options. On Mecalac's AS Series of swing loaders, the boom and bucket can rotate 180 degrees, once the rear axle is locked, placing loads and products precisely. The AS900tele is the AS Series' telescoping swing loader. It has that unique ability to pivot its bucket 90 degrees to either side as well as reach over 15 ft.
"Contractors are starting to look for equipment with even more versatility to match the increasingly confined jobsites that are becoming more prevalent," explains Geoffrey Andrews, regional sales manager, Mecalac North America. "That's why we have seen a great response toward our telescopic swing loader, the AS900tele. Telescopic wheel loaders achieve the lift height of larger machines but with the maneuverability and compact footprint of smaller machines."
What applications are best for these tele loaders? Construction? Farming? Waste management? Snow work?
"A compact telescopic wheel loader is a great choice when your main focus is to load at greater heights," notes John Dotto, product application and training specialist, Wacker Neuson. "They are versatile machines for loading, stacking and dumping materials and can easily manage high-sided trucks and material containers. Many industries and applications can benefit from this additional lift height. The challenge is how to get maximum lift and dump height in the smallest footprint along with the most maneuverability. In agriculture, for example, loading high-sided mixing wagons and trucks can be a challenge for a small loader. That is where the additional loading height of telescopic loaders comes into play."
Wacker Neuson's WL60T articulated wheel loader with telescopic boom is equipped with a 102-hp Tier 4 Final turbocharged Perkins diesel engine, travel speeds up to 24.9 mph and a telescopic arm that delivers a 16-ft, 8-in. hinge pin height. The 8085T sports a Tier 4 Final, 74-hp Deutz engine, three steering modes (all wheel, two-wheel and crab) and a telescopic boom with an extended reach of 15 ft, 4 in. to the hinge pin. In comparison, Wacker Neuson's WL60 articulated wheel loader delivers a 12-ft, 1-in. hinge pin height, and the 8085 has a reach of 10 ft, 8 in. to the hinge pin.
High Lift Options: Plenty of Manufacturers Also Offer High Reach Configs without Telescoping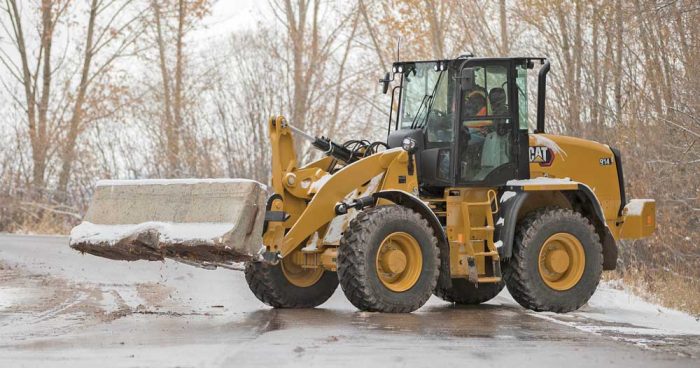 Cat Trio
Building on the success of its compact wheel loader range, Caterpillar has added three new models: the 910, 914 and 920. All the new models are available in a high-lift configuration, and the 914 and 920 are available in an aggregate-handling configuration. Among the design changes is a new engine for all three models. The Cat C3.6 replaces the C4.4, and with the new engine, all models get a horsepower boost. Also new for the 910 and 914 is an available rotary-sensor-kickout system with both fork and bucket settings. Additional rear guarding is now available for the 914 and 920, and new auxiliary hydraulic lines are available when the three- or four-valve option is selected. For more info, visit cat.com.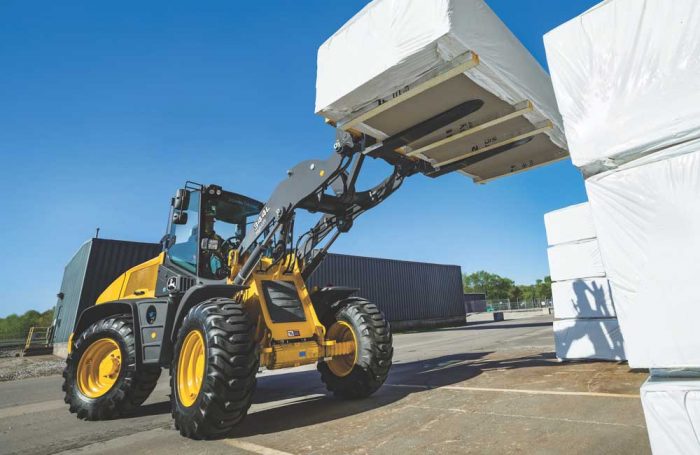 John Deere 344L
John Deere's high-lift option on the 344L compact wheel loader offers operators increased height and further reach for dumping or stacking in a variety of applications including ag material handling, general construction, landscaping and snow removal jobs. The 344L High-Lift provides operators an additional 12 in. of hinge pin height compared to the standard 344L, and when combined with the industry-exclusive Articulation-Plus steering system, allows operators to maximize productivity with easier maneuvering and increased lifting capacity. With a maximum of 103 hp and 24.9 mph transport speed, operators don't have to sacrifice speed or power. For more info, visit deere.com.
The high-reach versatility of telescopic wheel loaders have made them a go-to piece of equipment in Europe for nearly 20 years. "Large or multiple machines can't work efficiently in the confined areas there," Andrews says. "Our telescopic swing loader further increases versatility in tight spaces by incorporating extended reach, the reach lengths of which were previously only attainable with larger equipment."
Additionally, Andrews says, multi-functional equipment is favored in Europe, especially for municipalities. Municipalities often rely on a single piece of equipment that can navigate tight spaces, and, when outfitted with a telescopic feature like on the AS900tele, can quickly shift between tasks like material handling at height, building barrier walls, loading trucks, vegetation control and more.
Price vs. Reach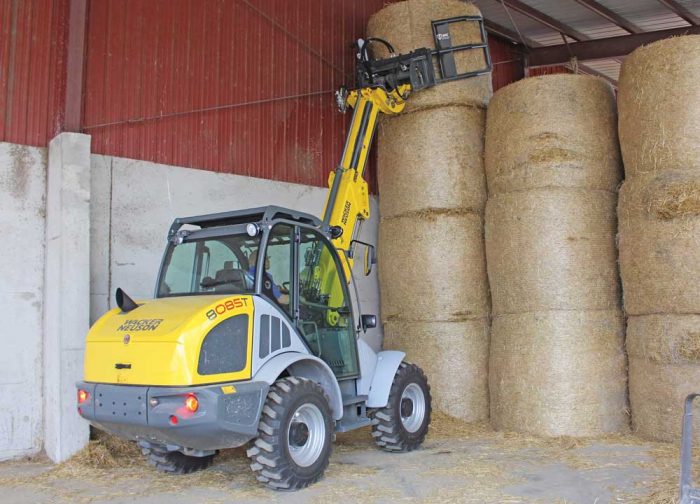 A key performance attribute for telescopic wheel loaders is their ability to provide extra loading and dumping height, but these long-armed loaders also have some challenges compared to competitive units.
"As with any machine, there are some drawbacks," Dotto says. "For example, a telescopic loader does have a higher price point due to increased mechanics needed to run the telescopic boom. It also has more moving parts, so naturally, that comes at a higher price to maintain. However, when the application calls for higher and longer reach, the improved cycle times and increased overall productivity has a very fast return on investment."
In Clowes' opinion, the use of high-pressure attachments is driving the popularity of telescopic wheel loaders in North America today. "Any tool you can run on a conventional wheel loader or tool carrier you can use with a telescopic wheel loader," he says. "And that incredible versatility is enhanced by the ability to lift heavy loads and accurately place them at height."
I hate to be the bearer of bad news, but sometimes you can't have it all… unless you rent. From finding the right dealer to scoring the perfect rental machine, we have you covered!
This equipment may be more expensive, but it can also take on new jobs. For instance, a telescoping loader is especially well-suited for compact urban jobsites or road construction projects where closing down additional lanes of traffic is just not feasible. Municipal applications are also great for telescopic loaders. Being able to quickly move between highly variable tasks like loading trucks, installing fencing and working in narrow alleyways calls for a machine that is versatile but still highly functional.
"You get what you pay for," Andrews notes. "In the long run, basic level machines can't provide the high versatility or multi-functionality demanded by the modern urban jobsite. This results in higher investment costs as contractors have to buy more equipment to get the job done."
Operating a Telescopic Loader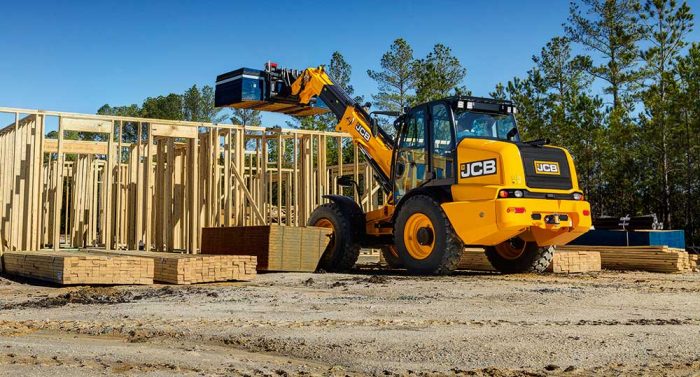 As with any new type of construction machine, you'll want to keep a few things in mind when operating a telescopic wheel loader.
"When you fully extend a telescopic wheel loader, you've changed the tipping point and the center of gravity of the machine, and extreme care should be taken," Clowes explains. "Your operator's manual will instruct you on proper operation of the telescopic loader."
The cabs on Wacker Neuson telescopic machines, Dotto says, feature a standard load management monitor that helps the operator understand how the stability of the machine is affected by the position of the boom. A series of green lights let an operator know when they are approximately at 25, 50 and 75 percent of maximum operating load. When the system senses the load exceeding this threshold, the system warns the operator to adjust operation with an amber warning light and audible tone. When the operator is working outside the parameters of operation, a red light illuminates and shuts the telescopic function down until the operator returns the load to an acceptable operating condition. "This is very helpful in understanding the capacity of your telescopic loader," he notes.
"Perhaps one of the biggest focuses of Mecalac's design process is making our machines as intuitive as possible," says Andrews. "Everything is right where it should be. We've reduced the learning curve at every turn, from major machine operations like our swing loader's 180-degree bucket rotation and tight turning radius, to features that often get overlooked, like being able to have both feet on the ground while filling the fuel tank, checking the oil and checking the hydraulic fluid. A new operator can be fairly well acclimated in a couple hours."
Fork It!
Telescoping wheel loaders can benefit greatly from a set of pallet forks. Small wheel loaders can use pallet forks to move palletized loads on construction sites, handle bagged fertilizer and seed at landscaping and nursery sites or deliver brick on a hardscape job. Pallet forks come in a variety of widths such as 42-, 48-, 60-, 72-in. wide and onward. They are often categorized as light, standard and heavy-duty. Class 2 forks are designed for smaller, lighter loads and class 3 forks are for heavier ones. If an operator needs to move a lot of material, they should understand the maximum and minimum weights they are working with to ensure they are using a machine and pallet forks that are able to support the necessary weight.
Overall, operation of a telescoping loader isn't that different than a normal loader. Load the bucket evenly and then avoid off-centered loading into trucks. Most tele compact wheel loaders have hydrostatic transmissions, and operators often use both feet when loading from a pile. Pressing the right pedal to the floor delivers maximum engine speed and hydraulic response. The left pedal, often known as the inching pedal, is pressed at the same time to control speed and braking. Additionally, operators should work a pile from multiple angles to break up hard packed material and achieve more consistent loading performance.
Approaching the truck or bin, regardless of size, becomes a matter of timing and knowing your loader characteristics. More engine rpm equals a quicker loader arm movement but also higher ground speed, so you'll need to know how to work the brake or deceleration/inching pedal to keep your ground speed in control as you approach the truck. Using programmable kickouts make repetitive cycles much easier as the loader is doing the thinking for you. Wheel loader operation is an article unto itself, so alas, we can't properly summarize it in this feature.
But when it comes to telescopic wheel loaders, Andrews stresses the machine's rated load capacity as well as the fact that incorrect operation of a telescopic boom can put operators at a disadvantage in terms of machine stability and control. For all telescopic loaders, he adds, carelessly operating the machine with an extended boom creates torsion in the boom, which can cause cracks. "As with any machine," Andrews says, "proper operation is very important for overall safety and equipment longevity."
Jack Roberts is a freelance writer for Compact Equipment.
Compact track loaders are the most popular category of compact equipment in America. Learn why with loads of track loader features right here.
Tags:
JCB
,
June 2021 Print Issue
,
Mecalac
,
Wacker Neuson