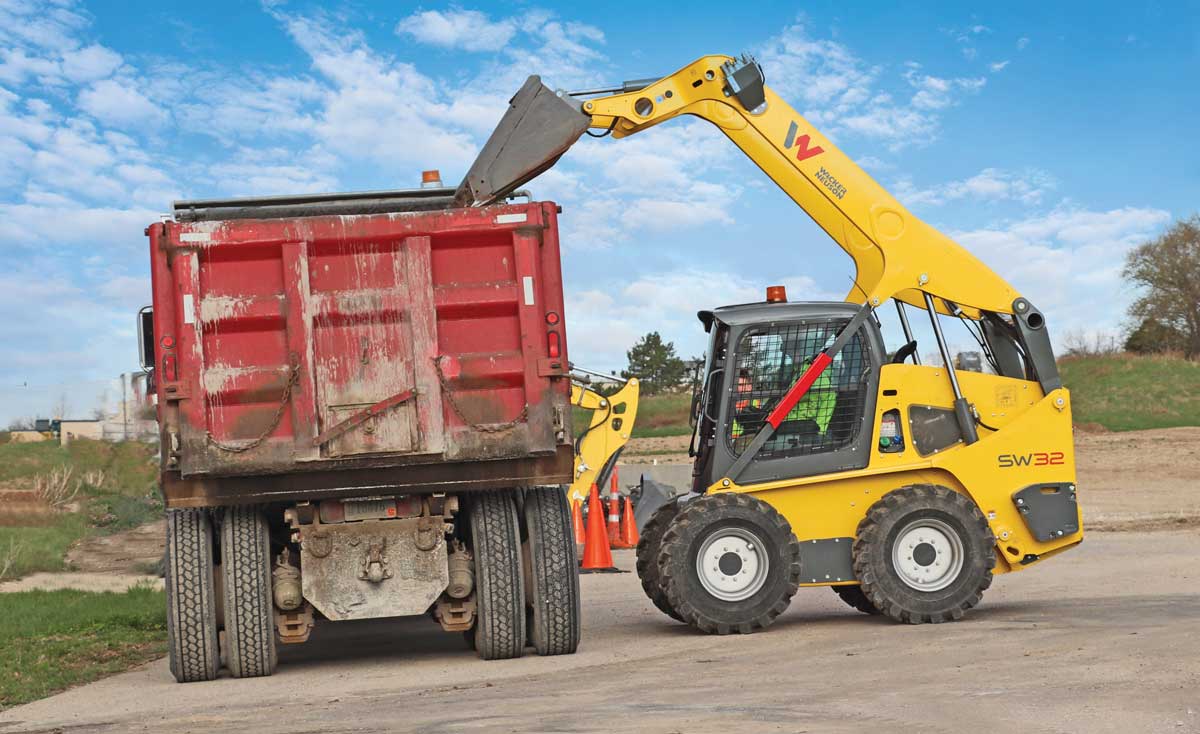 Seven Skid Steers Featuring an All-Access Design
Wacker Neuson has been manufacturing skid steers at the company's Menomonee Falls, Wis., facility since 2015. Since then, the company has continued to expand its skid steer line and offer many unique features and benefits to the market. But don't be fooled by the new-kid-on-the-block status. Wacker Neuson has been manufacturing equipment for the construction industry for over 60 years in the United States and has developed many products that have become global jobsite mainstays.
Wacker Neuson's line of skid steer loaders stand out in a crowded field for their all-access design. All access means that Wacker Neuson loaders stand out for their superior service accessibility and enhanced cab design that allows operators to easily enter, see and reach everything they need to get the job done, says the company. The best-in-class, all-access maintenance accessibility starts with a cab that fully tips forward even when the loader arms are down. This provides complete and easy access to all maintenance components. Opening the wide door at the back of the machine provides access to the well-organized daily check points, which are all easy to see and reach to speed up the maintenance process. This simple design and efficient layout means less time spent on daily service checks and more time on the job.
Wacker Neuson's skid steers usher in a new era of comfort features, including repositioned joysticks that promote intuitive and comfortable operation. The high-visibility cab includes angled pedals and a foot bed, as well as conveniently located switches that significantly reduce operator fatigue. Access in and out is easy with a wide door and step, plus there is no restrictive lap bar. Control options for any operator include mechanical hand-foot, electric-hydraulic (EH) hand-foot and selectable EH (ISO and H-pattern). This ensures operators with varying experience can efficiently operate the machines with ease.
The line includes the SW16, SW17, SW20, SW21, SW24, SW28 and the newest addition, the 100-hp SW32. The SW32 provides more working power to achieve faster cycle time when pushing or digging heavy materials. It also provides the needed power when operating high demanding hydraulic attachments such as forest mulchers. Rated operating capacities for the skid steer line range from 1,600 to 3,200 lbs. Contractors will find Wacker Neuson skid steers offer class-leading hinge pin height on the vertical-lift machines, says the company, and its large 40-gal fuel tanks give operators more time in the cab and less time spent refueling. All models were designed, tested and are produced at Wacker Neuson's Wisconsin plant.

Advice to Buyers
"Buying a skid steer loader is an investment, so look beyond just the initial price and consider the total cost of ownership when making a decision," says Adam Devins, product manager for skid steers at Wacker Neuson. "Machines that promote easy service and accessibility, such as a cab that tips forward even when the loader arms are down, makes service efficient and keeps the unit on the job. Skid steers can also operate more efficiently because of features such as auto idle, which saves on fuel and overall job noise, improving communication and safety."
Tags:
July August 2021 print issue
,
Spec Guide
,
Spec Guide 2021
,
Wacker Neuson