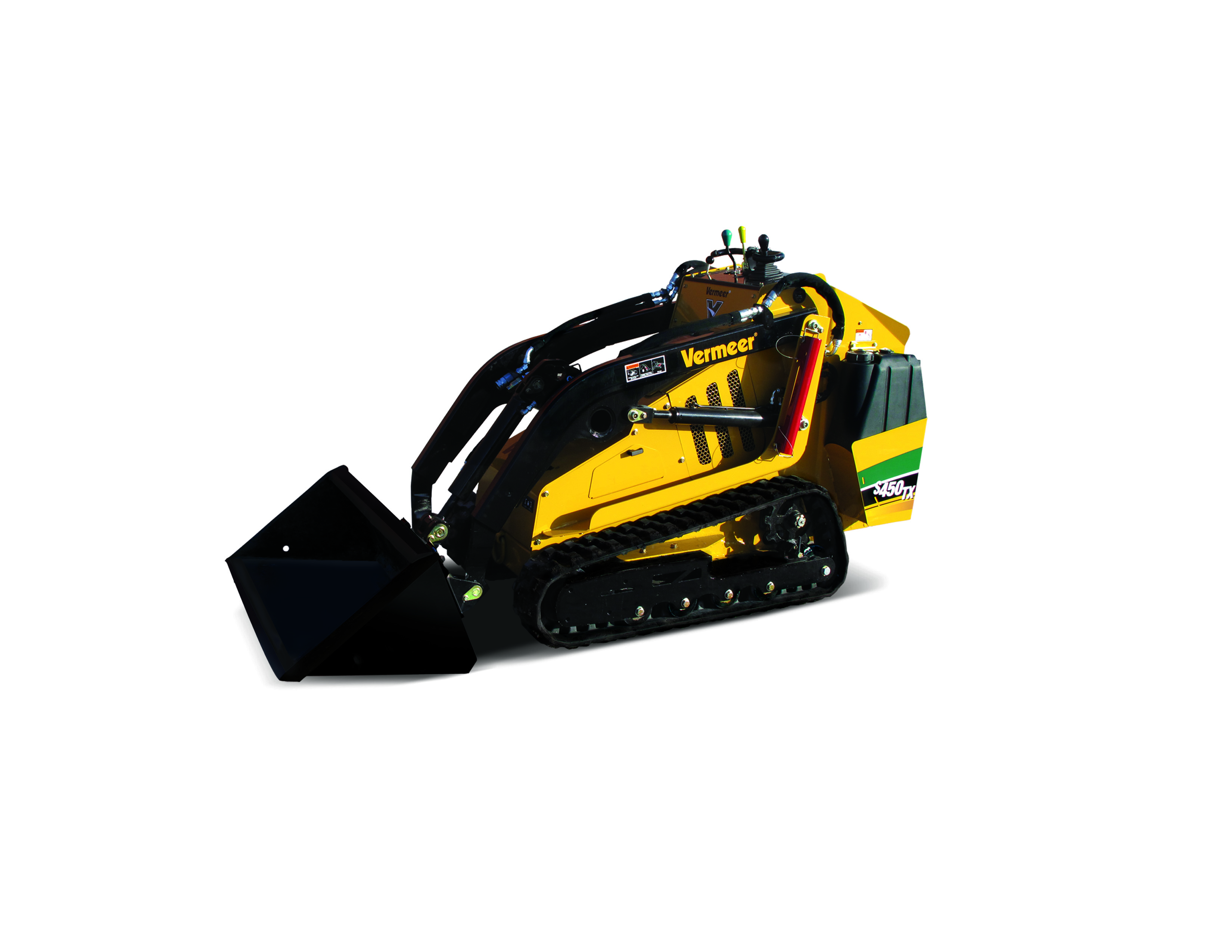 Good things really do come in small packages. Vermeer Corp. has recently completed its family of mini skid steers with the addition of the S450TX. The newest member of the Vermeer mini skid steer family is well suited for rental customers, as well as landscapers and general contractors who need a compact machine that can perform various tasks. With its ability to accommodate a wide range of attachments, the S450TX is one of the most versatile machines a contractor can have.
A 500-lb SAE-rated operating capacity with a 1,430-lb tipping capacity gives the S450TX a lot of muscle for its size. Vermeer has incorporated a four-pump hydraulic system, which provides performance and efficiency when powering attachments. A single pilot-operated joystick is now integrated into the S450TX platform, which makes the machine easy to maneuver and operate in comparison to manual control systems. The operator can also experience a smooth range of operation without having to balance the engagement of two separate controls.
The S450TX offers the customer the ability to customize the machine with the choice of engine and track options. A Kubota 24.8-hp diesel engine provides excellent torque performance designed for those who use attachments requiring greater engine torque. A Kohler EFI 27-hp gas engine will be available later this year. The EFI engine has a number of benefits, such as lower fuel consumption, easier maintenance, improved starting due to the elimination of the choke and cleaner emissions. A narrow 7-in. track provides a smaller machine footprint for tight work areas, such as landscaping applications and residential construction. The standard 9-in.-wide track offers reduced ground pressure for increased flotation and stability.
The S450TX is designed with a spring-cushioned platform that keeps operators out of the mud and debris. The platform features cushioning on the front and side for additional support when working in rough terrain. An operator presence system suspends ground drive and attachment motion if the operator steps off the machine. LED lighting for warning lights offers excellent visibility and longevity. With a rear panel and side shields for greater service access, S450TX operators are offered quicker maintenance and less downtime on the jobsite.