Cultivating kindness is a valuable part of the business of life. When it comes to global generosity, the equipment titan JCB Inc. understands that to err on the side of philanthropy is seldom an error. The leading English equipment manufacturer has a long history of donating equipment to organizations and charitable efforts — just recently assisting with cleanup efforts in Georgia and Alabama following the violent storms that rocked the region on April 27. According to JCB North America chairman and CEO John Patterson, the company's latest donations reflect its ongoing support of disaster relief efforts worldwide.
"As a global organization, JCB has assisted with relief efforts in a number of countries over the years," Patterson said. "The residents of Georgia and Alabama are JCB's neighbors here in the United States, and upon learning of the devastation left behind by the recent storms, we knew that we wanted to help them in any way we could."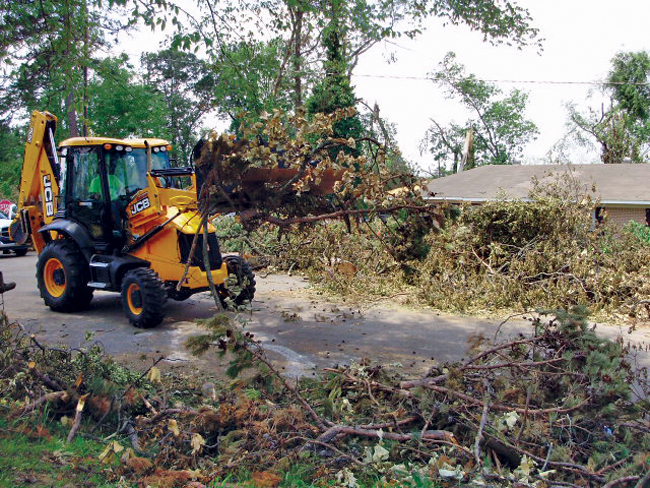 In these situations, the type of equipment that JCB manufactures is necessary to clear tree and building debris from roads and driveways so that recovery and rescue efforts can take place. After hearing of the widespread damage throughout the Deep South, JCB employees in Savannah, Ga., and dealers in Georgia and Alabama devised plans to donate the use of heavy equipment to launch the long recovery process in the areas hardest hit by the powerful storms.
Spencer Howard, a member of JCB's demonstration crew based at the North American headquarters in Savannah came up with the idea to take a JCB New Generation 280 skid steer loader with fork, bucket and grapple attachments to Ringgold, Ga., and begin clearing roadways. Howard ran the idea past Neil Smith, JCB's events and demonstration manager, who fully agreed with his plan. Howard became part of a volunteer crew that worked from daylight to dark, Friday, April 29, through Sunday, May 1, using the JCB 280 skid steer's speed and maneuverability to clear as much debris as possible.
"I have family in that area, and I felt like it was my responsibility to help out," Howard said. "We saw houses torn from their slabs and an entire golf course development where none of the homes remained. The devastation, what those people are experiencing right now, was unbelievable. When I had to leave, people I didn't even know hugged and thanked me. That made the entire trip worthwhile."
JCB of Alabama Lends a Helping Hand
Peter Cunningham, JCB's district manager in Alabama and Florida, knew that it was important for JCB to step up in this time of crisis. Together with Mark Long, president and owner of JCB of Alabama, the two were able to secure a 3CX backhoe loader from JCB's Savannah headquarters to assist in the Alabama relief efforts. The 3CX's front end loader is perfect for debris collection, while the reach of its excavator end allows the unit to be used to extend over debris piles. The dealership received the backhoe on May 10, and
municipal workers in surrounding communities will use it to continue clearing debris.
"We wanted to get machines where they were needed most," Cunningham said. "By working with JCB of Alabama, we were able to immediately provide the use of a 3CX to the City of Dora for its recovery and cleanup process."
JCB of Georgia Partners with Ringgold Area Contractor
A dealership located right next door to JCB's North American headquarters in Savannah, JCB of Georgia also expressed its desire to help the victims of these violent storms. "We knew we wanted to donate the use of a machine, but we needed to find a contractor who was willing to volunteer his time to operate it," said Natalia Welch, marketing manager for JCB of Georgia. "That's when we contacted David Mills."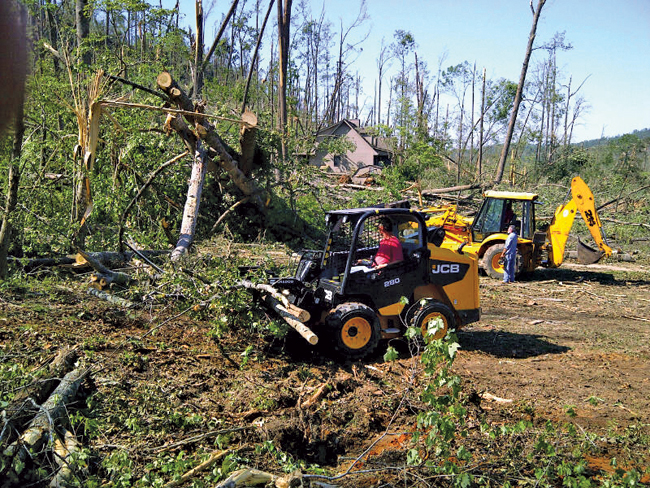 David Mills owns and operates David Mills Construction in Ringgold, building new homes and remodeling existing ones. "I've purchased three backhoes from JCB in the past, so they know me," Mills said. "When they contacted me about relief efforts, I'd been using my own equipment to try and help out, but the use of the donated 3CX backhoe has helped us remove even more debris in less time." Mills will use the 3CX from JCB of Georgia to clean up and separate tree debris from building scrap material — a long and arduous process.
A Global Company with a Global Perspective
JCB's equipment donations in Georgia and Alabama are the latest in the company's long history of philanthropic endeavors. In 2010, JCB sponsored the "Backhoe Across America" charity drive in an effort to raise funds for Haiti following its devastating earthquakes. That same year, JCB donated $150,000 worth of equipment to Haiti for cleanup and relief efforts. Also in 2010, JCB pledged assistance worth more than $100,000 for rebuilding efforts in Chile after its disastrous earthquakes. Other past donations include the gifting of six backhoe loaders and a team of operators following the 2008 earthquake in Sichuan Province in China. JCB also donated machines worth more than £1 million to help in the aftermath of the Asian Tsunami in 2004, with JCB diggers deployed to Thailand, southern India, Sri Lanka and Indonesia.
"Our global presence makes us acutely aware of the need to support our partners, friends and neighbors, wherever they may be," Patterson explained. "It's our hope that these donations will continue to make a positive impact upon the lives of those people who have been affected by these natural disasters." Tags: backhoes, JCB